Bolaght Mountain, GI/SW-005 - 345m ASL - H 259 765 - OSNI Discoverer 12 - 1 SOTA point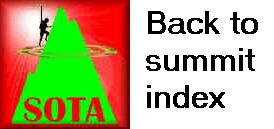 GI SOTA Trip - Activation #7 - Bollaght Mountain GI/SW-005 - Tuesday 31st May 2016
From Mullaghcroy GI/SW-009, Jimmy resumed the navigation duties in the car. After a series of country lanes, we ended up at the top of a steep cul-de-sac at H271769. After selecting a suitable parking spot, we commenced walking on the Ulster Way. The going quickly deteriorated to tough tussocky grass, worsening as the gradient increased. We instinctively cut up to attain the ridge, but this was a mistake. Progress along the crest of the ridge was dreadful on uneven ground coated with deep thick heather. I made a mental note to consider other options for the return route!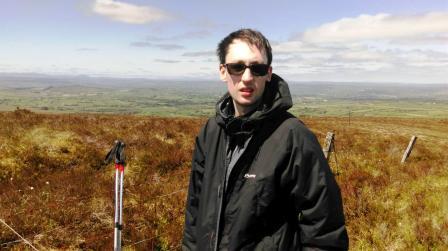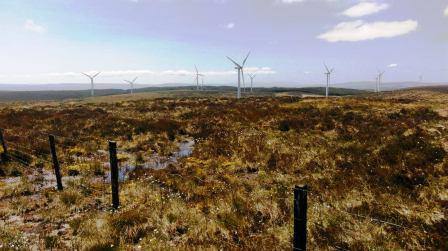 After what seemed like an age, I met up with Jimmy again at the summit - which, despairingly, was almost at the opposite end of the ridge from where we had joined it. The summit area was entirely featureless apart from my HF antenna and Jimmy's MFD. This time Jimmy MI0HGY/P was able to manage just one QSO on 2m FM, so he had to wait patiently for me to work through seven on 40m - 3 on CW and 4 on SSB. Jimmy then soon added two QSOs but had to persist calling for a further ten minutes before Ken G0FEX gave him his qualification.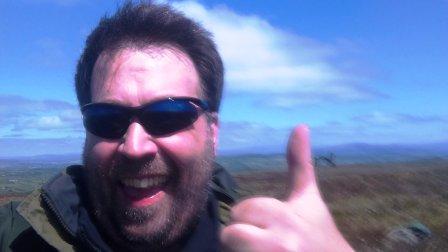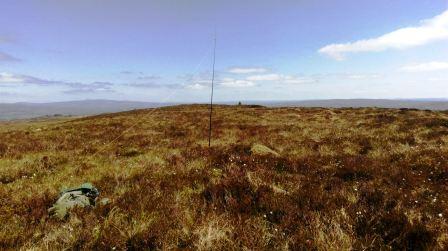 I indicated to Jimmy the line I thought we should take off the ridge to get down to easier ground earlier. We then double-checked this with a bit of map and compass work to ensure that we didn't veer off course. This tactic worked and the descent time was probably less than half of the ascent time, and we were back on schedule. Now we were ready to move on to the fourth and final summit of the day, Dooish GI/SW-006.
| | | | | |
| --- | --- | --- | --- | --- |
| Time | Call | Band | Mode | Op |
| 13:10z | GI0AZB | 144MHz | FM | MI0HGY/P |
| 13:11z | EA2LU | 7MHz | CW | MI1EYP/P |
| 13:12z | G4SSH | 7MHz | CW | MI1EYP/P |
| 13:13z | G3RDQ | 7MHz | CW | MI1EYP/P |
| 13:21z | G1YFF | 7MHz | SSB | MI1EYP/P |
| 13:23z | G4HPE/M | 7MHz | SSB | MI1EYP/P |
| 13:25z | G0FEX | 7MHz | SSB | MI1EYP/P, MI0HGY/P |
| 13:25z | G0RQL | 7MHz | CW | MI1EYP/P |
| 13:27z | G0RQL | 7MHz | SSB | MI0HGY/P |
| 13:28z | G4OBK | 7MHz | SSB | MI0HGY/P |