Dooish, GI/SW-006 - 341m ASL - H 315 698 - OSNI Discoverer 18 - 1 SOTA point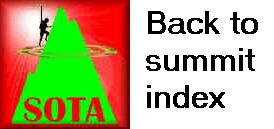 GI SOTA Trip - Activation #8 - Dooish GI/SW-006 - Tuesday 31st May 2016
The last of four activations on this day had a real sting in the tail. As per advice on the http://mountainviews.ie website, we parked (with permission) in the yard of a property 5km south of Drumquin on the B84. We then walked up a track between that and an adjacent property, up to a gate and into a field. We crossed a large ditch to avoid an advancing herd of inquisitive cows, then began the steep slog uphill.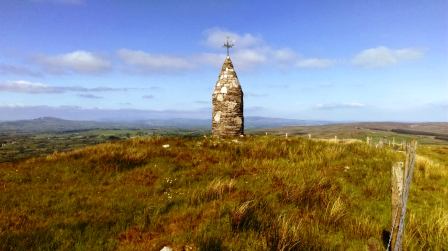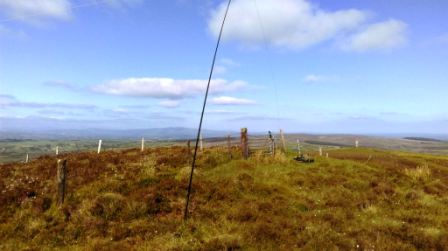 Around 200m ascent is not huge - generally speaking - but it is plenty for the last of another four summit day, especially on steep vegetated ground without much of a "path". I was now very tired, so repeatedly fell a long way behind Jimmy. To his credit he kept waiting for me at every section to make sure I stayed on course and to offer words of encouragement.
The first glimpse of the folly was welcome as this heralded a significant easing of the gradient. The true summit now came into view, just 250m away and around 10m higher. We both set up our antennas right on the actual summit and enjoyed the cooling, refreshing breeze, which also kept the midges at bay. My qualification was easy with 13 callers coming in rapid succession on 40m CW, including good signals to and from England. Jimmy got to the cusp of qualification with 3 on 2m FM, but ultimately had to resort to 40m SSB, where he picked up six more QSOs.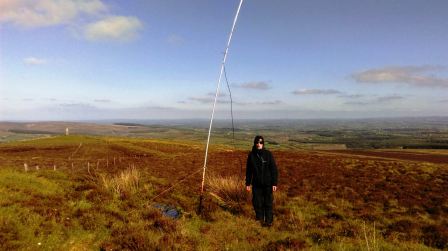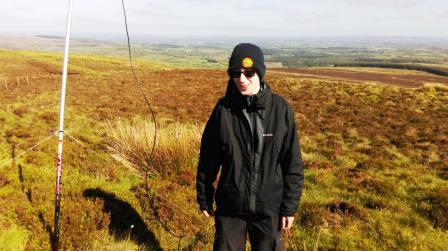 The descent was very much easier than the ascent and was probably completed in little over 15 minutes. Jimmy now directed me back to the B&B at Mountjoy, where we were greeted by Jack the dog. After a rapid shower and change, we adjourned to the nearby Sperrins Restaurant. Initially, they told us twice that the kitchen had closed for the evening. However, I pointed out that we were before the "last orders" time they had advised me when I enquired the previous day. Eventually they relented, and soon we were enjoying a cold refreshing pint of Guinness.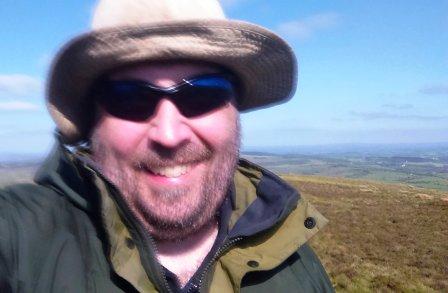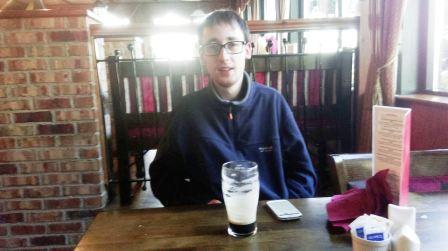 The grub was first class, and we would return for the following two nights as well. We both started with tiger king prawns. I then had the chicken pepper pot while Jimmy had the chicken in chorizo sauce. Both were served with champ, tobacco onions and saute mushrooms. And more Guinness. Back at the B&B, I went straight to bed ahead of some very long walks in County Fermanagh the following day. Jimmy, as I predicted, went on his laptop to enter his logs and look at Facebook first!
| | | | | |
| --- | --- | --- | --- | --- |
| Time | Call | Band | Mode | Op |
| 16:36z | MI0GDO | 144MHz | FM | MI0HGY/P |
| 16:38z | 2I0EKN/M | 144MHz | FM | MI0HGY/P |
| 16:40z | G4SSH | 7MHz | CW | MI1EYP/P |
| 16:41z | G4OBK | 7MHz | CW | MI1EYP/P |
| 16:41z | ON4FI | 7MHz | CW | MI1EYP/P |
| 16:42z | OE7PHI | 7MHz | CW | MI1EYP/P |
| 16:42z | G4ELZ | 7MHz | CW | MI1EYP/P |
| 16:43z | G3RDQ | 7MHz | CW | MI1EYP/P |
| 16:43z | G4CFS | 7MHz | CW | MI1EYP/P |
| 16:44z | EB1EVX | 7MHz | CW | MI1EYP/P |
| 16:45z | MI6XKE | 144MHz | FM | MI0HGY/P |
| 16:45z | EA1CVZ | 7MHz | CW | MI1EYP/P |
| 16:46z | G0ANV | 7MHz | CW | MI1EYP/P |
| 16:50z | HB9CLT | 7MHz | CW | MI1EYP/P |
| 16:51z | M6KET | 7MHz | CW | MI1EYP/P |
| 16:52z | EA2DT | 7MHz | CW | MI1EYP/P |
| 16:58z | G4IAR | 7MHz | SSB | MI0HGY/P |
| 16:58z | G0RQL | 7MHz | SSB | MI0HGY/P |
| 16:59z | G6WRW | 7MHz | SSB | MI0HGY/P |
| 16:59z | 2M0SKJ | 7MHz | SSB | MI0HGY/P |
| 17:00z | M3FEH | 7MHz | SSB | MI0HGY/P |
| 17:01z | G4ELZ | 7MHz | SSB | MI0HGY/P |