Binsey, G/LD-041 - 447m ASL - NY 225 355 - OS Explorer OL4 - 1 SOTA point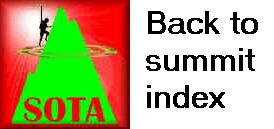 Sunday 1st May 2011 (part 2) - Binsey G/LD-041, 447m ASL - 1 point

Our road route from Knott G/LD-023 to Binsey G/LD-041 took us through the villages of Mosedale, Hesket Newmarket, Caldbeck and Ulldale. We arrived at the parking spot at NY235351 on the south eastern side of the hill. Someone had recently told me that this was Melvyn Braggs favourite fell, and he could often be seen up there, but we did not meet the presenter of the South Bank Show.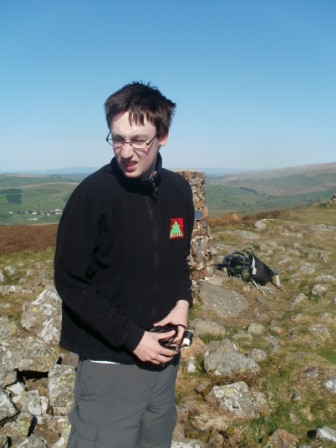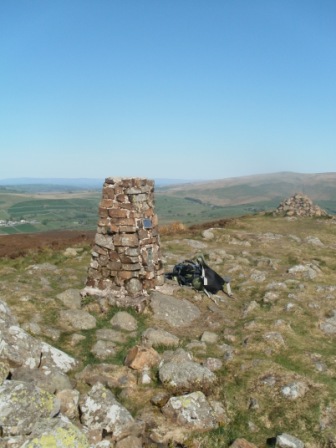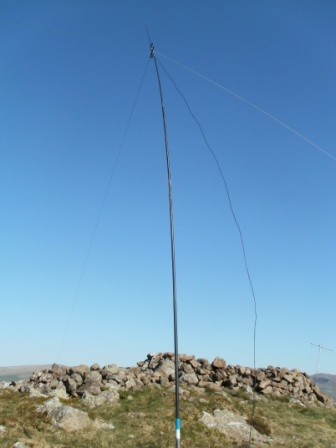 This was a short and easy walk, but despite feeling good as I trotted down Knott G/LD-023 earlier, I was suddenly feeling the fatigue of the last three days. I shuffled up to the summit way after Jimmy, and found him struggling to erect the SOTA Beam in high winds on a rock strewn surface. I helped him with that before putting up the dipole - for which I enlisted Jimmys assistance. Jimmy had already "booked" a slot on the 817 and dipole for if he needed "top up" QSOs on 40m SSB, but in fact he made enough on 2m FM. I made 19 QSOs on 40m CW, before the QRG fell silent and I could get packed up. The descent on the wide path down an easy gradient was not difficult, but I did not rush.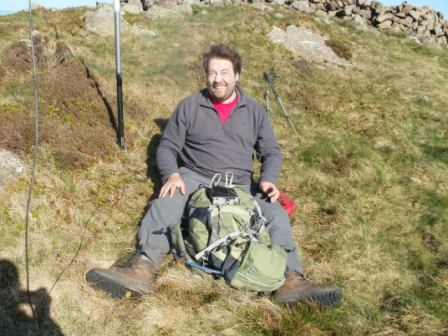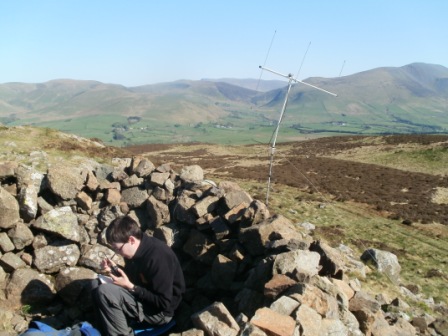 After a welcome shower and change at the hostel, we headed out for an evening meal. Borrowdale was busy on this Bank Holiday Sunday evening, and finding a place to dine was tricky. We eventually got accepted in at the Langstrath Country Inn in Stonethwaite, albeit with a wait for a table.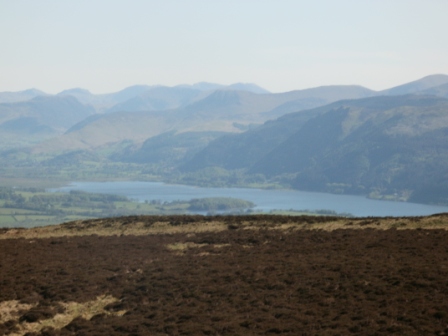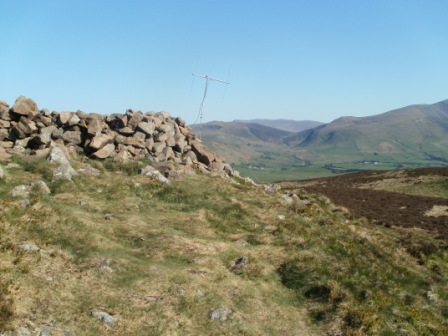 The wait was fine, for it passed enjoyably enough with Jennings Cocker Hoop ale. When we did get a table, we had trout pate and potted brown shrimps starters respectively, followed by the Langstrath Mixed Grill - two enormous plates of steak, sausage, gammon, lamb chop, pork chop, bacon, fried egg, black pudding and kidney, with thick cut chips, mushrooms, tomatoes and onion rings. It was a challenge even for Jimmy and I to finish these, but a challenge I am proud to say that we both won. The sweet menu was not necessary. The following stations were worked from Binsey. Thanks are extended, as ever:
| | | | |
| --- | --- | --- | --- |
| MM1MPB | 2m | FM | J |
| G4ILO | 2m | FM | J |
| 2E0MIX/M | 2m | FM | J |
| G1OAE | 2m | FM | J |
| GM4WHA | 2m | FM | J |
| GR4ELZ | 40m | CW | T |
| SM7GUY | 40m | CW | T |
| DL8YR | 40m | CW | T |
| F5SQA | 40m | CW | T |
| G0NUP | 40m | CW | T |
| G4SSH | 40m | CW | T |
| G4OBK | 40m | CW | T |
| G4OOE | 40m | CW | T |
| GR4CMQ | 40m | CW | T |
| G4UDU | 40m | CW | T |
| G4RQJ | 40m | CW | T |
| DL3KUM | 40m | CW | T |
| G4CMZ | 40m | CW | T |
| DJ5AV | 40m | CW | T |
| LA8BCA | 40m | CW | T |
| OK1CZ | 40m | CW | T |
| DL1DVE | 40m | CW | T |
| GR4FPA | 40m | CW | T |
| G0BPU | 40m | CW | T |