Knott, G/LD-023 - 710m ASL - NY 296 329 - OS Explorer OL4+5 - 6 SOTA points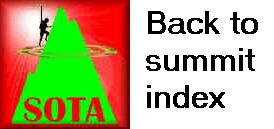 Sunday 1st May 2011 - Knott G/LD-023, 710m - 6 points

It was Nutri-Grain bars and water again for breakfast, but I did look somewhat enviously at the Borrowdale YHA hot and cold buffet breakfast being served. I resolved to book that feast for the following morning. Jimmy and I chatted about the previous day and the WOTA-SOTA round in the Langdale Pikes. We had enjoyed it, but agreed that neither of us wanted to make much of a habit of going over to that style of "dart here dart there" walking. Today would be the ideal antidote.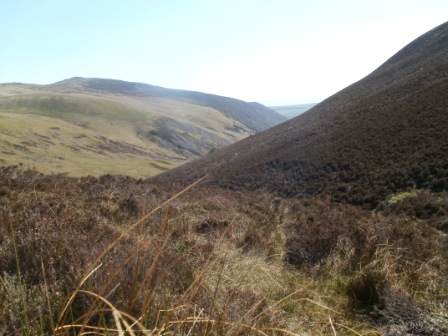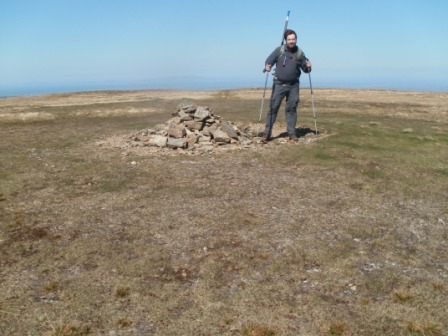 We drove up to Keswick and then East on the A66. We turned North to head up through Mungrisdale, and then left at Mosedale onto the long cul-de-sac to the start point for the walk. I parked on a bit of grass by the side of the road at NY326327. A parking area existed on the other side of the hump back bridge, but I did not fancy the very rough, stony and uneven track to drive into it!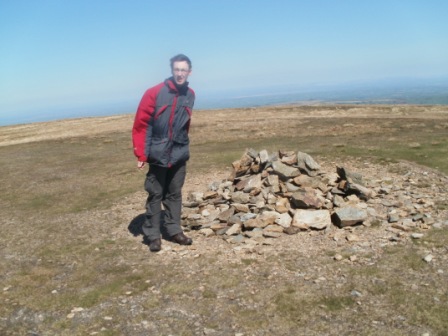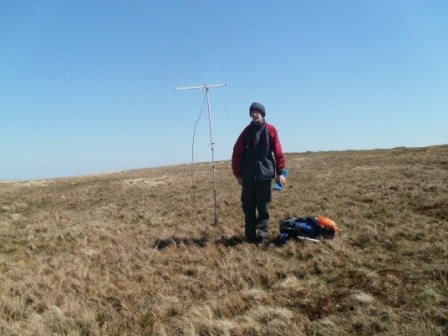 Jimmy and I walked westwards along the Cumbria Way, by the side of Grainsgill Beck. We came to a working party by the old mines, who were restoring the original mine entrance, both to preserve some local heritage, but moreover to prevent a major pollution incident that would be caused if a large build-up of silt broke through. The walking was lovely, nice and graded as we followed the beck upstream. The weather was lovely again, and the bright sunshine and blue sky illuminated our surroundings to full colour beauty. As we approached the head of the valley, the force of the wind was notable again. I was getting tired, still feeling the exertions of the day before. Jimmy and I found a sheltered spot to take a rest, an energy bar, and the first serving of New England Fish Chowder soup of the day.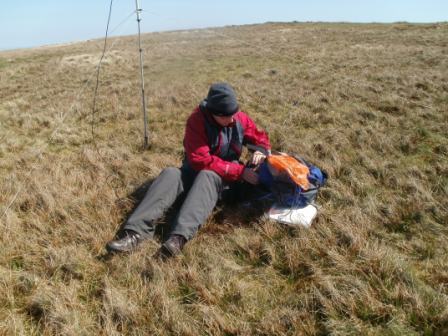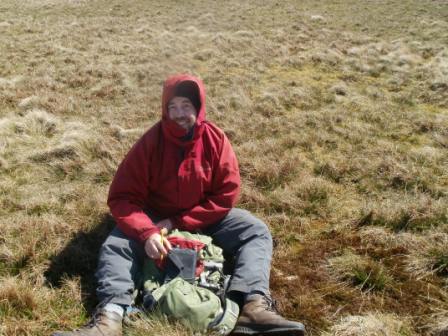 As usual, Jimmy had done his homework, and directed me left onto a well-established path with an initial climb onto another level. Then we had a mainly flat walk, and finally a graded ascent onto Knott summit. Jimmy started setting up only a little way past the summit cairn, but I went further and about 10m vertically lower. Neither of us found much in the way of shelter from the ever-present wind though. The views from this summit were good, and we could see the Dumfries & Galloway coast as well as that of Northern Cumbria. The offshore windfarms could also be seen quite clearly. Jimmy seemed surprised that he made ample QSOs on 2m FM from here, but it looked a decent enough take-off in enough directions to me. I made 13 QSOs on 40m CW, as another 6 points and another SOTA unique was attained.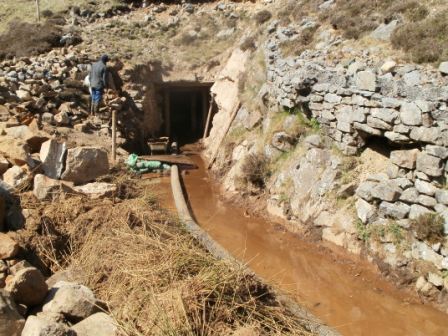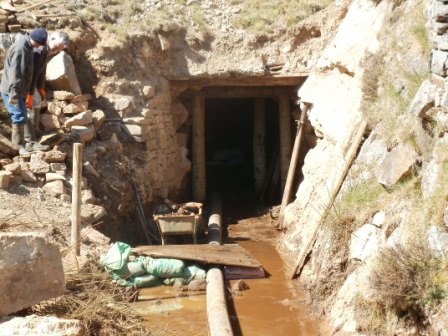 The return walk was simply a reversal of our ascent, and was just as pleasant. On the way down, I took a few photos of the mine entrance project and had a chat with the project workers. I eventually met Jimmy at the car, where I could see that several other cars had now chanced the rocks on the track and parked in the car park. It was very hot, especially when out of the wind. We were now on our way to Binsey G/LD-041. Thanks to all the stations worked from Knott:
| | | | |
| --- | --- | --- | --- |
| GM4COX/P on Dungavel Hill SS-165 | 2m | FM | J |
| GM4WHA | 2m | FM | J |
| 2E0MIX/P | 2m | FM | J |
| PA1AT | 40m | CW | T |
| G0TDM | 2m | FM | J |
| DL7VKD | 40m | CW | T |
| 2R0XSD | 2m | FM | J |
| DL3HXX | 40m | CW | T |
| DL2EF | 40m | CW | T |
| DL2DXA | 40m | CW | T |
| DL2HWI | 40m | CW | T |
| MM0XFM/P on Ben Lawers CS-001 | 2m | FM | J |
| PA0ALW | 40m | CW | T |
| GR4CMQ | 40m | CW | T |
| F5SQA | 40m | CW | T |
| DJ5AV | 40m | CW | T |
| PA3AM | 40m | CW | T |
| HB9AGH | 40m | CW | T |
| GR4VSS/P on Moel Famau NW-044 | 2m | FM | J |
| ON6NW | 40m | CW | T |