Black Mountain, G/WB-001 - 703m ASL - SO 255 350 - OS Explorer OL13 - 6 SOTA points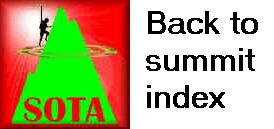 My first job on the morning of Tuesday 29th August 2006 was to arise early at 4am, and taxi my wife Marianne and son Liam to Manchester Airport. They were going out to Montenegro for a week with Marianne's dad. Jimmy and myself sensed an opportunity to get lots of SOTA activations done! Our initial idea was to emulate Rob Woodall and Brent Lynam's route for the 24 hour Marilyns challenge. By the time I had returned from the airport to collect Jimmy, and our luggage from home, this had evolved into a plan to attempt to activate all 24 summits in the WB - Welsh Borders region, and possibly one or two more.
We had a good drive down the A49, listening to Ludlow's Sunshine 855 on the car radio. Hay-on-Wye was negotiated much more easily than last time we were in the area, not having to suffer the inconvenience of an international book festival. We had made good time, and were pulling into the parking area at the foot of Hay Bluff before 11am. Many other walkers were doing likewise, and soon an ant trail had stretched itself out on the punishingly steep grassy lower slopes of Hay Bluff. Jimmy and myself soon slipped to the back end of that trail as the enthusiasm of the other hikers, all sporting shiny new boots, poles and Goretex jackets got the better of them. Not for long. They were soon collapsing for frequent rest breaks and oxygen intake, while Jimmy and I, still enjoying the benefits of Pennine Way level fitness steadily overtook them all. We were first onto the Hay Bluff plateau, and quickly left the masses behind as we pressed on without a break.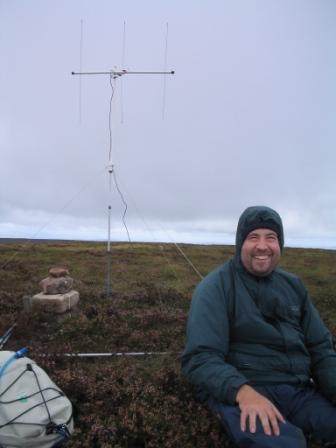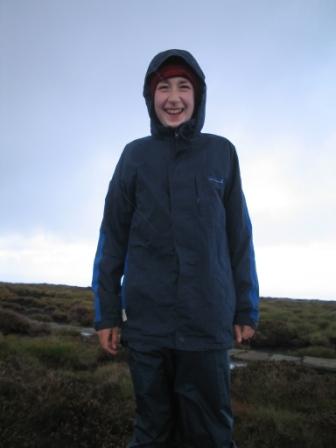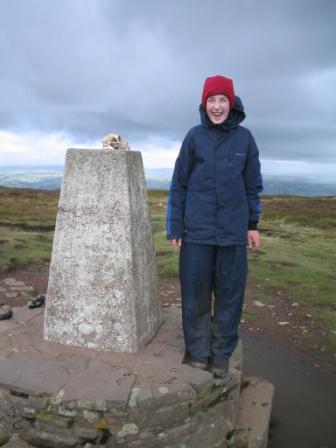 Our two previous visits to this hill had seen us settle just into the activation zone, declining the option to walk a further mile to attain the true summit. This time, we had already agreed to claim the summit properly, so we continued to walk along the apex of the Hatterrall Ridge on a slabbed path. The summit is marked by a small cairn which appears to be a full ten metres clearly inside Wales, assuming the Offa's Dyke Path to be coincidental with the border line. In any case, we ensured that we were definitely in Wales so that we knew which callsigns to use. It initially caused some confusion amongst the chasers when we were calling with Welsh callsign prefixes (MW1EYP/P & MW3EYP/P) and quoting a summit reference with an English prefix (G/WB-001)!
Many thanks to the following stations, all worked on 2m FM with 2.5 watts:
| | | | |
| --- | --- | --- | --- |
| G0RUY | Leonard Stanley | Tony | T, J |
| M3WHG | Cheltenham - Gloucester | Terry | T, J |
| G3LVP/M | Cheltenham | Ken | T, J |
| G0NES | Wythall | Don | T, J |
Don and myself shared a joke in QSO about this contact being a long-time in coming. Don had been listening intently for our Pennine Way activations in recent weeks, but had not heard us at all. After packing up, a speedy descent was made back to the car. We wanted to maximise our first day away, and set a real momentum for the next few days.