Blake Fell, G/LD-031 - 573m ASL - NY 110 196 - OS Explorer OL4 - 2 SOTA points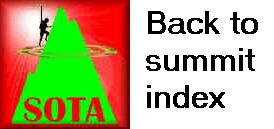 We had a 4 day Jubilee Bank Holiday pass-out to play in the Lake District, and chalk off some of those last ten uniques to complete activating all G. Liam was coming, so we immediately discounted the bigger beasties of High Stile G/LD-012 and Pillar G/LD-006, to leave to a later occasion. But I didn't quite reckon on the some of the "little" 1 and 2 pointers being quite so demanding!

Setting off as I picked up Jimmy from his job at 6.30pm on Friday 1st June 2012, we had an easy run up the M6, with no Friday/bank holiday hold ups. Dinner was taken at KFC, Charnock Richard services - and it was just about edible. 'Nuff said.

We arrived at Cockermouth (Double Mills) YHA around 9.45pm, just before reception closing time, and made up our bunks. We were given the 4-bedded dorm adjacent to the lounge to ourselves for the evening. The sleeping arrangements are much more comfortable in youth hostels now with a duvet cover and a fitted sheet being the standard issue to new arrivals, rather than the old YHA sleeping bag sheets. Nonetheless, Jimmy and Liam were amused to note a sign which offered the sleeping bag sheets on request to "traditionalists"! Ray, the live-in hostel manager, liked his signs, and there were many of them all over the hostel, often including an apology and further expression of his own regret at having to make such a request! A phrase on one that had me chuckling was "The local yobbery"!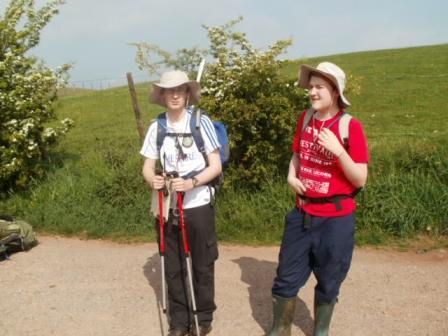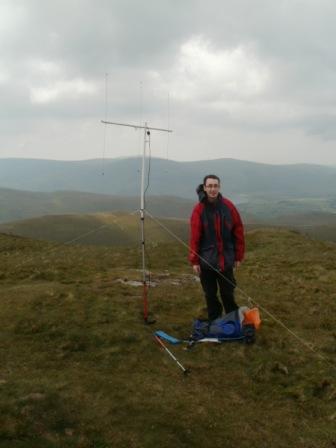 The morning of Saturday 2nd June 2012 arrived, and it was a stunner with wall-to-wall blue sky and sunshine. After preparing the flask of mulligatawny soup and breakfasting on cereal bars, we set off for Blake Fell G/LD-031. We parked in the wide entrance to the track at NY086184 and applied suncream and sunhats. Then we commenced our first walk of the trip, along the stony track and up into the forest rides. It actual fact, we should have just stuck with the good path by the fence on the right-hand side of the forest, although it made not much difference.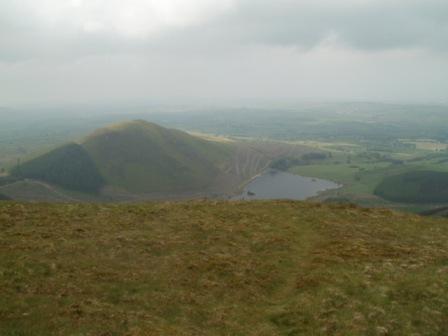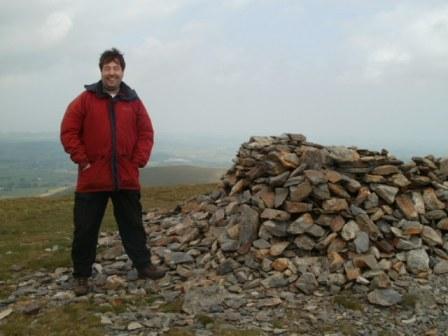 Emerging from the woods, we climbed onto Low Pen, and then followed a small path that contoured around, rather than passed over High Pen. The path over High Pen would have been the better one to take, even with the small amount of additional height gain. Looking across the valley from Low Pen, it appeared the summit of Blake Fell was a lot higher and a lot further, but it wasn't. The path curved back around and worked its way up the gentle grassy slopes of Blake Fell's south ridge. Upon reaching the summit, I reflected on what had been a superbly enjoyable S-shape snaking ridge walk approach. Jimmy agreed.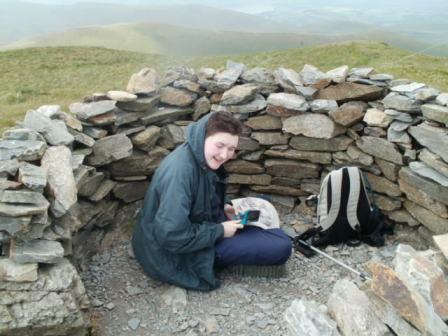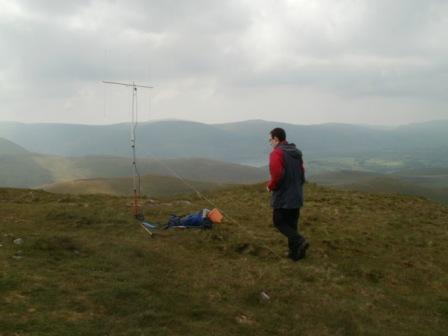 Liam plonked himself in the stone summit shelter with his 3DS, complete with another 10 Playcoins earned by its built-in pedometer. Jimmy 2Q0EYP/P worked on 2m FM, making 9 contacts, into G, GI, GW, GM and EI. He was chuffed with this, and even more so later on Dent G/LD-045 when he made a S2S QSO into GD to "complete the set" for the day.

On 40m CW, it was 22 QSOs for me in 12 minutes of operating as MQ1EYP/P. Jimmy fielded the usual questions from the passing walkers as I enjoyed the views over Knock Murton (surprisingly not a Wainwright) and Cogra Moss (lake). For the return walk to the car, we followed the slightly better paths over High Pen, and down by the edge of the wood, rather than the forest rides through it. On this beautiful day, it was now onto Dent G/LD-045.
| | | | |
| --- | --- | --- | --- |
| MQ0XSD | 2m | FM | J |
| MQ6EPW | 2m | FM | J |
| GQ7SBO | 2m | FM | J |
| EI6GHB | 2m | FM | J |
| G4UXH | 2m | FM | J |
| G0NUP | 40m | CW | T |
| G3WPF | 40m | CW | T |
| G4SSH | 40m | CW | T |
| G3RDQ | 40m | CW | T |
| DL1FU | 40m | CW | T |
| GI4XSF/P | 2m | FM | J |
| G4ZIB | 40m | CW | T |
| G4ELZ | 40m | CW | T |
| PA0B | 40m | CW | T |
| DL3HXX | 40m | CW | T |
| PA0SKP | 40m | CW | T |
| ON5IO | 40m | CW | T |
| G4AFI | 40m | CW | T |
| G4BLH | 40m | CW | T |
| G0UBJ | 40m | CW | T |
| M0WCR/M | 2m | FM | J |
| G4AYO | 40m | CW | T |
| G4RQJ | 40m | CW | T |
| 2Q0OOO | 40m | CW | T |
| GM0GOV | 2m | FM | J |
| G4OBK | 40m | CW | T |
| DL6KVA | 40m | CW | T |
| G3XQE | 40m | CW | T |
| M0XAT | 2m | FM | J |
| M0BKV | 40m | CW | T |
| OZ7JZ | 40m | CW | T |