Saturday 12th August 2006 - Byrness to Clennell Street, then down to Uswayford Farm - 16 miles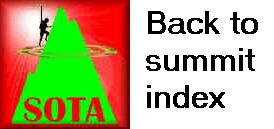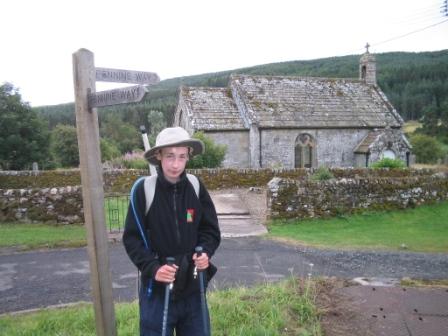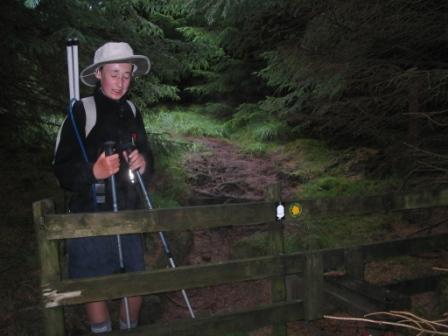 Jimmy and I arose with enthusiasm for our final Saturday of the Pennine Way, and our penultimate day. In fact, it felt like the last day, for we were about to embark on the final stretch, a 27 mile epic that many complete in one long last day. We wondered if Toke and Bobbie, Barrie and Sandra, Kevin and Janet, and Derek and Emma had gone for it 'in one' and been successful. A simple breakfast of bacon and eggs with fruit juice was provided early, as promised, and then appeared our packed lunches. I had settled up with the landlady the previous evening, in order to make the most of our early getaway opportunity. After a week's absence, the amateur radio equipment was reintroduced to our packs. We weren't actually planning to activate anything today, with the next SOTA summit being The Cheviot tomorrow. But the gear had to be carried from here, as the couriers did not service a delivery to the remote farm B&B where we were staying tonight.
Just a few strides along the verge by the A68 outside the hotel, and there was the Pennine Way sign pointing through the trees and straight up the end of Byrness Hill. Not wanting a repeat of the Brownrigg Head insect attack, we quickly applied Vick Vapour Rub to our ears, foreheads, cheeks, legs and arms. We had been assured by a friend that this substance was much more effective at repelling insects than insect repellent. Sure enough, as we climbed steeply through the heavily wooded 'Byrness Plantation', the flies didn't seem to want to get acquainted with us at all, even when the sweat began to pour from our brows. I remarked to Jimmy that this ascent reminded me a little of Waun Fach GW/SW-002 in the Brecon Beacons, and that the trees were rather useful in that they successfully masked the potentially depressing reality of the long steep start to the day.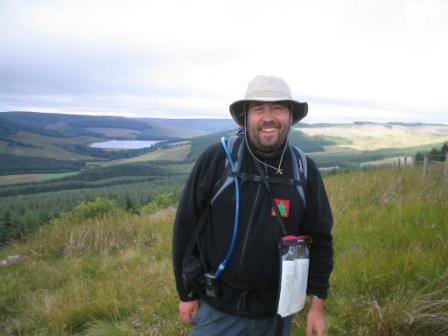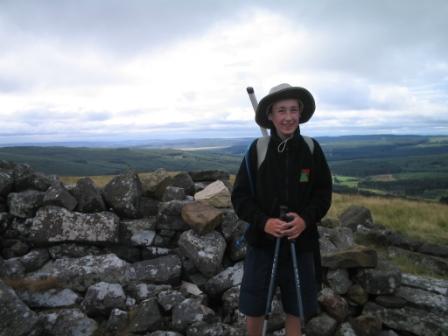 Pulling up and away from the edge of the wood, we could see the rounded summit of Byrness Hill ahead. The nervous and yet excited sense of anticipation grew as we imagined topping this first hill to reveal panoramic views with the Cheviots stretched out before us. After a very steep little scramble, even steeper than, but characteristic of Pen-y-ghent, we were atop the southernmost of this line of Cheviot hills, and we were not disappointed by the views. A brief break to add an energy bar and a little water to the bodily system, and to take a moment's contemplation of our wild, remote and stunning surroundings gave us a welcome five minute rest after the climb. But we were eager to get going again, and make the most of what we knew would be a fine ridge walk.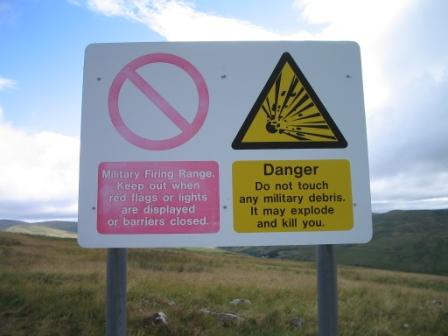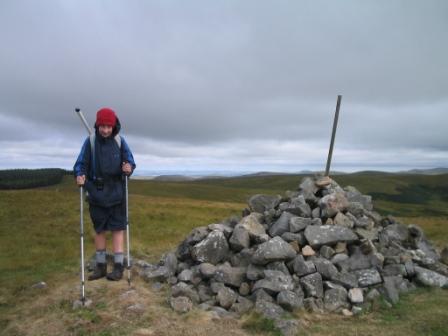 Houx Hill, a subsidiary top in the range, was bagged after some awkward bog-hopping, and soon after came the chilling MOD sign: "Do not touch and military debris. It may explode and kill you". Nice touch. The Ravens Pike cairn atop Ravens Knowe was passed, and then followed a long gradual descent to Coquet Head. Here, we spotted figures walking towards us. "Wow, they've made good time from Kirk Yetholm, to be here already" was my initial, and ridiculously illogical thought. Soon realising that that idea was beyond the realms of possibility, and that they must have gone like the clappers to be here even from Uswayford in that time, I started to assume they were backpackers, maybe overnighting in the mountain refuge huts. What I hadn't noticed on my map was the intrusion of the public road from Coquetdale and parking area near to Chew Green Roman Camps. These guys were just out for a morning stroll, and their car was up at the camps. For the first time, we had entered Scotland, but only briefly, for minutes later we would be back in England for the rest of the day, albeit only by a few feet.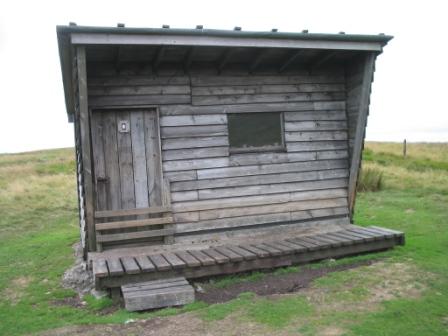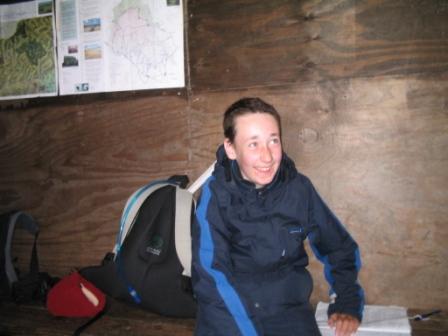 The camps, when we got to them, I personally found to be rather disappointing. I don't know what I was expecting to see as evidence of the highly organised Roman presence two thousand years ago, but a few parallel grassy mounds didn't fill me with the same sense of awe and excitement as it does with others. The section following Chew Green was not as aesthetically pleasing, with the ridge broadening out and the path dropping some way off its crest. Still, we were sensing the objective of lunch at the first mountain refuge hut (also known as the "Nine Mile Bothy), so we quickened our stride. Following the Border fence, the Cheviots started to return to the preferred state of a ridge walk along an impressive interconnecting sequence of hills. We started trying to pick out which one was which on the horizon, using the guidebook strip maps as clues. Believing we had already done most of the day's ascending, it was a little discouraging to witness the looming grey mounds towering above, just in front of us.
Time for a break therefore, and we had reached the remarkably smart wooden hut. Inside, it was clean and dry, with well made benching around three sides and lots of information on the walls about the geography and history of the local area, details of those that maintain these bothies and instructions for how to find fresh spring water nearby. Jimmy and I got stuck into our packed lunches from The Byrness, which were very nice, while listening to BBC Radio 5 Live on my Yaesu VX-7R handheld transceiver. We hadn't realised while walking, but now we could hear the wind howl, scream and bash against the refuge hut's wooden walls. It almost made us not want to go back outside, and a long lunch and rest stop reached the one hour mark. Glancing through the hut's "signing-in book", we charted the progress of Derek & Emma, Toke & Bobby, Barry & Sandra, Liz & John, and Kevin & Janet. Some of them would have already finished, while some would finish today, one day ahead of us, assuming they all completed their journeys from here. Jimmy and I added our monikers to the logbook before striding out once again.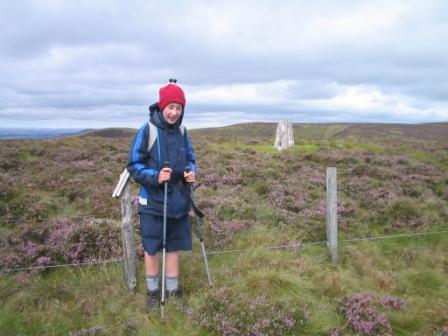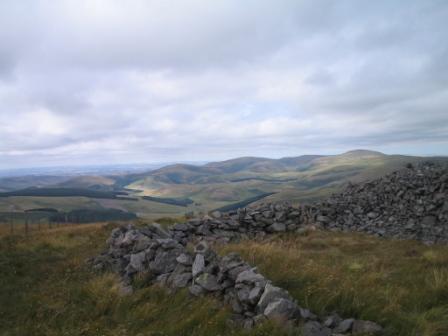 Towering above the hut was Lamb Hill, which we topped in good time, only to then witness Beefstand Hill now majestically rising above us. Progress was now relatively rapid, with the benefit of having motivating objectives lined up and each reached after another few minutes of walking. On the final approach to Beefstand Hill, our hand-portable transceivers suddenly sprang into life; something that had not happened for quite a few days. Familiar voices rang out, calling "CQ SOTA" from Meigle Hill GM/SS-212 in Southern Scotland. It was Myke G6DDQ (using GM6DDQ/P) and James M0ZZO (using MM0ZZO/P) who had long planned to be in the area over the weekend to meet us. Jimmy and I each spoke to both James and Myke, which worked well for all concerned. Jimmy and I grabbed our first ever chaser points from Scottish hills, while James and Myke recorded the two contacts they each required to qualify the summit. This also proved a useful opportunity to be able to report that we were still on schedule and that we would see them tomorrow.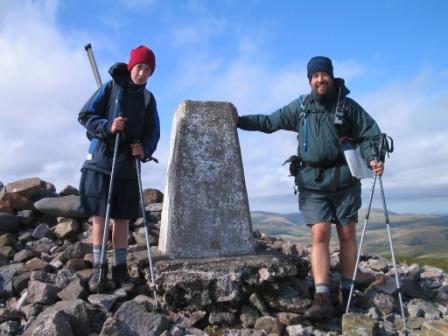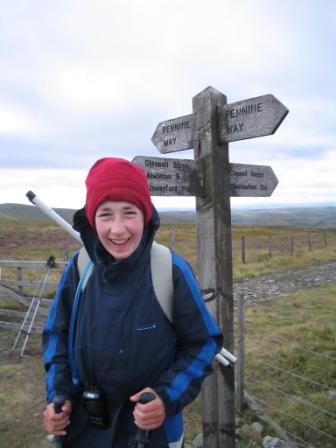 Within half-an-hour, we reached the next minor top along the ridge, this time Mozie Law. Martin GM8XQS/P was heard calling from Linton Hill GM/SS-263, so Jimmy and I both worked him. I recall he said he was up in the area to provide RAYNET communications for that weekend's international horse show in Kirk Yetholm, and taking the opportunity to activate a SOTA summit in some free time. We were enjoying our walking this afternoon, and we were soon upon Windy Gyle, the highest point of the day with a rather fine triangulation column perched atop, adjacent to the huge "Russell's Cairn". Yet more stations were spoken to, including a chap staying down at Cocklawfoot, the other side of the Border ridge from our intended destination. As this conversation developed it became apparent that he was actually walking up towards us with his family. Dropping down from Windy Gyle, following the fence, we met this radio amateur and his family, and paused for a brief chinwag.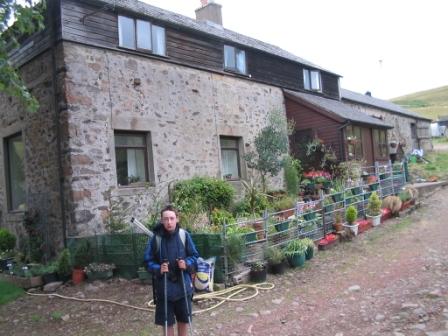 We reached the ancient border crossing of Clennel Street and rested briefly, for this was the point at which we would leave the Pennine Way for today. 1¾ miles now separated us from our refuge for the evening - Uswayford Farm, reputed to be the most remote dwelling in Britain. It seemed a long 1¾ miles too, for it was incessantly and steeply downhill. Some of the forest rides were so steep it was scarcely believable that they had ever been used by any form of vehicle, even an animal-drawn one. Jimmy and I glanced ruefully at one another. No words were spoken, but we both knew that this long steep drop had to be reversed first thing tomorrow morning. Eventually we picked our way down the steep grassy hillside beyond the forested area, and looked ahead to Uswayford Farm, now before us. A farm road ran slightly underneath the shallow waters of Usway Burn, and I guess hence "Usway-ford".
Mrs Nancy Buglass greeted us at the door and told us she had nearly given up on us! And we'd thought we had made good time from Byrness too! We were shown to our room in this large sprawling farmhouse. There were no showers, but there was a lovely big bath, so Jimmy and I took turns in using this welcome facility. Returning downstairs, drinks were provided and we relaxed in the comfy chairs in the living room, while the two little dogs sprawled on their backs demanding that their tummies be rubbed. Nancy served up a pleasing meal of fruit juice, chicken in bacon & cheese with potatoes and vegetables, followed by caramel pie and ice cream. Two cans of Carling lager washed this down nicely as we watched Jimmy's favourite "Who Wants To Be A Millionaire" on the television. Shortly after nine o'clock, we retired to bed. The beds were wonderfully large and comfortable, and our grateful tired bodies sank into them with little resistance. I think we both went off to sleep rather quickly, allowing plenty of hours to get the ultimate rest, and sweet dreams about the final piece in the Pennine Way jigsaw to come.