Cadair Idris, GW/NW-009 - 893m ASL - SH 711 130 - OS Explorer OL23 - 8 SOTA points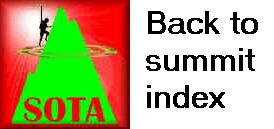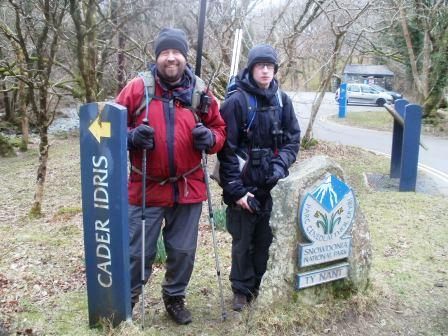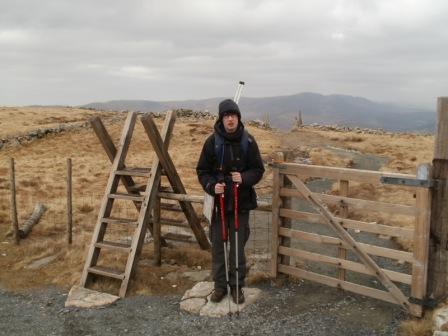 For St David's Day, Friday 1st March 2013, we planned to activate the biggest mountain of this trip, although it was a much easier walk than the traverse of the Tarrens the previous day. It was only a short drive from Dolgellau to the car park at SH697152 at Ty-nant. While kitting up, so were Mark and Sally, a couple who were also intending to ascend via the Pony Path. Mark indicated to me where he thought the route went on the map, but he was slightly mistaken, according to Jimmy's research. They decided to walk with us on the first part of the hike.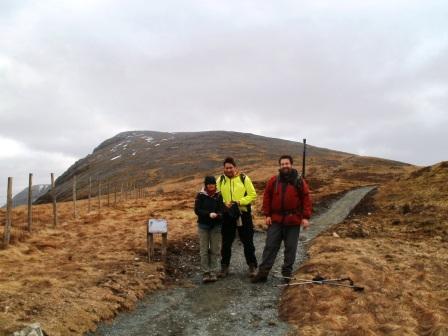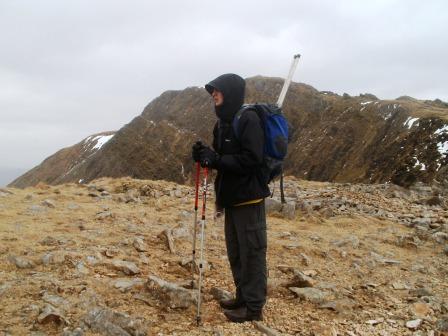 Having good company makes ascending fly by, and it seemed in no time at all that we had covered the first mile to the start of the steeper section at SH692138. Here I sat down for a rest and some chocolate and so did Jimmy, Mark and Sally. We must have discussed all range of topics including politics, education, the economy, social issues and vertigo! At the top of the steeper zigzags, Sally and Mark stated they were going to quicken their pace and go and have lunch, so I got Jimmy to take a photo for the website. It wasn't much longer before Jimmy and I were making inroads into our soup, which was steak & potato, during a rest stop on the flanks of Cyfrwy (The Saddle).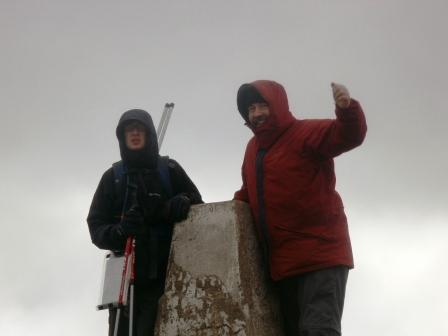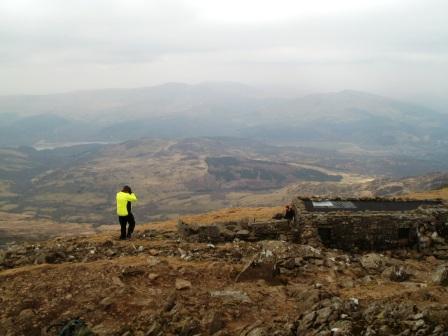 The going was mainly good, on stone flagged paths. The gradient was now easing as we made our way alongside the cliffs high above Llyn y Gadair, before the final steep pull up to the summit. Now we began to encounter some ice and snow patches, some of which were only a few feet away from an exposed edge. I urged Jimmy to take care and make good decisions as to where he was putting his feet and what lines he was taking upwards.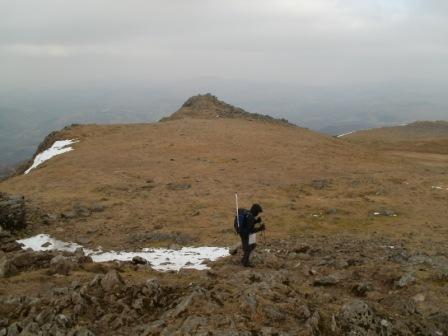 I didn't know beforehand that there was a stone hut on the summit, which shows just how much I complacently leave all the research to Jimmy these days. Sally and Mark were finishing their lunch just outside one end of the hut. I got Mark to take a photo of Jimmy and myself at the summit. The steps up to the trig point were very icy, and I found it quite difficult to get down from there once up! I went to rejoin Jimmy on the north side of the hut which gave some shelter from the wind.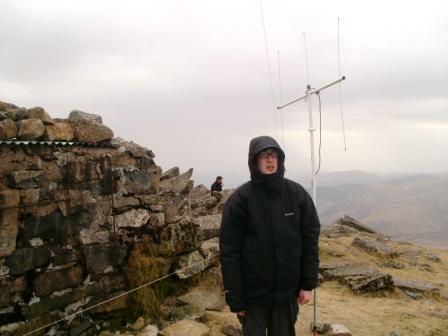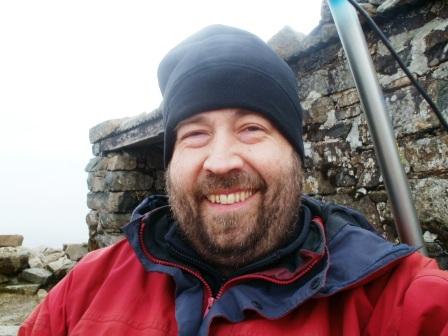 Jimmy was on the SOTA Beam today, and made 14 QSOs on 2m FM, On 40m CW, I made 20 QSOs. We still had in mind a second activation of the day on nearby Craig y Castell GW/NW-074, so we packed up as soon as our working frequencies were empty. A large party of 30 to 40 people had gathered at the trig point, something to do with the St David's Day celebrations. I was asked to take a photo of them all. With the camera in my hand, and with all the Welsh people a safe distance away, I shouted "So is there something special going on today then?". The opportunity to insult an entire nation with one sentence was too good to ignore!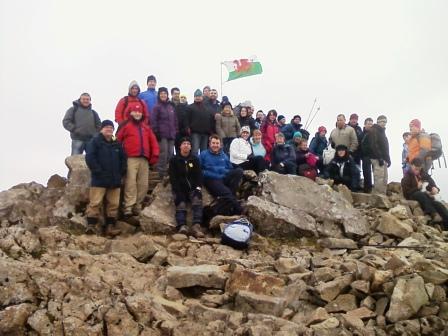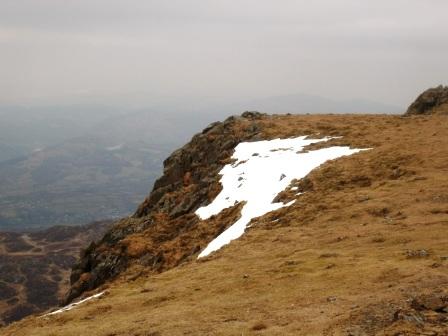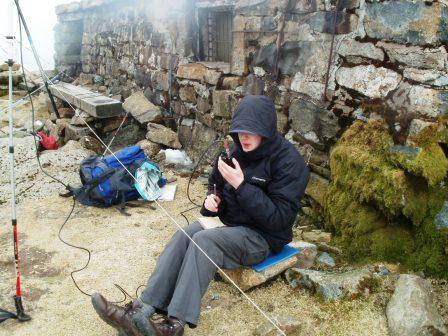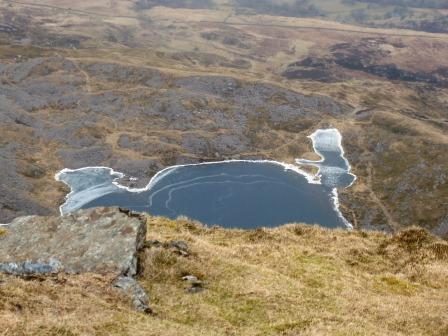 Sally and Mark had decided to continue to the north east end of the summit and find a way down there to complete a circular route. That all looked too steep and exposed for my liking, so Jimmy and I returned back down the Pony Path. After a final soup break close to the gate ahead of the zigzags, we pressed on back down to the car park. We were surprised at how long this section was, and realised that the earlier company of Sally and Mark had made this section almost disappear. Back at the car it was around 4.30pm, and I decided we could proceed to Craig y Castell GW/NW-074.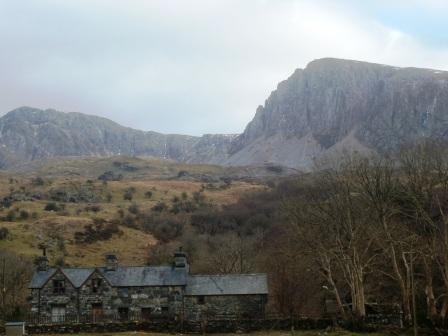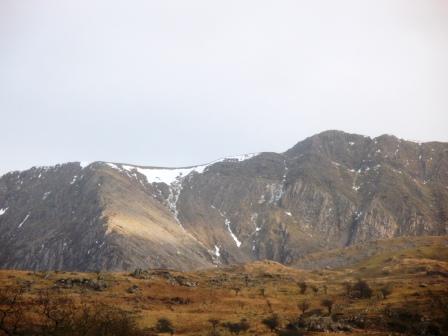 | | | | |
| --- | --- | --- | --- |
| G6HFF/P on Gummers How LD-050 | 2m | FM | J |
| G3CWI | 40m | CW | T |
| G6LUZ | 2m | FM | J |
| G4SSH | 40m | CW | T |
| G0NUP | 40m | CW | T |
| G4OOE | 40m | CW | T |
| DL8UVG | 40m | CW | T |
| PA0SKP | 40m | CW | T |
| 2W0GWK/M | 2m | FM | J |
| ON4FI | 40m | CW | T |
| DL2EF | 40m | CW | T |
| MW0WYN | 2m | FM | J |
| MW6GWR/P on Ffridd Cocyn NW-063 | 2m | FM | J |
| OE7PHI | 40m | CW | T |
| G4OBK | 40m | CW | T |
| GM0AXY | 40m | CW | T |
| DL1FU | 40m | CW | T |
| GI4ONL | 40m | CW | T |
| OK1ZE | 40m | CW | T |
| MW0PAD | 2m | FM | J |
| G6ODU | 2m | FM | J |
| DL3HXX | 40m | CW | T |
| G6WRW/P on Stiperstones WB-003 | 2m | FM | J |
| S51ZG | 40m | CW | T |
| M0IBC | 2m | FM | J |
| G4AFI | 40m | CW | T |
| G4IUP | 40m | CW | T |
| MW0IML | 2m | FM | J |
| DL2HWI | 40m | CW | T |
| OK1KT | 40m | CW | T |
| G8JSM/P on Billinge Hill SP-017 | 2m | FM | J |
| 2W0MTD | 2m | FM | J |
| G8XYJ | 2m | FM | J |
| MW3YMI | 2m | FM | J |