Craig y Castell, GW/NW-074 - 321m ASL - SH 698 162 - OS Explorer OL23 - 1 SOTA point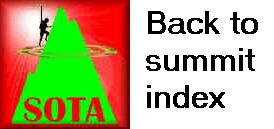 We were tired after walking up and down Cadair Idris GW/NW-009 on St David's Day, Friday 1st March 2013. But with just enough daylight left in the day, I gave the go-ahead to activate this very nearby, and very much lower summit. We turned left out of the car park at Ty-nant, then sharp left at SH715170. This narrow lane was followed up as far as the track entrance at SH707166, just before Gellilwyd Fawr, Adjacent was a space into which I could back my car and get it completely off the road.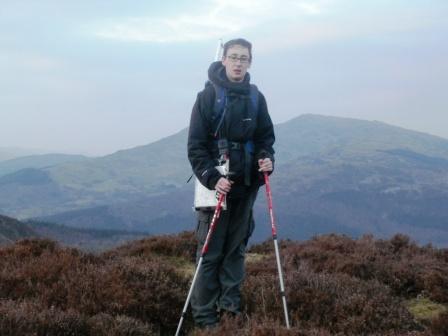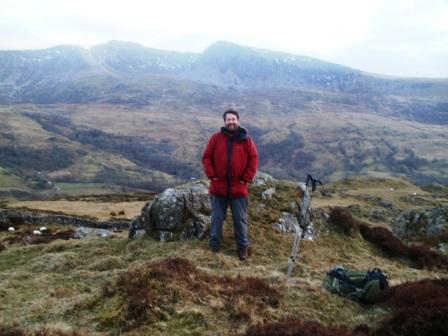 Jimmy and I set off along the byway, which initially required a steep grassy climb, quite unwelcome for out tired bodies this late afternoon. At the top of this field, things levelled out somewhat, and we were then following a walled track in a WSW direction, to the north of the summit. We judged where to break off from the track and climb to the summit, and did so by following a series of zigzagged lines until reaching the forest wall at SH699162. Now we continued gently upwards, with the target summit now on our right. A few steep pulls later, and we were on the summit of Craig y Castell - with higher summits surrounding us in all directions!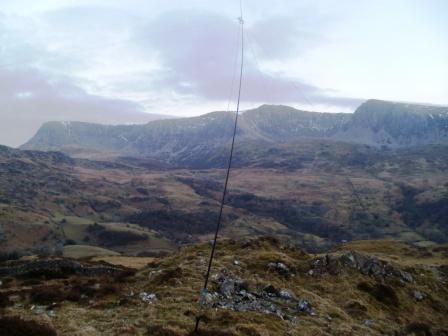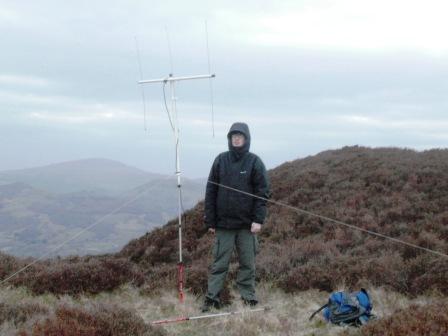 I had carried a heavy pack up this one, with my own HB1B CW transceiver, plus the FT-817 for Jimmy, and the 7Ah SLAB it used for a power supply! Wasted effort as it turned out! As usual, I did my bit on 40m CW, racking up just ten QSOs on a very noisy band with lengthening skip. But on 2m FM, Jimmy has only managed two QSOs so far. I set about getting 40m SSB ready for him to use - then realised with horror that I had left the microphone in the car! We discussed the options, including a "datamode" approach to 40m CW (ie using me as a human morse reader and sender), but ultimately it was decided to press on with 2m in search of two more contacts.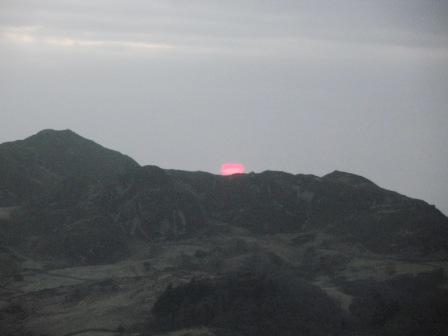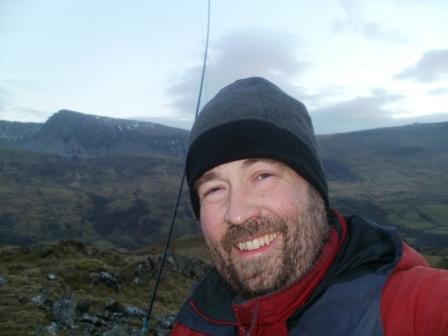 In order to help, I descended out of the activation zone myself and worked Jimmy handheld-to-handheld. It was then necessary for me to reclimb those fifty or so metres, as it was now dark and I was the only one with a headtorch! Jimmy and I found our way back down to the track, and thereafter to the car with the light of one headtorch, and drove back up to Dolgellau for a shower and some food and beer. It was a special St David's Day menu at the hotel, but we opted to walk through town and visit the local curry house. An excellent meal accompanied by a couple of pints of Cobra finished the day very nicely.
We had originally alerted for Y Garn (2) GW/NW-037, but by now we were more fancying a walk on nearby Rhobell Fawr GW/NW-021, so that remained the plan for the following day.
| | | | |
| --- | --- | --- | --- |
| G4AFI | 40m | CW | T |
| DL6KVA | 40m | CW | T |
| G4SSH | 40m | CW | T |
| G4ZRP | 40m | CW | T |
| MW0CHZ | 2m | FM | J |
| G0NUP | 40m | CW | T |
| MM0GYX | 40m | CW | T |
| DL2DWP | 40m | CW | T |
| I1YDT | 40m | CW | T |
| G4WSB | 40m | CW | T |
| G4BLH | 40m | CW | T |
| MW3WSC | 2m | FM | J |
| MW1EYP/M | 2m | FM | J |
| GC4MWS/P | 2m | FM | J |