Carn Gefallt, GW/MW-040 - 466m ASL - SN 940 646 - OS Explorer 200 - 1 SOTA point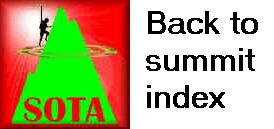 Mid Wales trip, Day 3 - Tuesday 20th August 2019
The outward route from Newbridge-on-Wye again led us through some spectacularly beautiful hidden valleys. We had been told in the pub the night before about the little-known splendour that is the Elan Valley, but although we were heading in that direction, we wouldn't actually get that far. We were amused to find what appeared to be a discrepancy on a road sign though!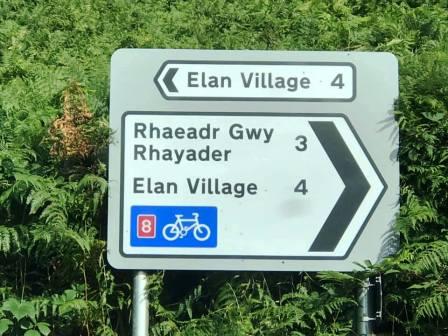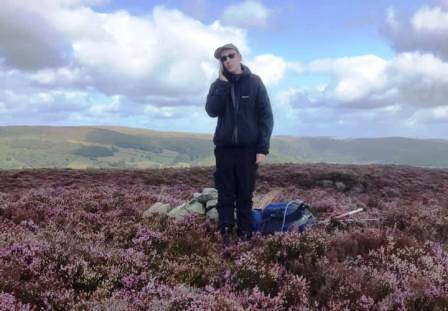 We parked close to the bend and start of track at SN 940 640. The first part of the track was pleasant and easy as we climbed onto a shoulder of the hill. But then Jimmy hit me with the bad news - we were going to have to climb our way through increasingly tall and thick gorse to get over the horizon and onto the summit. Stupidly, I followed, but it turned out this was one of those extremely rare occasions when Jimmy's research had been wanting.
As the gorse got to shoulder height, we put on coats to protect ourselves, even though it was a warm morning. Once onto the higher ground, the gorse largely disappeared and the only remaining obstacle was around 25 yards of bog to cross. This was not too bad, and then we were tramping through the heather and up to the summit.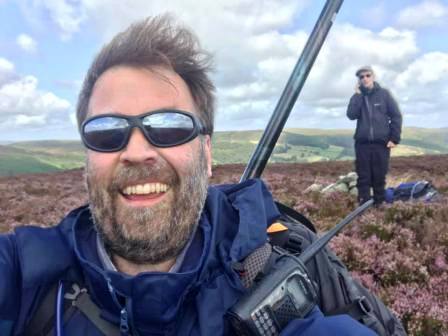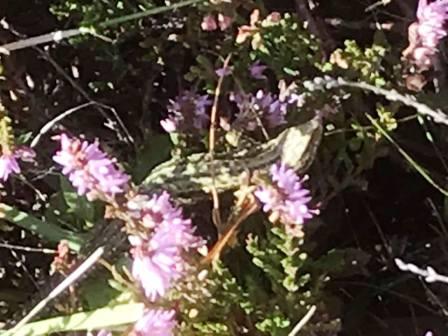 We made quite a few contacts on this activation. Jimmy needed the back-up of 40m SSB to qualify having only secured two contacts on VHF. That quickly turned into a "DX pile-up" which Jimmy enjoyed working down. As he went to pack up his 2m station, I was in the mood for more operating to changed the links to go on 30m, adding six QSOs including a S2S to add to the one I'd made on 40m SSB earlier.
On the descent route, we were able to pick out the faint but correct track working its way around a wider angle back to the main path. We were both pretty stupid to imagine that such a trodden path didn't exist. I did find a lizard crawling around in the heather as we descended, and managed to get a photo of it (above). Next we moved on to Gwastedyn Hill GW/MW-019.
| | | | | | |
| --- | --- | --- | --- | --- | --- |
| Time | Call | Band | Mode | Notes | Op |
| 10:49z | M0LEP | 7MHz | CW | | MW1EYP/P |
| 10:49z | EA2DT | 7MHz | CW | | MW1EYP/P |
| 10:51z | G0RPA | 7MHz | CW | | MW1EYP/P |
| 10:52z | DJ5AV | 7MHz | CW | | MW1EYP/P |
| 10:52z | DJ1FE | 7MHz | CW | | MW1EYP/P |
| 10:53z | GM0AXY | 7MHz | CW | | MW1EYP/P |
| 10:55z | MW0OFA | 144MHz | FM | | MW0HGY/P |
| 10:56z | IK2LEY | 7MHz | CW | | MW1EYP/P |
| 10:57z | GW4VPX | 144MHz | FM | | MW0HGY/P |
| 10:57z | DL3HXX | 7MHz | CW | | MW1EYP/P |
| 10:59z | F5VHP | 7MHz | CW | | MW1EYP/P |
| 11:00z | G3RDQ | 7MHz | CW | | MW1EYP/P |
| 11:02z | GW4VPX/P | 7MHz | CW | | MW1EYP/P |
| 11:04z | G4ENC/A | 7MHz | CW | | MW1EYP/P |
| 11:06z | M0TMD/P | 7MHz | SSB | G/SC-009 | MW1EYP/P, MW0HGY/P |
| 11:12z | G6NHW | 7MHz | SSB | | MW0HGY/P |
| 11:13z | G0RQL | 7MHz | SSB | | MW0HGY/P |
| 11:14z | ON7LO | 7MHz | SSB | | MW0HGY/P |
| 11:15z | 2E0FEH | 7MHz | SSB | | MW0HGY/P |
| 11:15z | G4OBK | 7MHz | SSB | | MW0HGY/P |
| 11:16z | G0RPA | 7MHz | SSB | | MW0HGY/P |
| 11:16z | G4WSB | 7MHz | SSB | | MW0HGY/P |
| 11:17z | GM6ZAK | 7MHz | SSB | | MW0HGY/P |
| 11:17z | M0GQC | 7MHz | SSB | | MW0HGY/P |
| 11:18z | I5FLN | 7MHz | SSB | | MW0HGY/P |
| 11:20z | M0WBG | 7MHz | SSB | | MW0HGY/P |
| 11:21z | EA2CKX | 7MHz | SSB | | MW0HGY/P |
| 11:21z | G3NFV | 7MHz | SSB | | MW0HGY/P |
| 11:22z | MW0OFA | 7MHz | SSB | | MW0HGY/P |
| 11:29z | M6GYU/P | 10MHz | CW | G/NP-018 | MW1EYP/P |
| 11:38z | EA2IF | 10MHz | CW | | MW1EYP/P |
| 11:38z | F5UQE | 10MHz | CW | | MW1EYP/P |
| 11:39z | DL1FU | 10MHz | CW | | MW1EYP/P |
| 11:39z | G4FJW | 10MHz | CW | | MW1EYP/P |
| 11:40z | DL4TO | 10MHz | CW | | MW1EYP/P |