Gwastedyn Hill, GW/MW-019 - 477m ASL - SN 986 661 - OS Explorer 200 - 1 SOTA point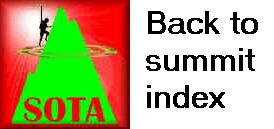 Mid Wales trip, Day 3 - Tuesday 20th August 2019
From Carn Gafallt GW/MW-040, it was a short drive back over the A470 and up to Pen-y-ffynnon. We parked at SN 990 658 and enjoyed our lunch of chicken soup. Yes, boring old chicken soup! We'd decided to have a change on this holiday and have normal varieties! From the road, we walked along the PROW, up the right-hand-side of an increasingly steep field. The last few metres before the gate were really quite tricky! Through the gate, we turned sharp right to follow a better path climbing gently around the shoulder of the hill.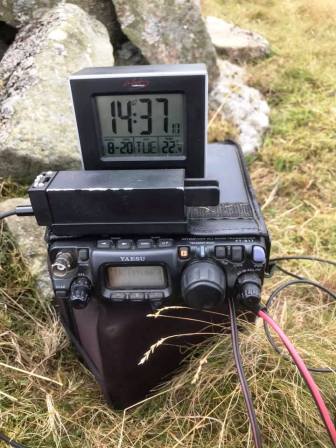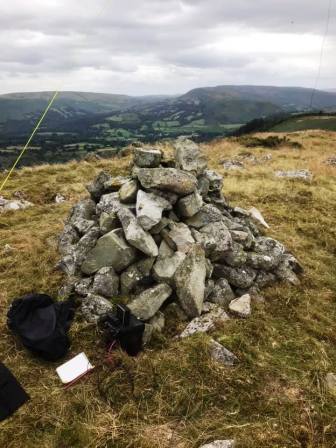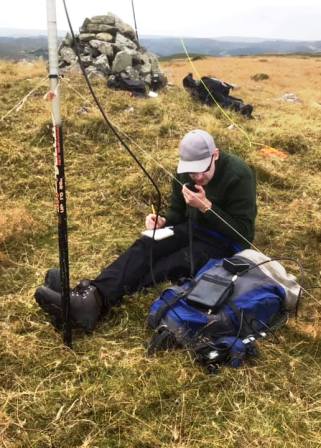 Once through another gate, it was time to do battle with the vegetation once again. The "path" weaved its way through thick and tall bracken. I followed Jimmy as he seemed to sense the route the path was taking, that in reality was almost impossible to ascertain! Things worsened as gorse began to make an appearance. We'd already had quite enough of gorse earlier that day on the first hill! After another purgatorial final ascent, we reached the summit, which, itself, was quite pleasant. We knew we would have to retrace our steps later though!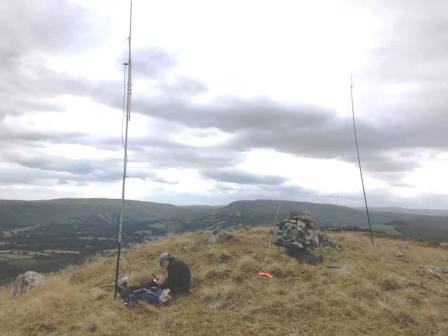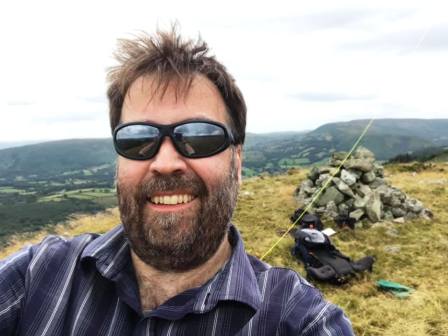 We opened proceedings with S2S with Vicki M6BWA/P who was activating Aconbury Hill G/WB-024, later also working Phil GW4HQB/P on Tarren y Gesail GW/NW-033. In between, Jimmy got more than enough on 2m FM, as did I on 30m CW. A straightforward activation to make up for the non-straightforward ascent. I was pleasantly surprised with how quick and easy it was to negotiate the vegetated section going back down though, so we were back at the car in good time.
Our third and final summit of the day would be Rhiw Gwraidd GW/MW-024.
| | | | | | |
| --- | --- | --- | --- | --- | --- |
| Time | Call | Band | Mode | S2S | Op |
| 14:13z | M6BWA/P | 144MHz | FM | G/WB-024 | MW1EYP/P, MW0HGY/P |
| 14:19z | M6BWA/P | 433MHz | FM | G/WB-024 | MW1EYP/P, MW0HGY/P |
| 14:32z | 2W0NXV | 144MHz | FM | | MW0HGY/P |
| 14:37z | GW4VPX | 144MHz | FM | | MW0HGY/P |
| 14:39z | IK2LEY | 10MHz | CW | | MW1EYP/P |
| 14:40z | OK2PDT | 10MHz | CW | | MW1EYP/P |
| 14:41z | DJ5AV | 10MHz | CW | | MW1EYP/P |
| 14:41z | ON3ND | 10MHz | CW | | MW1EYP/P |
| 14:42z | EA2LU | 10MHz | CW | | MW1EYP/P |
| 14:43z | OZ7JZ | 10MHz | CW | | MW1EYP/P |
| 14:46z | OH3GZ | 10MHz | CW | | MW1EYP/P |
| 14:49z | OE8SPW | 10MHz | CW | | MW1EYP/P |
| 14:55z | GW4HQB/P | 433MHz | FM | GW/NW-033 | MW1EYP/P |
| 14:56z | GW4HQB/P | 144MHz | FM | GW/NW-033 | MW0HGY/P |