Rhiw Gwraidd, GW/MW-024 - 442m ASL - SO 016 634 - OS Explorer 200 - 1 SOTA point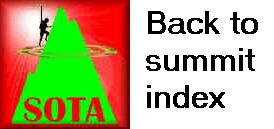 Mid Wales trip, Day 3 - Tuesday 20th August 2019
From Gwastedyn Hill GW/MW-019, we drove south-west via Nant-glas and up the minor road towards the farm just south of the summit. We found a suitable patch of ground to park beside the track, which we then followed the rest of the way to the summit.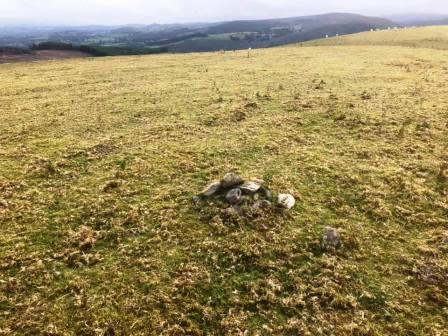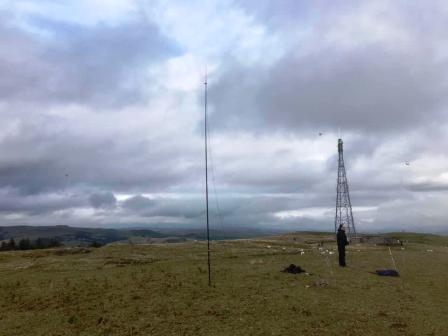 Once past the transmitter mast, it was a very broad flat summit ridge, and rather pleasant for a late afternoon activation. It was getting on towards 6pm local, so we were keen to get qualified quickly. Therefore I went straight onto 40m CW and did exactly that. Jimmy started, as always, on 2m FM with his FT-817 running 2.5 watts into the SOTAbeams MFD. His QSOs did not come as quickly as they did for me, but he did qualify no problem without needing to complete the activation on HF.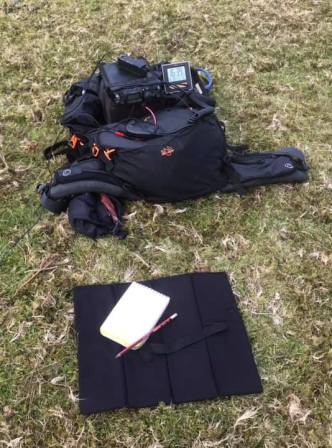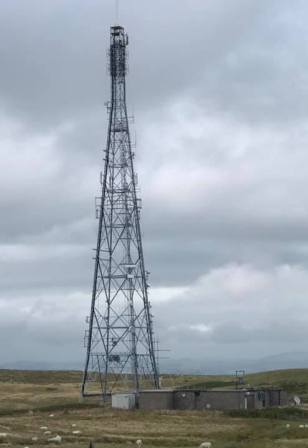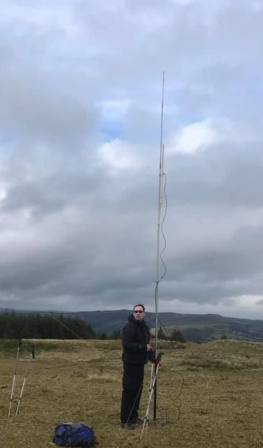 A three summit day was pleasing. We remained absolutely on Jimmy's schedule of alerts, and could now relax and look forward to the next day. Now though, it was time to descend, drive back to the cottage, take out turns in the shower and get to the pub.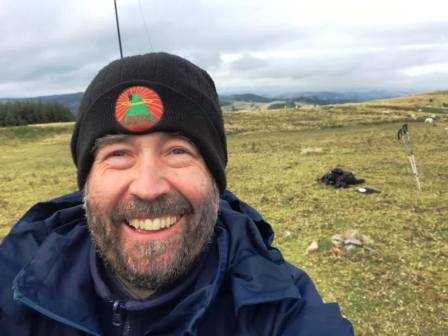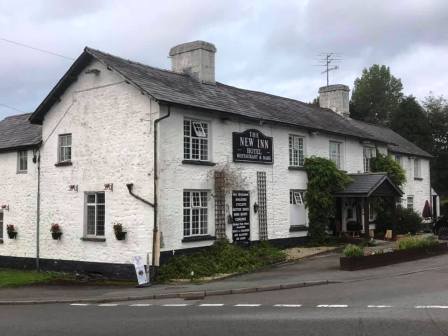 The landlady Sian had ordered in faggots at our request, so it was our favourite Welsh SOTA tea of faggots, chips, peas and gravy. As with the previous nights, we made use of the Wi-Fi - Jimmy to upload his photos, and me to access YouTube in order to do more scorewriting ahead of my next gig. But we still had time to play pool and drink beer though! Despite the setback of the cottage not having Wi-Fi, after three evenings working in the pub, I was almost at the stage of my work being complete, which was not a bad result all things considered.
We had another three-summit day planned for the Wednesday, commencing with Aberedw Hill GW/MW-022.
| | | | | |
| --- | --- | --- | --- | --- |
| Time | Call | Band | Mode | Op |
| 16:42z | EA2DT | 7MHz | CW | MW1EYP/P |
| 16:43z | IK2LEY | 7MHz | CW | MW1EYP/P |
| 16:44z | DK1WI | 7MHz | CW | MW1EYP/P |
| 16:45z | F5LKW | 7MHz | CW | MW1EYP/P |
| 16:46z | HB9CZR | 7MHz | CW | MW1EYP/P |
| 16:46z | GW4SHF | 144MHz | FM | MW0HGY/P |
| 16:47z | MW0OFA | 144MHz | FM | MW0HGY/P |
| 16:49z | EA2IF | 7MHz | CW | MW1EYP/P |
| 16:54z | F4DIA | 7MHz | CW | MW1EYP/P |
| 16:55z | DL8DXL | 7MHz | CW | MW1EYP/P |
| 16:56z | 2W0FLW | 144MHz | FM | MW0HGY/P |
| 17:06z | GW1CLH | 144MHz | FM | MW0HGY/P |