Carnedd y Filiast, GW/NW-032 - 669m ASL - SH 871 446 - OS Explorer OL18 - 4 SOTA points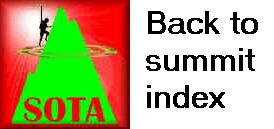 The unaccomplished mission has now been accomplished, and on a great day too.

As Richard G3CWI mentioned on the SOTAwatch reflector, Jimmy M3EYP has had Carnedd y Filiast GW/NW-032 at the forefront of his mind ever since. A clear Saturday - both diary-wise and weather-wise - presented itself, so Jimmy was quick to negotiate a pass-out, and to invite Richard G3CWI and Edward M6NSR for the outing. I was anticipating picking up both Edward and Richard before returning to the home QTH to collect Jimmy, but to my surprise he was up, dressed and down in the kitchen making us both a mug of tea shortly after 0530. As such, the four of us were driving west out of Macclesfield by 0600 on Saturday 19th March 2011.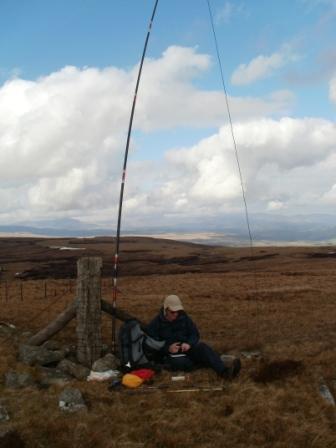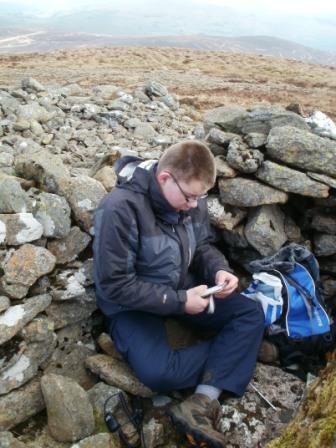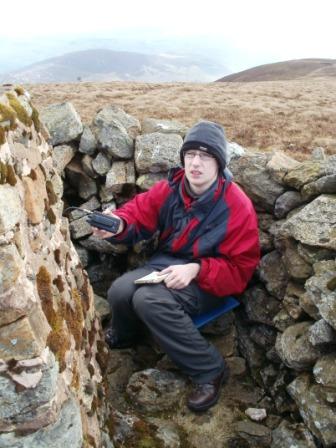 With the early start, we had agreed to drive over to Bala before stopping for breakfast. This we did, courtesy primarily of the M56 and A494, arriving outside Y Badell Aur cafe in good time, not long after 8am. The full cooked breakfasts were very good and enjoyable, if on the expensive side, and set us up well for the long walk ahead.

After breakfast, I switched on the JimNav and he directed me down the A4212 to the lakeside layby at SH858410. However, we then decided to backtrack a little and drive a short distance up the access track at SH860410, parking in a wide turning circle at SH858411. This possibly saved us a total of 30 minutes walking time over the day, even though it was a tiny fraction of the overall route.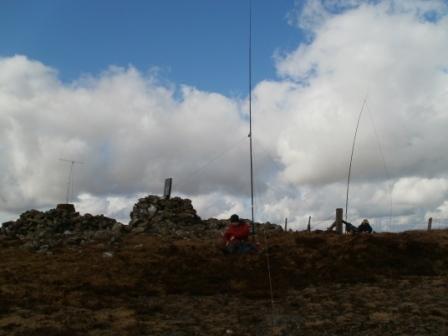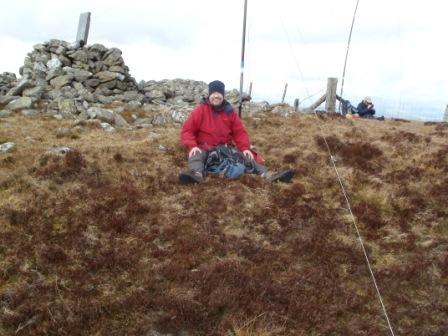 Rucksacks, poles and coats were donned, although the latter would not be tolerated by any of us for long. We climbed up the increasingly rough track out of the wooded area, and onto the hillside where it climbed gradually as it weaved around. The sun was out on a glorious Snowdonia morning, and we had soon warmed up. Coats and fleeces were removed as some of us went to walking in shirt sleeves for the first time in 2011. The bright sunshine and blue sky illuminated a colourful and beautiful vista all around us. What a great day to be walking.

It was quite a contrast to the first and unsuccessful attempt in December 2010, when deep snow and slow progress led to an abandonment when 75% of the way to the summit. That was a good day's winter walking, but nothing compared to the dry, bright and clear conditions enjoyed now. In quick time, we had reached the stream at SH872431 that had nearly beaten us in December. That had required moving downstream for a very tricky crossing on rocks in a deep and fast-flowing torrent. Today we hopped across some fairly straight-forward yet non-trivial stepping stones at the ford over the track. This had been under 18 inches of water last time. We also noted how much quicker we had been in reaching this point, so much so that it completely confused Richard's Satmap (I assume) for G3CWI was assuring me that we were "nowhere near the stream yet" as we descended towards it!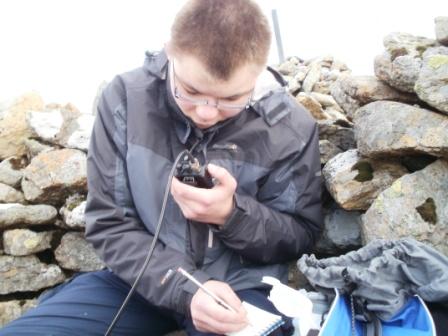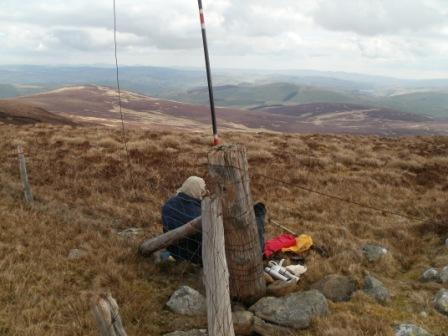 On the other side, we had the long gradually climb up to the point where we did finally abandon the expedition in December, as we looked left to see a steeper track filled with four feet of wet snow. This time, we just walked up it. I was now walking with Edward, who seemed to match my pace, and also seemed to want rests at the same time as me. Jimmy was already on summit, and soon to be joined by Richard who had strode out ahead.

As Ed and I emerged from the steep section, we across to see the trig point with a SOTA Beam sticking out of it on the horizon, and also another figure waving a fishing pole in the air. A short boggy final ascent had us all reunited. Edward joined Jimmy by the trig point to share the 2m FM station, while I found a sheltered spot lower down to erect the MM17 vertical with groundplane. Richard had also settled into a similar sheltered spot and was QRV on 30m on his PP3 battery. I later apologised to him for the QRM caused by being so close. Although on a different band, I hadn't allowed for the lack of rejection and filtering in his rudimentary 30m rig.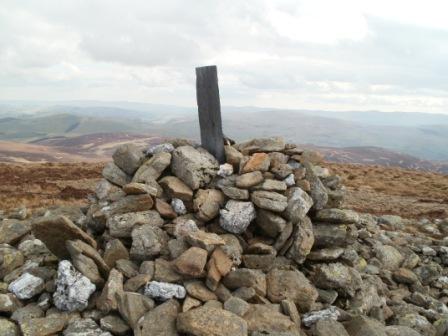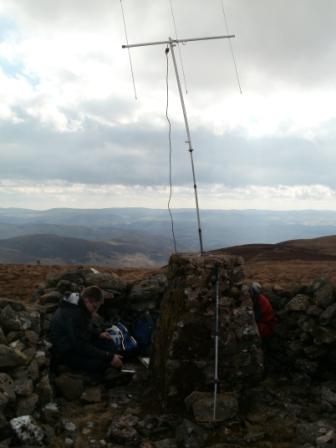 On 17m CW, I made 19 contacts into 11 DXCCs - 9A, DL, GW, HA, HB, LZ, RA, UN, UR, VE and W. Jimmy made 15 QSOs on 2m FM. Jimmy and I guzzled down the entire one litre flask of Baxters Chilli Beef, Lentil and Buckwheat soup in one sitting, before packing away. Descent was a simple reversal of the ascent route, and with the satisfaction of now successfully activating GW/NW-032, the 100m of climb required on the "descent" did not seem too painful.

We were back at the car around 2pm, so in position to select another summit to activate before heading home. After some discussion, we opted for Moel Gyw GW/NW-053 in that it would be a new unique for Edward and that it is one of Richard's very favourite hills.
| | | | |
| --- | --- | --- | --- |
| GW7AAV | 2m | FM | J |
| M0TUB/M | 2m | FM | J |
| G6ODU | 2m | FM | J |
| G0SJS | 2m | FM | J |
| GW4CQZ | 2m | FM | J |
| MW0IDX | 2m | FM | J |
| M3XIE | 2m | FM | J |
| M3PQQ | 2m | FM | J |
| M0MOL | 2m | FM | J |
| M0BXR | 2m | FM | J |
| G4ZRP | 2m | FM | J |
| MM1MPB | 2m | FM | J |
| M3YYK | 2m | FM | J |
| GW4EVX | 2m | FM | J |
| M1SUM | 2m | FM | J |
| US1GCU | 17m | CW | T |
| UA1OJL | 17m | CW | T |
| LZ2BR | 17m | CW | T |
| 9A2UU | 17m | CW | T |
| MW0IDX | 17m | CW | T |
| HB9BIN | 17m | CW | T |
| UA1ABO | 17m | CW | T |
| UR5UJ | 17m | CW | T |
| UR7LR | 17m | CW | T |
| UA1DK | 17m | CW | T |
| UN5J | 17m | CW | T |
| UT5PI | 17m | CW | T |
| VE2JCW | 17m | CW | T |
| DJ5AV | 17m | CW | T |
| RD3R | 17m | CW | T |
| RV3LO | 17m | CW | T |
| UX1BZ | 17m | CW | T |
| W4EY | 17m | CW | T |
| HA7UG | 17m | CW | T |