Sometimes, my focus departs from the radio, modes, aerials and stuff, and concentrates on the walks, the hills etc. The nice thing about SOTA is that you can very much set the balance between these to suit yourself, and if you wish, like me, regularly change where that balance is. Recently I'd been focusing on a new build for a 30m groundplane, with a view to making DX contacts on FT8 and CW. The first one of these worked - but wasn't sufficiently strong or robust for such a large antenna. The previous day, I rebuilt it with a better design and stronger, higher quality components. I intended to get it out for testing and trimming in the following few days. This day however, was about hills. Lots of hills. The only contribution from the radio was getting my qualifying contacts on each one. As such, I simply did every hill walking with my VHF handheld in my coat pocket. I didn't even bother taking a rucksack!
And it was easy. I made 41 activator QSOs in the day, all on 2m FM with my Yaesu FT70D handheld, just with its helical "rubber duck" antenna. I can remember back to the early days of SOTA when 41 contacts in a day would be a veritable bonanza, and using a FT-817 and proper portable aerial at that.
Wednesday 20th February 2019 - Moel Gyw GW/NW-053, Foel Fenlli GW/NW-051, Moel Famau GW/NW-044, Penycloddiau GW/NW-054, Mynydd y Cwm GW/NW-076 & Hope Mountain GW/NW-062
I set off from Macclesfield just before 0600z, with the ambitious plan to activate all five SOTA summits on the Clwydian Range. As I parked up at the Clwyd Gate Motel on the A494, I felt extremely tired, and had severe doubts that I could complete the plan in the day. In the past, I had completed the five, but more usually had bailed out after three or four!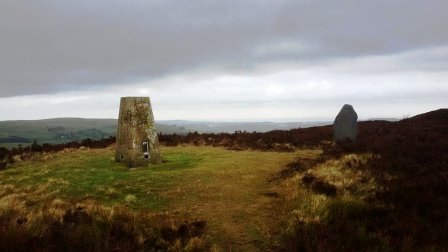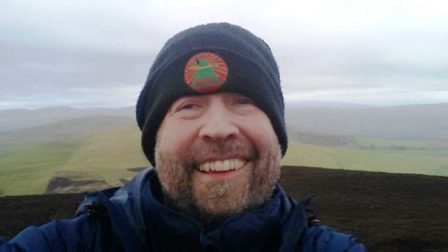 Surprisingly, I got into my stride quite quickly, and the initial climb up the grassy bank towards Moel Gyw was not as hard a task as anticipated. I left the Offa's Dyke Path to double back on myself, to climb the final approach to the summit, and was soon by the trig point. Ten minutes operating on the handheld brought five QSOs into the log, and an easy qualification. Back down, and off to Foel Fenlli GW/NW-051.
| | | | |
| --- | --- | --- | --- |
| Time | Call | Band | Mode |
| 08:21z | M0LJH | 144MHz | FM |
| 08:24z | MW0ISC | 144MHz | FM |
| 08:26z | M0EOT | 144MHz | FM |
| 08:29z | G3CWI | 144MHz | FM |
| 08:31z | G0OHY | 144MHz | FM |