Cold Fell G/NP-020 - 621m ASL - NY 605 556 - OS Explorer OL43 - 4 SOTA points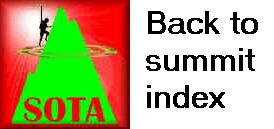 We had booked into the Langdon Beck Hotel for an evening meal. Despite being 45 minutes late after Cold Fell, they still served up an excellent meal with superb real ales. Jimmy and I received some sort of "hero's welcome", being recognised by the proprietors and the locals in the bar from our stay there last year during our Pennine Way walk.

We were booked into the Langdon Beck Youth Hostel down the road for a bed for the night. In the common room, I enjoyed a beer with several other hostellers. Three of them were doing the Pennine Way. Brilliant. It was finally the turn of Jimmy and myself to be those really irritating know-it-all people you get in youth hostels, those who have climbed every peak on the planet and know everything about anything to do with fellwalking! Well, not quite, but it was nice for us to "hold court" for half-an-hour or so comparing notes about the first half of the trail and fielding questions about the days to come. One PW walker listened to our stories, looked us up and down, then asked "Do you have a website about radio and walking? I have read your Pennine Way journal...". Fame at last indeed.

That Saturday, 9th June 2007, had seen an uncharacteristic late start from Macc, having seen to buying in Liam's 10th birthday present, after another dawn activation of The Cloud G/SP-015. Marianne fed us all with porridge at 11am, before we eventually got away just before noon. Snacks were taken at the Tebay Westmorland Farm Shops services on the M6 in Cumbria, before we followed the A69 to just short of Brampton, and then the A689 down towards Alston. We were in Pennine Way country, and Jimmy pointed out every fingerpost to his younger brother, each time the way crosssed the road - frequently around here.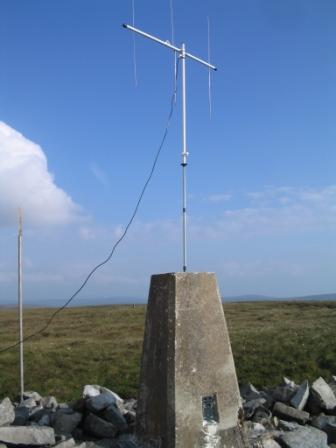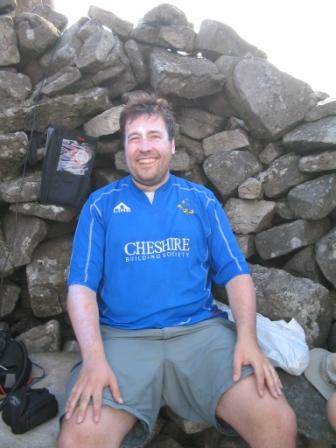 Minor roads took us to Forest Head, where we checked with a resident if it was OK to park in a corner, partially in front of a gate. It was, and so we set off across a disused quarry. The paths here were all over the place and we were soon disorientated. After a few false starts, worked out that we needed to follow the disused railway line back to the farmhouse, and then follow the track up around the left hand side of the property. This was straightforward now. We simply followed the track as it wound all the way to the summit. We stuck on it, avoiding shortcut temptation, as advised by Clive M1YAM earlier in a chaser contact.

The trig point sat upon many rocks at the summit, some of which had been used to create several seating areas, and one very substantial shelter. From in here, we worked on 2m FM, and this time without battery concerns, utilising the new 7Ah SLAB (thanks to G3CWI for his considerable help with this).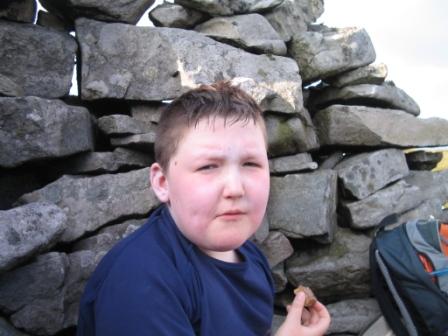 We got cracking with the descent, for time was short and we had a table booked at the Langdon Beck Hotel for 8.30pm. As it was, I had not properly reckoned that the car was parked a full 36 miles from Langdon Beck. Even with the foot down more than I would normally, we didn't get there until 9.40pm. Sue Matthews nonetheless looked after us, and virtually upon arrival presented two large oval plates of chicken jalfrezi and rice, and another of chicken korma and rice, together with a huge bowl of proper home cooked chips in the table. Washed down with the excellent Oyster Catcher ale, this was a superb meal.

We got to the youth hostel at about 10.30pm, and checked in. After a chat in the lounge with other hostellers, we retired and slept soundly through 'til around 6am. Thanks to the following stations who worked us on Cold Fell, all on 2m FM with 5 watts (except where we respectively worked each other on 0.5 watts):
| | | | |
| --- | --- | --- | --- |
| M1EYP/M | Tindale Fells | Tom | J |
| G1XYS | Kenton | Allen | T |
| M1BTG | New York | George | J |
| M0BQD | New York | Lesa | J |
| GX0NWM/P | New York | Lesa | J |
| G0EOY | Throckley | Stuart | T |
| G1ZJQ/P | Cramlington | Derek | T |
| MM0LYI/M | M74 near Gretna | Matt | T |
| MM1BHO/M | Hoddom Castle | Richard | T |
| M3EYP/M | Tindale Fells | Jimmy | T |