Jimmy M3EYP and Tom M1EYP began their biggest walking expedition yet, on Tuesday 25th July 2006. They walked the Pennine Way, a 268 mile, three week walk from Edale in Derbyshire to Kirk Yetholm in Scotland, where they arrived on Sunday 13th August 2006. Along the route, there were 7 qualifying Marilyn summits, and both Jimmy and Tom activated these on amateur radio in the SOTA - Summits On The Air programme. In addition, they also activated one summit that lies half a kilometre to the side of the path, and three summits in Southern Scotland the day after they completed the walk.
The following was our complete itinerary, including the amateur radio operations from summits. Click on the date to read about our walk that day and see the photographs.
Jimmy was raising funds for local charity Friends For Leisure. This organisation provides opportunities and support for disabled youngsters to participate in mainstream activities and friendships. Supported activities include cinema trips, shopping trips, parties, discos, supporting the local football club and many many more. The support work relies heavily on the contribution of a team of volunteers who give freely of their time, and on sufficient funding. To learn more about Friends For Leisure, click on a hyperlink.
Press reports
This piece appeared in the May 4th issue of Macclesfield Community News: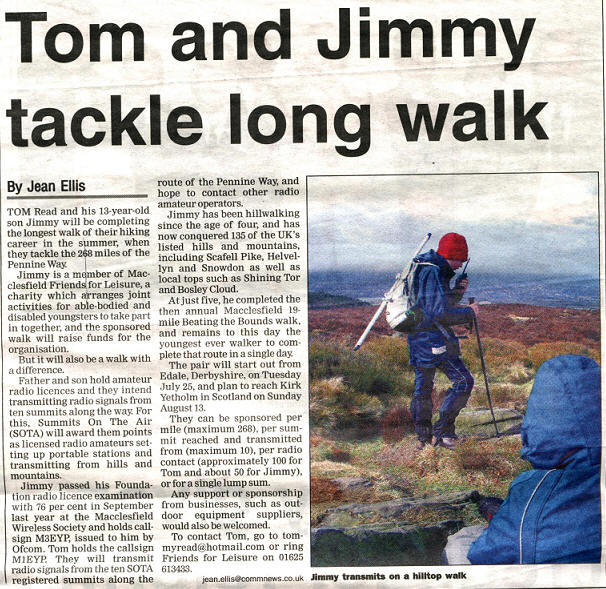 We thank you for your support, and if you are a radio amateur, perhaps we will speak to you during the expedition. Below is a copy of the article in the May 3rd edition of our local newspaper, the Macclesfield Express: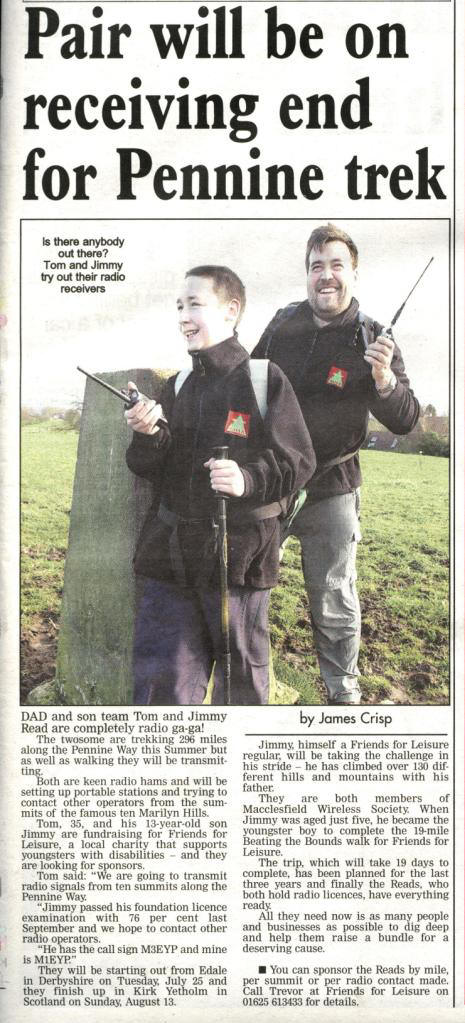 Another cutting for the scrapbook, this time from the April 2006 edition of Radio User magazine: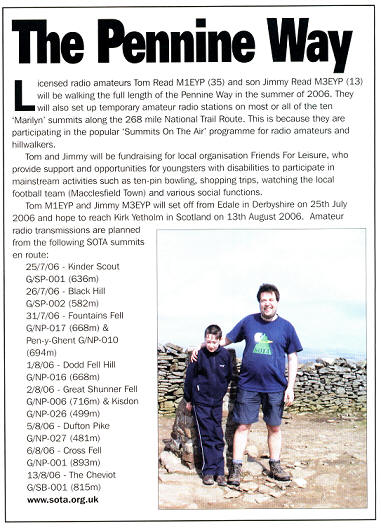 And then this one appeared in the June 2006 edition of Monitoring Monthly magazine: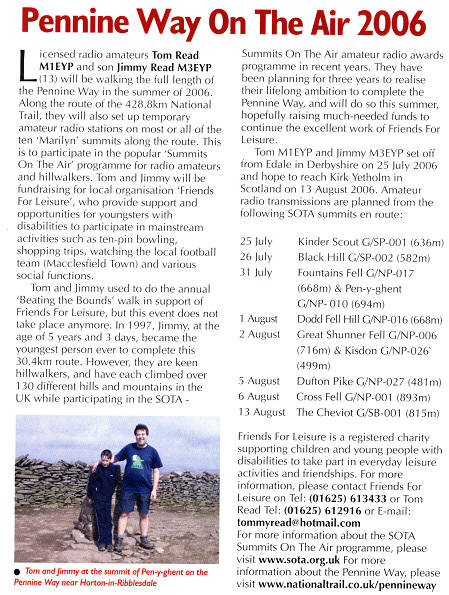 Further press reports about our completion of the walk, as well as our fundraising and presentation appear here.