Wednesday 26th July 2006 - Crowden-in-Longdendale to Standedge - 12 miles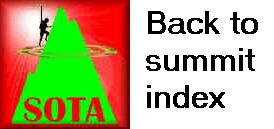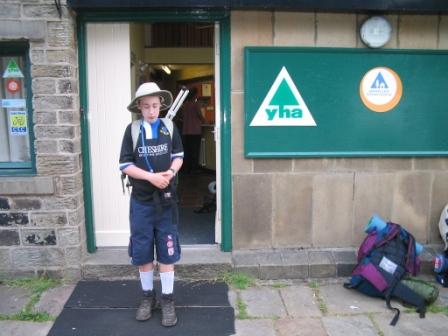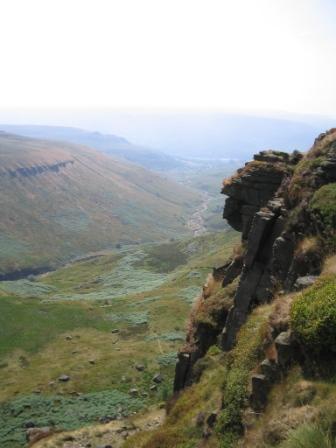 This was only day two, so we were still enthusiastically tucking into full English breakfasts in the morning. However, our experiences from day one were already contributing to one major change of policy. As the hostel staff were bagging up our pre-ordered packed lunches, I mentioned "No need to put any bags of crisps in" and explained how trying to eat crisps on Snake Pass in 30 degree plus heat had probably put us off crisps for life. "Would you like an extra piece of fruit instead?" offered the duty warden. Result. As unenjoyable as the crisps were yesterday, the fruit had been relished. "Yes please" we replied, and made a mental note to try this trick on each further occasion we were collecting our lunches. (And it virtually always worked). Toke and Bobby were cajoled into signing our Wainwright book, although as it turned out, we would be seeing plenty more of them.
It was to be another scorcher, and so we afforded ample time to covering up with sunblock and hats before setting off on our second trek. Don, Stuart and I spoke philosophically about the challenge ahead. I admitted to feeling a little unnerved by the sheer difficulty and exertion demanded by day one, and faced up to the fact that over 250 miles of the Pennine Way remained! However, I was also able to express how Jimmy and I had got up and ready that morning, feeling refreshed and enthusiastic. I proposed that my approach for the rest of the walk would be to simply target one day at a time, aim to complete that day, then get up in the morning and tackle another day. Don and Stuart were very good people to share the first four days with, as they had much experience of long-distance trail walking, and I was motivated when they responded to me that my mental approach was the correct one at this end of the challenge.
After climbing up out of Crowden to rejoin the Pennine Way, we were soon steadily ascending along pleasant green paths and fording streams. A steeper pull brought us above Oakenclough Brook towards Laddow Rocks, and we would remain on this lofty shelf with pleasing views for a couple of hours. We met Pete and Jack a couple of times around Laddow Rocks, but didn't ever spend much time with them, since they were walking at great speed between their rest stops, while our gang of four were plodding more consistently, trying to see, hear, taste, smell and breathe in every part of the experience.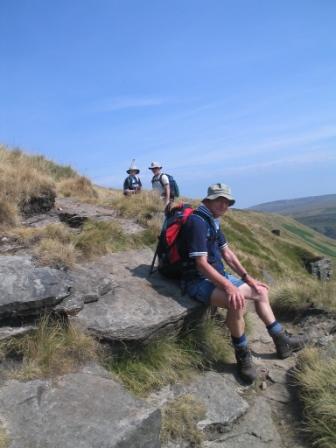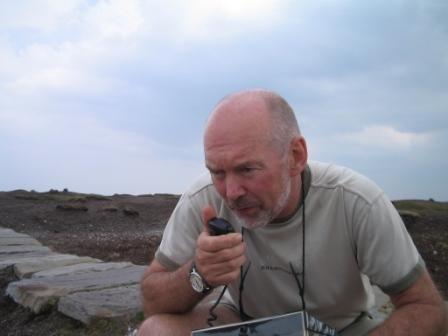 As the shelf faded away at the head of Crowden Great Brook, the view ahead was of a large expanse of rough featureless moorland. This contrasted sharply to the view down the valley behind back to Crowden, with the hints of limestone shelves and the dramatic jagged cut of Laddow Rocks. Jimmy sensed his next objective and quickened his pace towards Black Hill. Soon, we were walking on a firm surface courtesy of the slabbed path created from the stone floors of former Lancashire mills. Jimmy became an increasingly diminishing character in front of me as he stretched his legs further. A glance behind revealed that Stuart and Don were also getting smaller and further away. With more detailed inspection we could see that Don had collared a couple of walkers that had passed us coming the other way a few minutes before. Assuming he would have a couple of interviews to conduct, we knew we were well ahead.
As we approached "Soldier's Lump", the summit of Black Hill, Jimmy and I recollected our first visit to this point for our first SOTA activation of it in 2003. We had followed the line of the original route of the Pennine Way, a tortuous and filthy traverse across peat hags and bogs. The new routes of the Pennine Way, together with the luxuries of slabbed paths and boardwalks where provided certainly make things easier for today's Pennine Wayfarers in comparison to those in the trail's first thirty years.
At the triangulation column (whose base is about four feet above the surrounding ground, indicating the extent of the erosion of peat from this area), Jimmy and I set up the radio equipment and antenna while we waited for Don and Stuart to catch up with us. It was nice to have a sit down and relax with a snack, although we were aware that like Kinder yesterday, we were still relatively early into the day's mileage requirements. Also, like Kinder yesterday, the amateur radio response was much less than anticipated. Was there a problem with my equipment, with the conditions, or were people just not listening? Day one's reality check about the demands of the Pennine Way made me not overly concerned with the answer to that question, providing we all made the requisite contacts. Which we did, with Stuart again sharing our station, and more often than not the three of us working each station that called us in rotation.
Many thanks to the following stations, all worked on FM mode with 2.5 watts:
| | | | | |
| --- | --- | --- | --- | --- |
| 2E0RDU/P | Bury | John | 2m | T, J |
| M3HGH/P | Bury | Ken | 2m | T, J |
| GW4BVE | Pool Quay | John | 2m | T, J |
| G4BLH/M | Burnley to Halifax road | Mike | 70cm | T, J |
| G4BLH/M | Burnley to Halifax road | Mike | 2m | T |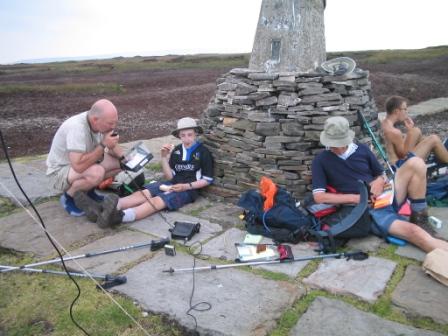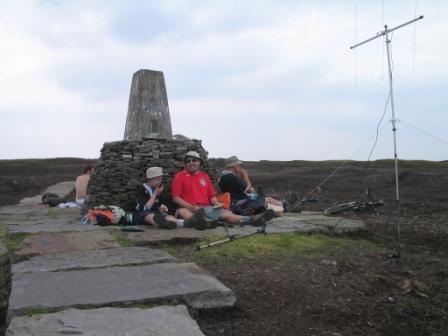 We packed up and left the summit in temperatures of 26 degrees Celcius to follow the familiar route to the A635 and the point from where we normally approach Black Hill. Crossing over the main road gave that lift of adrenalin once more as a result of returning to walking somewhere entirely new to us. Looking back towards Black Hill, we noticed a "dust devil" - a mini tornado picking up dust and giving the impression of smoke on the hill top. It seemed someone had got this impression because we soon heard sirens followed by a fire engine pulling up opposite us to survey the scene.
Although some of the walking was hard going, it was mainly straightforward and without great deviation in the contours. As we reached the second of the Wessenden reservoirs, I began to notice problems with my rucksack and boots. My toes were slipping in the boots I had been walking comfortably in for 2 years, while I was experiencing pain in my back from the way my rucksack was sitting. The boots were simply retied more tightly, which solved that problem. The rucksack was an issue though. For the next couple of days I kept temporarily relieving the difficulty by retightening the shoulder straps, but it was becoming clear that my cheap daysack was simply not up to the job of the Pennine Way. In 2006 political speak it was "Not fit for purpose".
It was a good feeling to be approaching the A62 Manchester to Huddersfield road in and amongst the ventilation shafts for the Standedge railway and canal tunnels. It was not yet 6 o'clock, so we had already repaired the previous day's problem of not being able to complete the day's walk in reasonable time. We were of course mindful of the fact that today's walk had been five miles shorter than yesterday's, and on generally easier terrain, but our thoughts were committed to the "one day at a time" ideal. I telephoned our landlady for the evening on Jimmy's mobile phone. We were staying with a couple at New Barn Farm, Harrop Green near Diggle, while Don and Stuart were at their daughter's place up the hill. The landlord drove up and picked us up in his car, dropping Stuart and Don off at their accommodation before continuing down to New Barn with Jimmy and myself. We received a warm and friendly welcome from this lovely couple, and shown to our comfortable twin bedded room.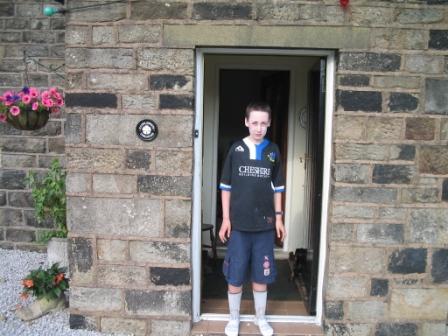 After a shower and a change, we were picked up by Stuart and Don's landlady (our landlady's daughter) and driven down to the Hanging Gate in Diggle, the nearest place for evening food in the area. We both had the homemade steak and kidney pie, which I washed down with Theakstons XB bitter. Stuart and Don's host later returned to give us lifts back, but I wasn't ready for bed. After Jimmy settled down, I took the short walk down the steep bank to the Diggle Hotel which sits by the entrance to the Standedge railway tunnel. In here I enjoyed a Jennings Cumberland Ale with 10 year Bushmills Malt chaser, and a chat with a couple of regulars. That night, we both slept well, as became the pattern for the rest of the Pennine Way, our bodies and minds not prepared to challenge the total tiredness any more!