Thursday 27th July 2006 - Standedge to Swillington, then to Mankinholes YHA - 15 miles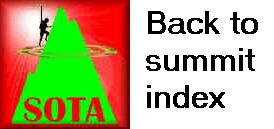 The day began with another meeting with Pete and Jack. It turned out they were also staying at New Barn Farm, and so we all had breakfast together. This would be Pete and Jack's last day - they were only walking as far as Hebden Bridge - but they were intending completing the Pennine Way in future stages. Pete made a note of my email address so that we could get in touch at a later date. He was particularly interested in my accommodation schedule, and the various information sources I had used. In return, I got him to sign my Wainwright book.
After breakfast, we thanked our hosts and walked down the farm track to the road. There wasn't a bus stop at that point, but our hosts assured us that the bus would definitely stop for Pennine Way walkers at that point. And it did, before transporting us with our walking poles and rucksacks the uphill mile back to Standedge, and the point where we left the Way yesterday. There was no sign of Stuart and Don, so I took a photograph of Jimmy by the first Pennine Way sign of the day and then set off walking. Pete and Jack were already mere dots in the distance with their chosen "sprint" method of walking. I called Stuart a couple of times on my handheld transceiver, but did not elicit a response. A couple of fields further in however, there they were waiting for us. Stuart confessed that he hadn't thought to switch his radio on!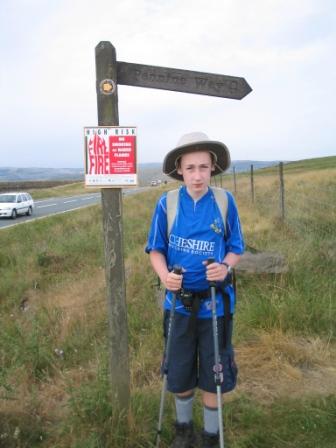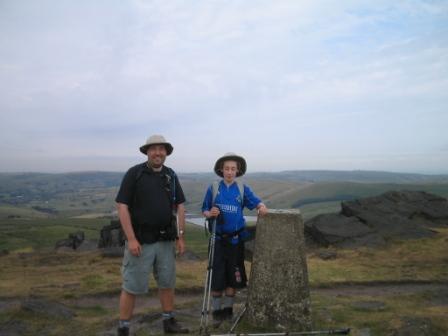 Today's walk was suddenly much easier. Unlike the previous two days, we actually began up on the ridge. It did not take our bodies or minds long to feel the benefit of avoiding the effort of a 1000 feet climb at the start of the day. The weather was slightly cooler with the skies overcast which contributed to the comfort and exorcised the spectre of dehydration. We made good progress on the well-defined path along the ridge and enjoyed the views over the Lancashire mill towns and reservoirs. There would be some new trig points to "collect" today, and the first - Millstone Edge 448m ASL - was reached fairly early in the morning. The path followed the edge for another mile or so before the terrain widened out before us and began the gradual drop to the A640.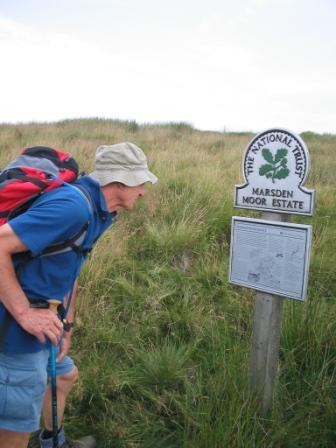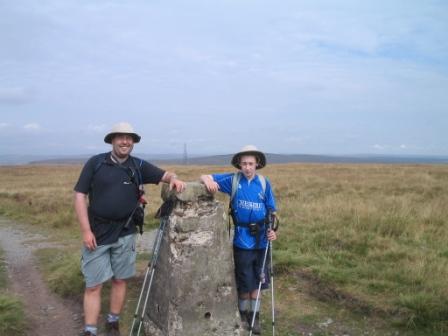 Crossing the A640 road took us into Marsden Moor Estate, an area of National Trust land, leading up to the triangulation column on White Hill 466m ASL. Obviously this was another photo opportunity, and the sense of anticipation began to increase as the Windy Hill transmitters came into view ahead. We knew that just beyond lay a landmark moment that we all admitted to have been looking forward to.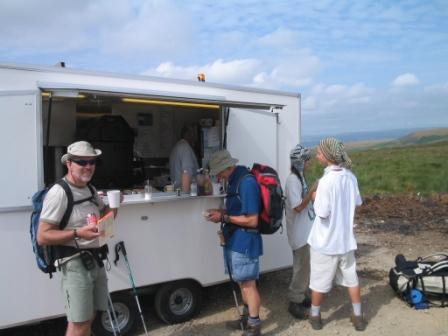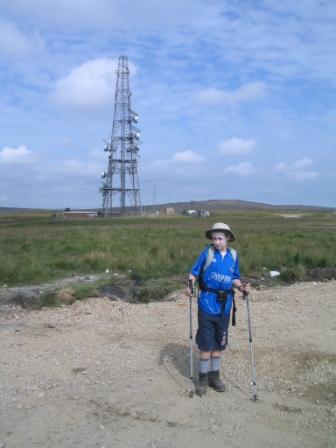 Dropping down the broad ridge from White Hill took us to the A672 and the snack bar that serves both Pennine Way walkers and lorry drivers at this point. Bobby and Toke were resting here and enjoying the refreshments, while Stuart and Don partook in cups of tea. By now the sun was back out again brightening up the day, but thankfully without the extreme ferocity of the previous two days. Nonetheless, I am not one for hot drinks in such conditions, and Jimmy and myself used the opportunity to drink half a litre of water each without diminishing the supply in our hydration packs. I didn't quite see what possible positive contribution could be being made by Bobby and Toke's inexplicable long knitted hats in the late July sun, but fearing some kind of bizarre religious cult, I didn't dare ask. Soon we were ambling towards the M62 and the increasing roar of the traffic for our first brush with urban civilisation since leaving Macclesfield.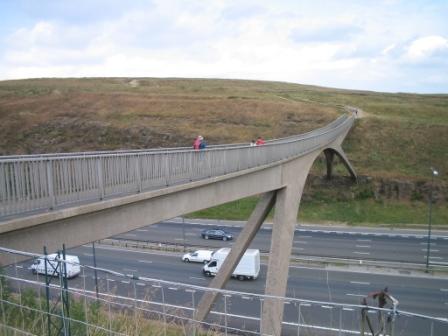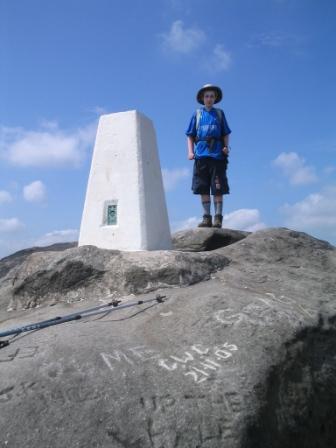 Mentally, we were boosted by reaching this point. We knew that if we could walk so far as to get north of the M62, then we could probably finish the whole lot. Jimmy and I sang out a happy tune as we approached the footbridge, a rendition of John Shuttleworth's classic "I Feel Like The Man Who Lives On That Farm Which Sits In The Middle Of The M62". This was also a moment that in another way I had not been looking forward to. It sounds silly for a mountaineer and hillwalker, but I am not good with heights. I tried not to look down as I quickened my pace over the bridge, but had to do so at least a couple of times for fear of missing out on the full experience if I didn't! Many times I had been one the vehicles passing underneath this landmark. For the past four years, the duration of our planning for this walk, we knew exactly what this bridge was when we passed under it, and looked up at it in anticipation every time. At last, here we were, crossing the M62 on the Pennine Way. We felt good.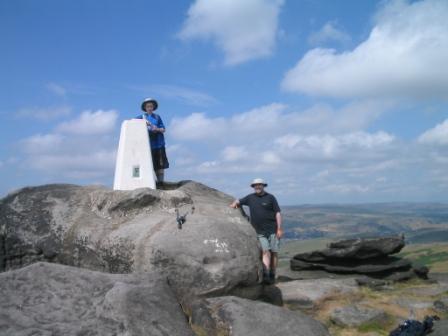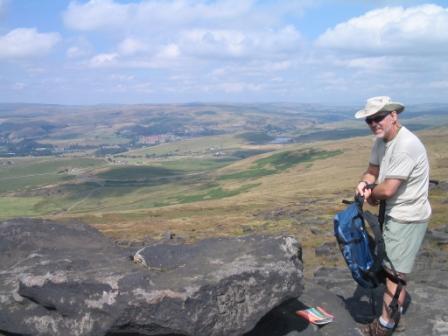 Half an hour of gentle climbing brought up a third trig point for the day. Robin Hood's Bed at 472m ASL is the highest point along Blackstone Edge, and provided us with an ideal spot for 30 minutes' rest and a spot of lunch. The views out to the west were stunning, while the whole tranquility of the scene provided food for the soul. Stuart got his feet out of his socks and boots, something he would do once or twice every day, and something I would copy in future days. The only problem with a nice rest and lunch break in a lovely setting is the subsequent reluctance to stand up, throw the pack back on and get cracking again. However, while not exactly in the "extreme survival" bracket, we did have targets and deadlines to meet if we were to have an evening meal and somewhere to sleep that night.
A sharp left down a steep old packhorse road was suddenly hard work on the knees as we left Blackstone Edge. The exertions were short-lived though, and within five minutes we were turning north again and contouring on a level track around the hillside towards Blackstone Edge Reservoir. Immediately before the reservoir was the very inviting looking White House pub with Theakstons Ales and outdoor tables. Also here were the dynamic duo of Bobby and Toke, complete with their crazy woolly headgear. Drinks were fetched out, and while most of the party sensibly selected water or orange juice, I couldn't resist a pint of hand pulled bitter, Theakston XB again if I recall correctly. We chatted about the various maps we were using. For us it was the usual Ordnance Survey 1:25000 Explorer maps, albeit in strip form in the official Pennine Way South National Trail Guide by Tony Hopkins. The Lincolnshire lads were using the popular Harvey's maps, and were so far pleased with them.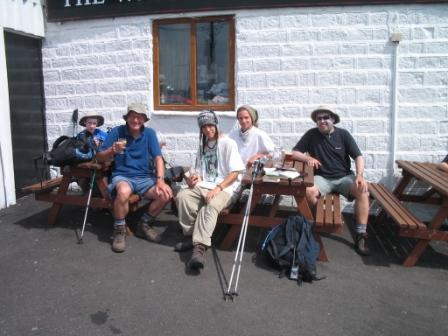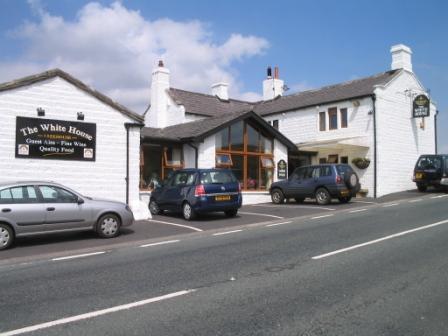 We left the pub and strolled up by the A58 Littleborough to Halifax road, increasingly aware of thick smoke in the field to our left. Closer inspection confirmed that the moor was on fire with several areas of peat burning away nastily. It did not strike us at the time, but moorland fires would become a menace over the next couple of days, even threatening the continuation of the Pennine Way attempt itself. Once the Pennine Way reached the western extreme of Blackstone Edge Reservoir, it was easy level track walking for a couple of miles. We must have been in the water catchment area for hundreds of thousands of people as we then passed White Holme, Light Hazzles and Warland reservoirs before following Warland Drain to Coldwell Hill.
It was while in this area that we received our first live call from Andy Clewes at 106.9 Silk FM, the local radio station for Macclesfield and East Cheshire. Before starting the walk and while still in the big sponsorship drive mode, Andy had interviewed us live on his Saturday lunchtime slot and the idea of a regular live link up was mooted. Jimmy had already received a couple of voicemail messages from Andy, obviously where he had tried but we must have been out of mobile coverage. It was probably not such a bad thing that we had missed each other during the strains and pains of the first couple of days, and we could provide an upbeat and enthusiastic debut report for the link.
Shortly thereafter at Withins Gate, we had the option to drop off the Pennine Way to the left and make a beeline for Mankinholes Youth Hostel. Preferring instead to continue on the ridge to just short of Hebden Bridge in order to avoid having to regain the height first thing in the morning, we marched on towards the Stoodley Pike monument. We had noticed Stoodley Pike, prominent on the hill many times when driving home from Summits On The Air hiking trips in the Forest of Bowland area, but had never actually been up there before. Upon reaching it, Stuart and I sat to rest on the hillside on this glorious warm late afternoon, snacking and allowing our feet some respite from the boots. Jimmy and Don went into the monument and climbed its steps to the balcony from where they shouted for our attention.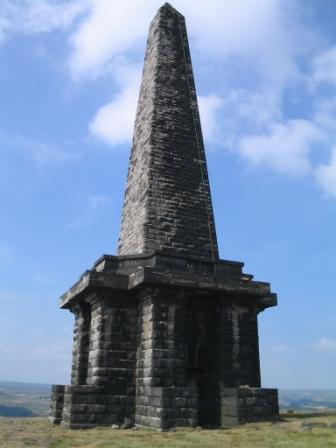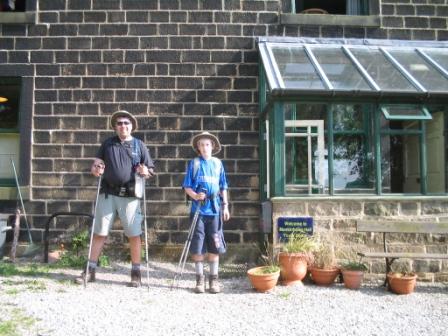 After a steep descent down the end of the ridge from Stoodley Pike, we were at Swillington, the crossroads of the Pennine Way and Pennine Bridleway where we would rejoin the Pennine Way tomorrow morning. Now we had to turn sharp left and follow the Pennine Bridleway about 1¾ miles back down to Mankinholes. It might have seemed a lot of unnecessary extra walking, and almost doubling back on ourselves, but it preserved the integrity of not skipping out sections of the Pennine Way, and meant we did not have to climb Stoodley Pike tomorrow, only to immediately descend from it again. In any case, the bridleway gave flat easy walking, and we arrived at the hostel in good time.
Mankinholes Youth Hostel was already a condemned establishment when we arrived, it being on the hit-list for the first of several impending waves of rural youth hostel closures. We agreed it was a great shame that this course of action was taking place, with only larger, profitable hostels in cities and major tourist areas being invested in. I personally questioned where such a policy fit into the Youth Hostel Association's stated aim of "To help all, especially young people of limited means, to a greater knowledge, love and care of the countryside...". Mankinholes Youth Hostel was being run, single-handedly by a diminuative retired lady. She said that she had actually given up her YHA duties, but had been cajoled into covering a spell as volunteer warden at Mankinholes. Still under the illusion that we could keep ourselves sweet-smelling and presentable along the Pennine Way, Jimmy and myself sorted out our laundry and made use of the battered old washing machine in the members' kitchen.
This was more like it. We were at Journey's End for the day with ample time to sort out clothes and equipment, shower and change, and then still lounge about and relax in our dormitory before going out for something to eat. We were mindful that the days, at present were less than the overall average of 13.5 miles per day, and would have to be recovered later, and that the terrain was generally quite easy on this stretch, but we were definitely improving our progress rates and mental confidence. Jimmy lay on the dormitory floor writing up his amateur radio logbook for his contacts made on Kinder Scout G/SP-001 and Black Hill G/SP-002. When we did eventually venture back out, it was in sandals to best relax the feet. A short stroll along a public footpath across a field brought us to the Top Brink Inn in Lumbutts, where the four of us enjoyed a very good meal. Jimmy had the chicken goujons followed by beef stroganoff, while I was lured by the Thai fishcakes then Chicken Calvados. Between courses, I nipped back to the hostel in order to get the washing out and put it in the drying room. The old washing machine refused to open. Not even the warden who thought she knew the "knack" of opening the machine door could fathom it. With most of our socks and some of our best walking shirts and even Macclesfield Town FC replica shirts in there, this was looking disastrous. The warden suggested to me that I had tried to open the door before the cycle had completed, and hence it was all my fault. Thankfully, two Australian women who were self-catering in the members' kitchen offered themselves up as witnesses for the defence, confirming that the cycle had long since completed. After what seemed like an eternal struggle, the washing machine door was prised open. All our washing was sopping wet through; the spin part of the cycle had not worked. The warden suggested starting a spin cycle there and then. I politely declined, and scooped up the drenched and dripping mound of clothes and transported it into the cellar, and the relative security of the drying room. Having to wring out all the clothes before hanging them out further exacerbated my absence from the dinner table down the road.
Back at the pub, I was late for my main course, but soon caught up. A couple of pints of Summer Solstice ale rounded off an otherwise pleasant evening. Just before we were to walk back to the hostel, Jimmy returned from a trip to the gents almost crying with laughter. He had spotted a sign on one of the bars stating "NO BLOODY SWEARING". He thought this was incredibly funny, and it kept him chuckling for days to come! A check in the drying room upon our return to the hostel confirmed that the clothes were drying nicely and should be ready for morning. It was a very good drying room, and thank goodness. A good night's sleep was enjoyed by all. I certainly didn't even notice Don's snoring this time!