Friday 28th July 2006 - Mankinholes YHA back to PW at Swillington, then to Ponden - 15 miles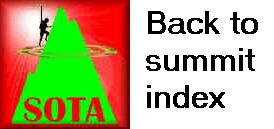 Into Day 4 then, and already the end of the road was in sight for Stuart and Don. This was to be their last day, and Jimmy and I would have to stride out without our mentors tomorrow. Mankinholes Youth Hostel was self-catering only, so it was simply cereal and milk for breakfast before we collected the final items from the drying room. Thankfully, everything was dry despite the temperamental behaviour of the washing machine the previous evening and we were able to commence the day's walking just before 9 o'clock.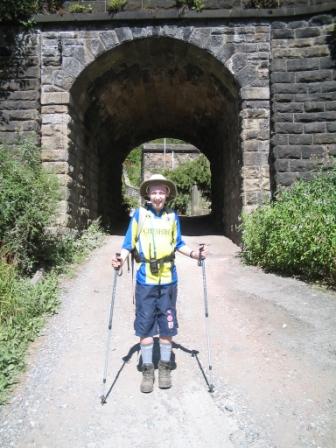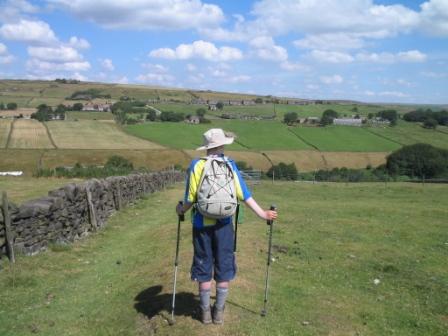 The 1¾ mile march up the Pennine Bridleway was necessary merely for the privilege of reaching the Pennine Way itself. This led to jibes from Don about my route selection, but upon reaching Swillington without having to ascend and descend 200m of height each way, it was unanimously conceded that my strategy was the best available. The Pennine Way contoured around Lodge Hill and then steadily dropped even though we could see plenty of hill to climb straight ahead. Once we reached the Rochdale Canal and River Calder, and walked under the railway arch, the climbing certainly began.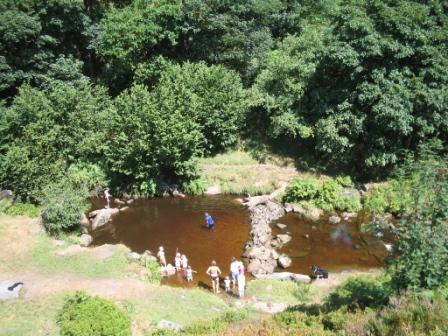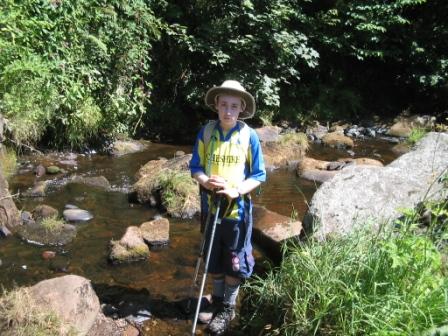 As we ascended steeply under trees, we were surprised by a pair of signs pointing in opposite directions. One said "Pennine Way Official Route" and the other offered "Pennine Way Wainwright Alternative". Options to split into twos and compare later were discussed, but ultimately we decided to stick together and follow the official line. The two routes were reunited not too far later and continued up to Badger Lane. The next challenge was to dodge the nettles on a narrow poorly maintained path between two fences as we dropped down towards Colden Clough. Once we were down to this suntrap, we saw it was very busy with children and families bathing in the shallow waters and enjoying games and picnics. We took the opportunity to cool the soles of our boots in the running waters, another "top tip" we had learned from Stuart.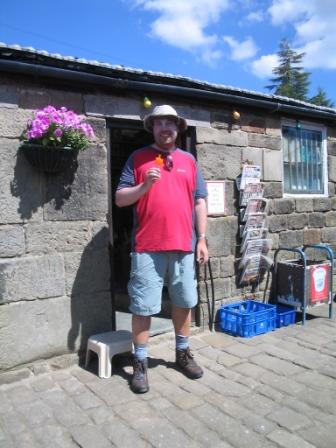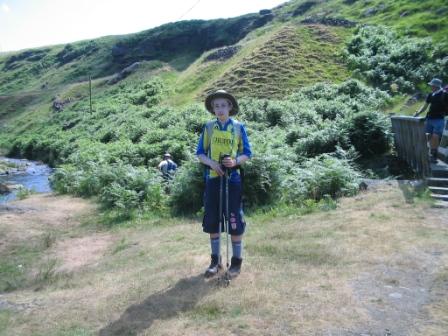 Today's walk was increasingly resembling a rollercoaster ride with its incessant ups and downs. Next we were climbing out of Colden towards Long High Top, but not before a quick excursion 250 yards left to "Aladdin's Cave" at High Gate Farm, a welcome and diverse rural store selling pies, pasties, sandwiches, fruit juice, ice creams and everything else we could wish for. Jimmy and I sank a bottle each of Lucozade Sport to refresh us without using the carried supplies, although Jimmy was quick to conclude that he thought that water was much the better tasting drink. A couple of real orange juice ice lollies certainly enhanced the cooling process.
The next hour saw us making good progress around Standing Stone Hill, although the path gave the summit trig point a very wide berth. A drop down to Graining Water provided a good opportunity to sit and rest, enjoy some food and drink in the sunshine, and bathe the feet in the cold blue stream. This was a rather decadent rest period, certainly more than half an hour, and we were almost reluctant to return to the walking especially with the steep climb up the other side of the Gill. As we came over the shoulder of "The Ridge", we could see another pub, The Pack Horse, but the Way passed 300m to its left so we managed to avoid the temptation.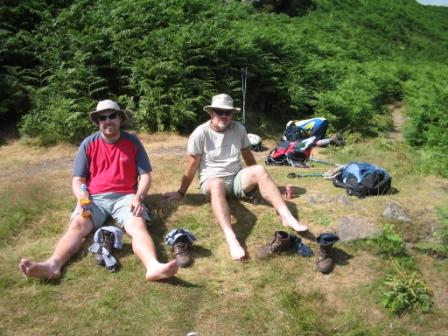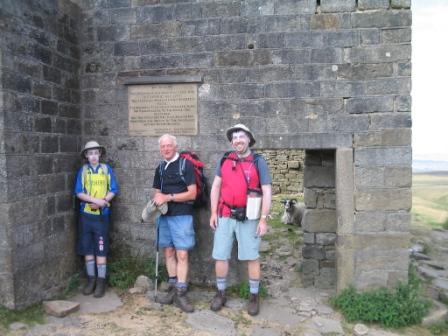 It was mid afternoon, and we sensed we were possibly within a couple of hours of our destination for the day. We continued at a good pace down to Walshaw Dean Reservoir which the Pennine Way followed on easy paths, increasing further our rate of progress. Turning right (north-east) away from the reservoir brought a rather sudden steep pull to negotiate on which we laboured in the burning sun. The cooling breeze as we came over the shoulder of Dean Stones Edge was most welcome, but we were wary of it detracting our minds from the danger of the sun, and we took the cue to top up on the sunblock. The walk across the saddle of Dick Delf Hill was enjoyable and we relaxed our legs to make the most of the easy walking to be had, but we were becoming aware of some smoke in the air drifting across from fires on nearby moors.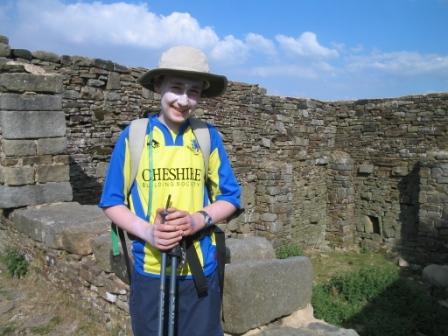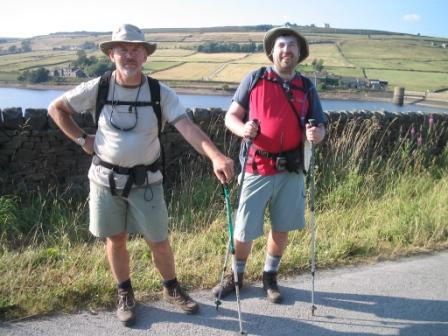 Shortly we reached the final highlight of the day, the ruins of Top Withins of Wuthering Heights fame. After the compulsory tourist-style photo shoot, we sat by the outer wall and finished some sandwiches. We were quickly joined by around 12 over-familiar over-confident greedy and almost aggressive sheep. We tried to ignore them, but it became increasingly apparent that a fight was on for the honour of our sandwiches. Ultimately, they clearly were not going to back down, so we conceded our squatters' rights and made for a sharp exit. The grassy path became a stony track as we passed Upper Heights, a popular camp site for Pennine Way walkers. Finally we were walking on tarmac as we approached Ponden Reservoir, and a final uphill climb to Ponden House. This was our accommodation for the night, and was actually a converted barn project, lovingly restored by owner and landlady Brenda Taylor, formerly of the adjacent Ponden Hall.
We all sat outside around a table and were served tea and lemon squash. We were joined by Elizabeth and Dee, wives of Don and Stuart respectively who had driven across from Crosby to collect them at the end of their own four day hike. Ponden House proved to be an intriguing place, with joyful laughter resounding from the middle-aged women in the hot tub in the back garden. My rucksack had still be causing me pain, so I accepted Don's kind offer to lend me his high specification Berghaus sac for the rest of the Pennine Way. I quickly transferred my equipment across and jettisoned some unnecessary bulky items from my luggage that was being forwarded by the courier company. The sight and smell of smoke from the surrounding moorland fires became more apparent and we began to discuss possible contingency plans. Jimmy was horrified when I mentioned the possibility that a section of the Pennine Way might be forced to close, and we would have to find alternative transport to get around it. The staff at Ponden were becoming concerned that we wouldn't be ready for dinner. We said our thanks and farewells to Stuart and Don and went in to get a quick shower and change. No time! Dinner was being served, so with a quick change of plan we decided to have the starter, then grab a lightning quick wash and change between courses.
We were joined at the majestic oak dinner table at Ponden by a couple and another couple with a grown-up daughter. It did all seem rather posh and well-to-do for a Pennine Way hikers' stopover and indeed the rest of the guests were using Ponden as a "weekend retreat". However, Ponden House was easily the nearest of the available accommodation options to the Pennine Way (in fact right on it), with Hebden Bridge and Haworth Youth Hostel both requiring a significant diversion off the route. We were already aware of the legend of Brenda's homemade cooking and were we not to be disappointed. Delicious potato & vegetable soup was followed by a superb chicken served with roasted peppers, potatoes and roasted beetroot. The sherry trifle for desert was so incredibly potent, the dinner guests held a sweep-stake for the number of bottles of sherry Brenda had poured into it. Jimmy liked it so much he had seconds, but he would later pay for his over-indulgence! After dinner we relaxed in the lounge and perused Brenda's photographic journal of her start-to-finish project to convert a ruined barn into the present state of Ponden House.
Very tired, we returned to our room and prepared for bed. We emptied, cleaned and refilled our hydration packs ready for tomorrow, and made up our instant whey protein shakes which we were drinking each morning and night to assist the muscle recovery. Jimmy suddenly looked very uneasy and rigid. He couldn't get the words out to explain his problem and before we knew it he had vomited. Without a doubt, too much sherry trifle. I cleaned up as best I could, and it was fortunate that there was a box of tissues and a sink in the room! Brenda and her team were busy with a second sitting for dinner by this stage, so I was keen not to trouble them. We got it all sorted, Jimmy mercifully said that he now felt completely fine, and he went to bed. His only concern was the fire, so I told him I would have a wander up the road to check what it was like. When I did, I saw to my despair that the smoke was filling the valley below, thick plumes rolling through and obscuring the Ponden Reservoir, and more poignantly blocking the early part of tomorrow's route. I returned to Ponden House dismayed, but assured Jimmy that the fire was out and all the smoke had gone. The first priority had to be a good night's sleep.