Saturday 29th July 2006 - Ponden to Thornton-in-Craven, then onto Earby YHA - 12 miles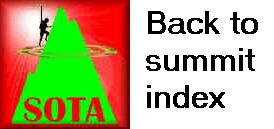 We enjoyed Brenda's traditional farmhouse cooked breakfast and thanked her as we set off with no little trepidation on Day 5 of our Pennine Way campaign. Nervous jitters similar to those experienced at our launch in Edale ran through my mind and body as I faced up to two grim realities. For the first time, I was about tackle a linear long-distance walk without the guidance and camaraderie of the older and wiser pair of Don and Stuart. However, I was more concerned about having to face Jimmy to explain that smoke from the several moor fires in the area had blown right through the valley and blocked our way.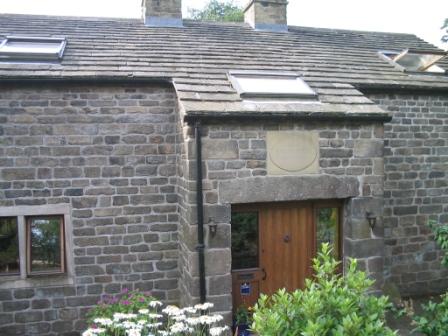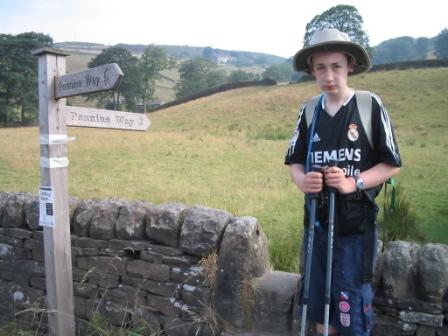 We left Ponden House and began the plod up the tarmac lane towards Whitestone Farm. The freshness and lack of smoky aroma in the air filled me with renewed optimism about our prospects, but I still kept stum about the truth of my little reccy the previous night. Jimmy had to keep the faith, or my now sole leadership of the walking party could become a difficult challenge.
Keeping one's gob shut turned out to be one of the better judgment calls I have made in my lifetime. We reached Whitestone Farm from where the Pennine Way turns right down the hill to the western end of Ponden Reservoir, and from where, more importantly, the view ahead opens up. Ten hours ago I had viewed the thick smoke-filled valley with despair. This morning, the landscape was clear. We were down to that reservoir in no time, actually enthusiastic about getting stuck into our first proper hill climb of the day.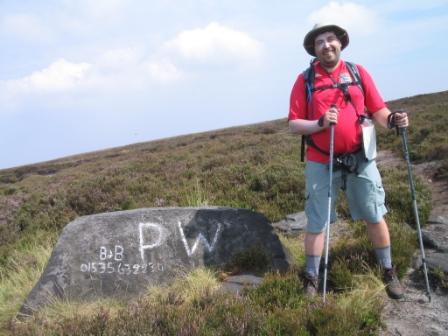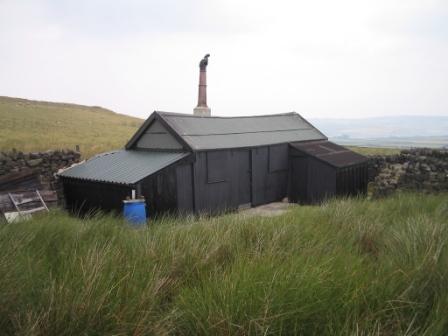 Some refer to this as the gloomiest day of the Pennine Way, but we thoroughly enjoyed it. The climb up to "The Sea" was not too steep and mostly along stone-flagged paths. Anticipating a relaxed long descent to Ickornshaw, we were suddenly realising that previous worries were not a thing of the past at all. The unmistakable whiff of smoke in the air was soon followed by the rapid filling of the view ahead, blocking out our examination of the next line of hills to traverse. Dropping down by High End Lowe amongst the myriad of huts and chalets we could begin to see the source of the smoke; peat moorland on fire with actual flames visible in at least seven different places. We had not escaped the threat of fire; not yet anyway. The main area on fire appeared to be about half a mile to a mile East of us, and the wind was blowing northwards, the same as our direction of travel. I reasoned that as long as this remained the case, we could continue in reasonable confidence while remaining vigilant.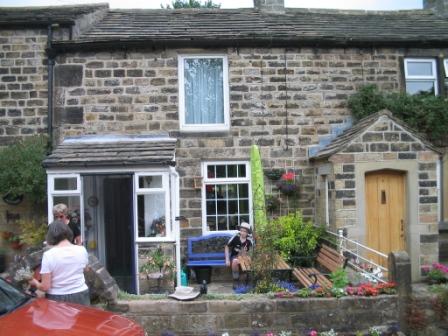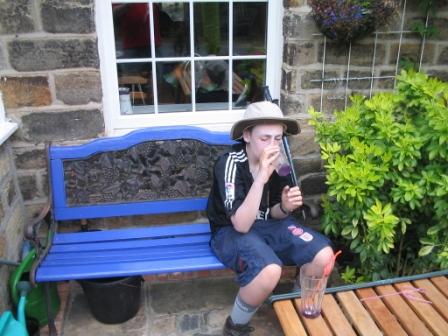 We were looking forward to a pint at the Black Bull pub as we reached Ickornshaw. Our last two miles of walking had been inspired by that rather appealing red pint pot on the Ordnance Survey map. Imagine our disappointment when we reached it, only to discover that it had long since been converted to a furniture shop! Dejected, we trudged along the narrow lanes of terrace cottages in Ickornshaw, where all the locals turned to say hello, ask if we were walking the Pennine Way and enquire as to how we were doing. For some reason, it came as quite a surprise to me that locals in this area, and others along the route, were so favourable towards Pennine Way trekkers.
We got chatting to one couple in particular, and related to them about the pub that never was, a tale of woe they had clearly heard many times before. They invited us to sit and rest in their picturesque front garden and they brought us out two large glasses, one of iced lemon squash and one of iced water (for Jimmy the Water Junkie). The couple were Howard and Sheila Turner, and they told us of the news reports about the moorland fires. Apparently there were seven and a half square miles of moorland on fire on no less than seven separate large moors at that present time, with no prospect of them being tamed until some rain came, of which there was also little prospect. Somehow the conversation got onto art, and Howard and Sheila are both accomplished artists. They advised me of their website - http://www.turner-art.co.uk - which I enjoyed back at home a few weeks later. In return, I offered my website - http://tomread.co.uk - a section of which contains artwork by my wife Marianne.
We thanked Howard and Sheila for their kind hospitality and set off down the road to continue our walk to Thornton-in-Craven. Similar to the Mankinholes situation, we decided we would not take the direct public footpath off the Pennine Way to Earby Youth Hostel, but would get all the way to Thornton-in-Craven, and get a taxi down from there. This would avoid a sharp climb and immediate descent first thing in the morning, and keep the length of the days more consistent. Before we could escape the wonderful village of Ickornshaw, we were checked up on by two further sets of residents who were keen to feed and water us! Nice people, who made us feel happy!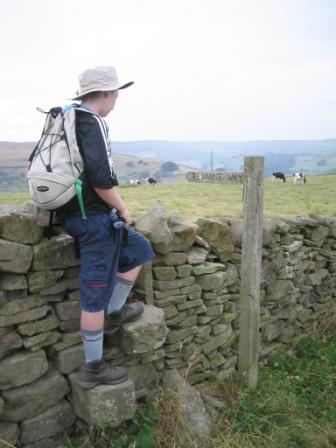 We left Ickornshaw in confident mood, but this was soon tested when we turned the page of the guide book to find yet another whole page of map to walk up with no sign of the end point for the day. The walk up the farmland of Low Stubbing, and the huge derelict High Stubbing was nice, but still the spectre of fire was abound with murky smoke merging into murky clouds in all directions. We found out through contact with Howard and Sheila some weeks later that the smoke had blown straight through the centre of Ickornshaw just an hour or so after we left there. The final approach to Lothersdale was a little undulating on the tiring legs, but the Hare & Hounds pub in this deathly quiet village looked quite appealing. It had just turned 3 o'clock, and the pub had just closed. However, it seemed we had been spotted from within, and the landlord offered to sell us a drink which we could have on the tables outside the front of the pub. A pint of bitter, a pint of water and a couple of Mars bars from there enjoyed accompanied by some fruit from our packs before we prepared for the closing stages of our fifth day on the Way. Just as the rucksacks were going back on our backs, the dreaded smoke began to seep through the trees and into Lothersdale village. We had still not seen this fire off, so it really was time to get cracking.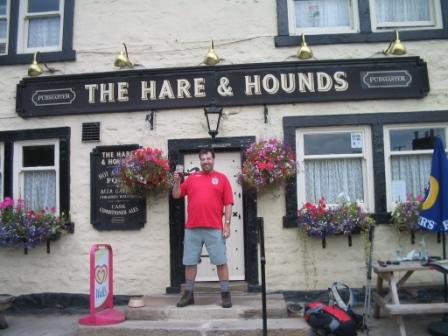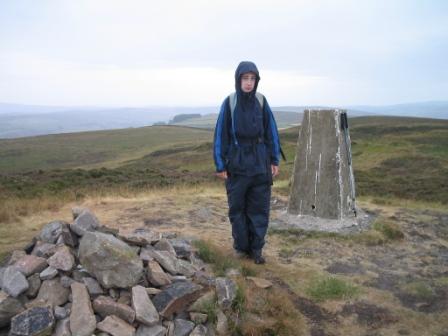 A long, steady and grassy climb out of Lothersdale took us onto the approach for Pinhaw Beacon, our last highpoint for the day and another trig point for the collection. Suddenly there was rain. And hail. In fact it would have seemed most unpleasant were it not for the fact that we knew that this was the only thing that could do anything to significantly restrict the spread of fire on the moors. The long descent into Thornton-in-Craven was mainly on boggy and squelchy ground, which was really in contrast to most of the previous four days. This, even though the whole Pennine Way is supposed to be legendarily notorious for its bog and general dampness. So we did not complain.
On reaching Thornton-in-Craven, we managed to 'phone for a taxi which transported us down to Earby Youth Hostel. My first job was to hang quite a bit of stuff up in the drying room, then we sorted our bags and rucksacks for tomorrow and got a shower. Yet again, it was good to arrive at the new accommodation and find that our bags forwarded by Brigantes baggage couriers had beaten us to it. Bobby and Toke were carrying all their belongings with them, as well as backpacking tents and cooking equipment, and they were certainly feeling the payload and planning to jettison some of it while meeting their friends for a "rest day" in Hebden Bridge. At this time then, the two lads from Louth were a day behind us, but we would see them again soon.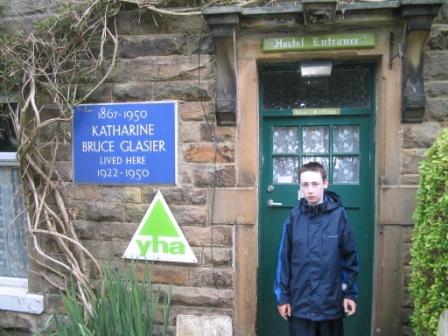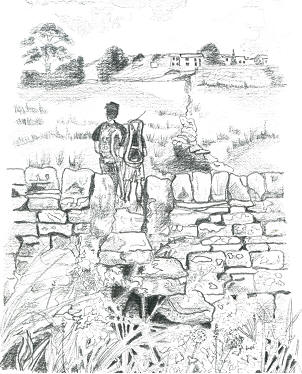 Earby was a self-catering hostel, and another that was sadly on the closure list. Thankfully it was later bought by Pendle Council and leased back to the YHA. It was a fine hostel and very comfortable; we enjoyed our stay there. For our evening meal we walked a few yards down the road to the Red Lion pub. This was a very friendly establishment, and rather busy with the village cricket teams arriving back from their Saturday fixtures and comparing notes. There wasn't a table for us to sit at, but the locals insisted on shuffling along and creating some space for us. One look at the specials board, and Jimmy and myself knew exactly what we were having. Two homemade rabbit and garlic pies were ordered, which were delicious and served with loads of chips and a good salad. This was also a fine real ale pub, and I thoroughly enjoyed my evening accompanied by Tacklers' Tipple, Black Sheep and Keep Fat Club Summer Pale Ale.
Back at the hostel, Jimmy went straight to bed while I spent an hour or so reading in the lounge. In there was a hand-bound journal of a Pennine Way adventure by four people back in the seventies. Of the two couples, three of them were walking, with one of the ladies providing the vehicle support. They had modified a Land Rover to provide bunk accommodation for the four of them each night. It was a novel and peculiar read.