Kinder Scout, G/SP-001 - 636m ASL - SK 086 875 - OS Explorer OL1 - 4 SOTA points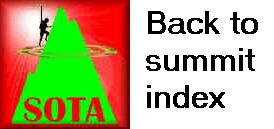 Sunday 22nd January 2017. Other family members all set for a lie-in until PM. Weather forecast suggesting a cold, blustery but dry day. Well one out of three ain't bad I suppose. After the usual preparations, and the less-than-usual breakfast of porridge (lovely, must do this more often), I drove out from Macclesfield through Rainow, Kettleshulme, Whaley Bridge and Chapel-en-le-Frith. I parked in the lay-by on Rushup Edge, opposite the access track to the "No Car Cafe".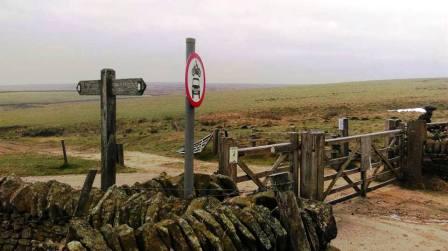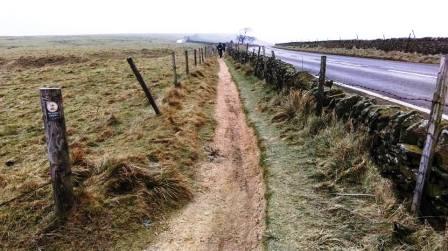 I had approached Kinder Scout from this point twice before, but both times before the existence of a good path across the moor to Brown Knoll. This would be a significantly easier prospect. The path initially follows the road then climbs gradually onto the moor. At the corner of the Chapel Gate Track, from where I previously took a compass bearing and tried to walk in a straight line, before me now was fabulous newly laid flagged path.
I just kept going and kept going along the flags with nothing much to see. I couldn't decide if it was quite nice or quite boring. But I think it must have been quite nice, because I was really enjoying my walk. I paused at the trig point at Brown Knoll, and to my surprise, another walker followed up behind me. We had a brief natter, and found we were both heading to Kinder Low from here. "Shall we walk together?" he asked, which seemed very pleasant, so we did.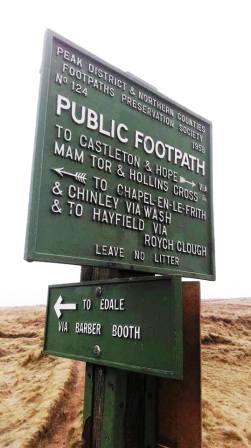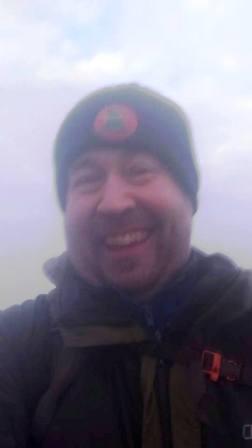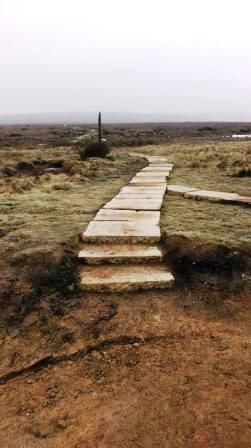 I've always found that you seem to eat up the ground and cover distance almost without noticing when you're having a good old chinwag with someone. The other chap was called Andy, and was doing a circular walk that would take in Kinder Downfall and Grindsbrook Clough, before finishing at Barber Booth. Even though it was still mid-morning, both Andy and myself admitted we were rather hungry. As we passed the sheltered area beside Edale Rocks, Andy suggested stopping there. I pointed out that we were only five minutes from where I was stopping for a while anyway, so we continued the short distance to the trig point at Kinder Low.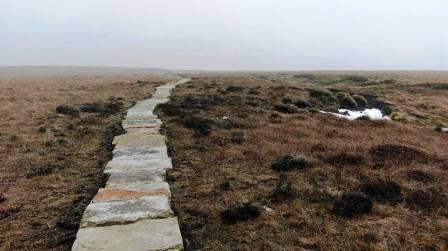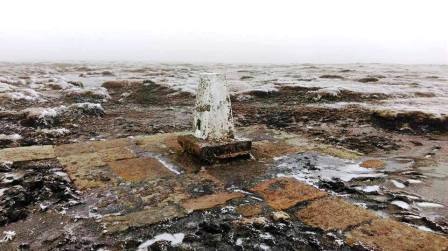 Before setting anything up, I enjoyed my ham hock & vegetable broth from the flask. Then, as Andy said cheerio and got on his way, I set up the SOTAbeams Bandhopper 4 linked dipole. I had promised the chasers some 80m activations over Christmas and failed to deliver. Time to put that right, at least. It was an increasingly wintery scene on Kinder Low. The ground, rocks and trig point were already crusted in ice, and then some light but persistent snow came down too. This was not in the weather forecast, a fact agreed by every walker up there! But also wrong from the weather forecast was the prediction of 25mph winds, gusting 45mph. There was no wind! So overall, I had to be happy!
While setting up, a sizeable group of young (early 20s) walkers passed by. "What are you doing?" was the typical question. "Amateur radio" was my blunt response. "Oh you do all that don't you?" one of them said, gesturing towards a young chap in a bright red jacket. He did tell me his M6 callsign, but I have forgotten it. I think he said his name was Andy too.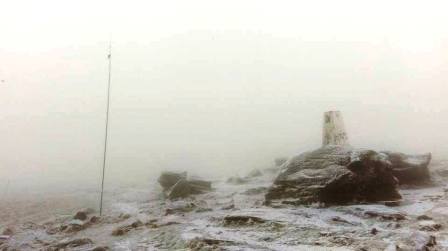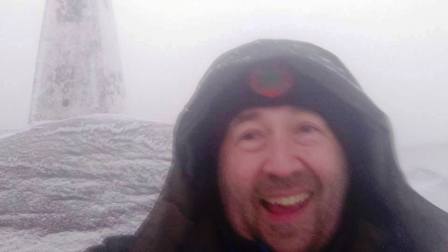 The radio was good fun once it got going. I enjoyed good little runs of QSOs on 80 CW and 80m SSB. Meanwhile, I spotted someone in the clag that looked like they might be talking into a handheld. As I earwigged, I could tell that the person coming back was a radio amateur. I switched on my VX7R to eavesdrop further, and indeed, it was another SOTA activation, taking place about ten metres away! I went across to introduce myself, and it was 2E0KUK - and yet another Andy! Returning to do a bit more operating, I found a good level of demand for me on 40m CW, and some interest on 40m SSB too.
The activation stats were:
QSOs: 44
80m CW: 6
80m SSB: 6
40m CW: 22
40m SSB: 4
2m FM: 6
S2S: 4 - OK2PDT/P on OK/VY-017, LA1ENA/P on LA/TM-017, HB9BIN/P on HB/SO-019, DL6FBK/P on DM/BW-009
SWL: 1 - IN3ADF/P on I/AA-319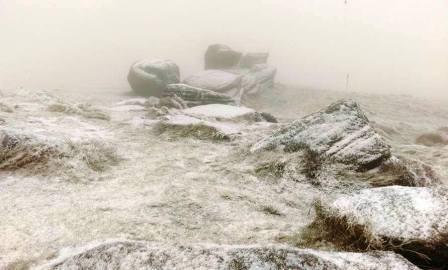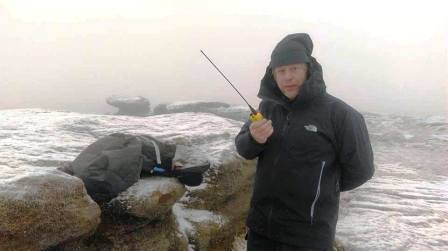 After 80 minutes of operating, I started to feel rather cold. I took the decision to pack up and get walking. The return walk was not quite so trivial, for now the light snow had settled on the flags making them very slippery. It was still much easier and faster than the pre-path days though! I fancied a pint so grabbed one in the Shoulder of Mutton in Chapel-en-le-Frith to break up the drive back. I also relieved the quiz machine in there of a few quid, sufficient to cover the cost of my pint of Robinson's Trooper Ale anyway!
So for this walk, I started at 420m ASL, finishing around 5km NNW at 633m. With easy underfoot conditions facilitated by the new path, this was now a fast and easy way to access the summit area of G/SP-001. Kinder Scout just got flatter!
| | | | | |
| --- | --- | --- | --- | --- |
| Time | Call | Band | Mode | S2S |
| 12:19z | G3VQO | 3.5MHz | CW | |
| 12:20z | G0EVV | 3.5MHz | CW | |
| 12:21z | G4FGJ | 3.5MHz | CW | |
| 12:22z | GM0AXY | 3.5MHz | CW | |
| 12:23z | G0BPU | 3.5MHz | CW | |
| 12:24z | G0VOF | 3.5MHz | CW | |
| 12:26z | 2E0LKC | 144MHz | FM | |
| 12:27z | 2E0LMD | 144MHz | FM | |
| 12:47z | G0FEX | 3.5MHz | SSB | |
| 12:48z | G7BGA | 3.5MHz | SSB | |
| 12:48z | G0GWY | 3.5MHz | SSB | |
| 12:49z | 2E0KVJ | 3.5MHz | SSB | |
| 12:50z | G3RDQ | 3.5MHz | SSB | |
| 12:52z | M0WBG | 3.5MHz | SSB | |
| 12:58z | 2E0KUK/M | 144MHz | FM | |
| 12:59z | M0CQE | 144MHz | FM | |
| 13:01z | G0OHY | 144MHz | FM | |
| 13:02z | 2W0JYN | 144MHz | FM | |
| 13:05z | HB9AGH | 7MHz | CW | |
| 13:06z | DL1FU | 7MHz | CW | |
| 13:07z | OK2PDT/P | 7MHz | CW | OK/VY-017 |
| 13:10z | G4ICP | 7MHz | CW | |
| 13:11z | LA1ENA/P | 7MHz | CW | LA/TM-017 |
| 13:12z | OH1XX | 7MHz | CW | |
| 13:12z | DL7URB | 7MHz | CW | |
| 13:13z | OE7PHI | 7MHz | CW | |
| 13:14z | PA7RA | 7MHz | CW | |
| 13:16z | G0FVH | 7MHz | CW | |
| 13:16z | HB9MKV | 7MHz | CW | |
| 13:17z | CT2IWW | 7MHz | CW | |
| 13:18z | PA7MDJ | 7MHz | CW | |
| 13:19z | HB9BQR | 7MHz | CW | |
| 13:21z | HB9BIN/P | 7MHz | CW | HB/SO-019 |
| 13:23z | DL6FBK/P | 7MHz | CW | DM/BW-009 |
| 13:24z | DL2EF | 7MHz | CW | |
| 13:24z | F5LKW | 7MHz | CW | |
| 13:25z | DL5OAB | 7MHz | CW | |
| 13:25z | DL50MHZST | 7MHz | CW | |
| 13:26z | DF5WA | 7MHz | CW | |
| 13:27z | OK3EQ | 7MHz | CW | |
| 13:35z | EI3GYB | 7MHz | SSB | |
| 13:36z | M3FEH | 7MHz | SSB | |
| 13:37z | EA2CKX | 7MHz | SSB | |
| 13:37z | SA4BLM | 7MHz | SSB | |