Tuesday 25th July 2006 - Edale to Crowden-in-Longdendale - 16 miles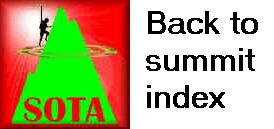 We had travelled over to Edale from Macclesfield with Marianne and Liam the previous day. It's only a half-hour run, but it would have been difficult to get transport over on the Tuesday sufficiently early. We were booked in to Mam Tor House B&B in Edale, where we met Stuart G0MJG and his friend Don who would be walking the first four days with us. They had been driven over from Crosby by Don's wife Elizabeth. The B&B was not open as we arrived, so we adjourned to the Old Nags Head for a drink. When the B&B did open, Marianne and Liam set off back to Macclesfield, followed by Elizabeth for a congestion-free route back to Merseyside. Stuart, Don, Jimmy & I checked into our rooms at the B&B and then took a stroll back up to the Old Nags Head for the evening.
Jimmy had the lamb in giant Yorkshire Pudding, while I had the "Hiker's Special", which is Cornish Pastie AND Cumberland Sausage with thick-cut chips! Jimmy, as usual, washed his food down with a couple of pints of water, while I enjoyed the Grays Ales. I was determined to enjoy the finest local real ales the North of England had to offer for the duration of the Pennine Way, and there was no time like the present to begin this quest. An important piece of business was to get Don and Stuart to sign the "Fellowship of the Pennine Way" log pages in my Wainwright 'Pennine Way Companion'. Although I was using the Hopkins guides for the walk itself, I had also got myself a copy of the Wainwright book for historical indulgence and bedtime reading. I would endeavour to use the log sections for recording experiences, food, drink and any fellow Pennine Way walkers we would meet.
Following dinner, we enjoyed a little wander along the first part of the old route of the Pennine Way up Grindsbrook Booth, and then a wander out towards Edale Youth Hostel. We returned to Mam Tor House for an early night ahead of the big day.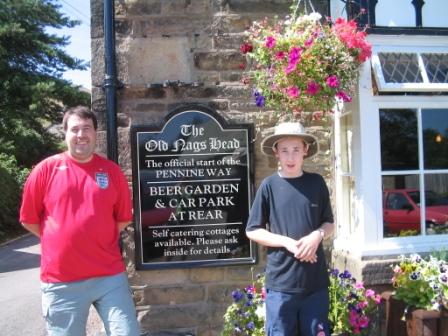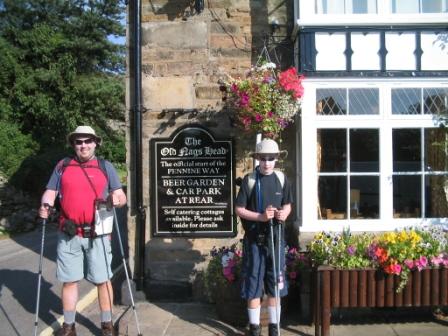 Breakfast at Mam Tor House was a pleasant cereal, grapefruit, yoghurt, fruit juice and full English affair. The landlord then brought out our packed lunches for our first day, and we started to plaster ourselves in E45 total sunblock just outside the front of the guesthouse. It was a gloriously sunny day, and unnervingly hot at 8.45am. Our new hats with sun protection and new sunglasses were donned, joining our other "new-for-the-Pennine-Way" gear of two Leki walking poles each and Bridgedale walking socks and liner socks. Existing gear to make the trip included our trusty boots, rucksacks, Berghaus shirts and my map case, containing a copy of Tony Hopkins' "Pennine Way South" guidebook, complete with 1:25000 Ordnance Survey strip maps. Not all our gear would survive unscathed!
After another photo call outside The Old Nags Head, the four of us took our first steps along the Pennine Way. The first mile was gentle, along fairly flat farmland along flagged paths to Upper Booth, and the second similarly unchallenging following the River Noe upstream to Jacob's Ladder. All this was familiar territory, having walked this route to Kinder Scout with Jimmy in each of the previous three years. That was to leave me rather unprepared for my first challenge of the expedition.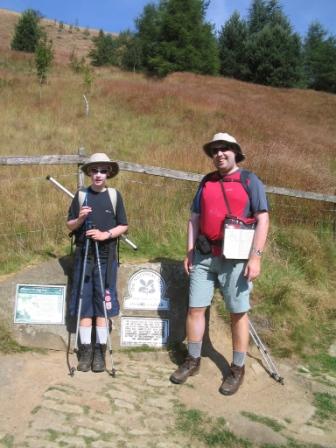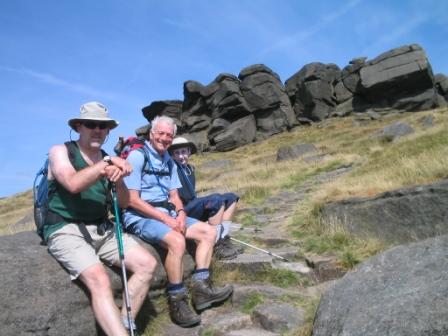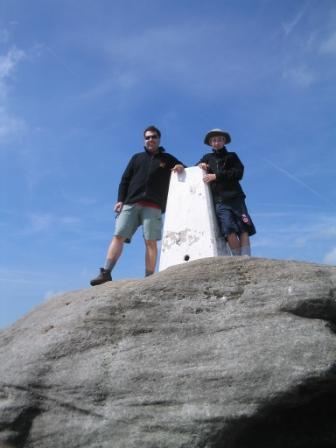 Jacob's Ladder is sharp pull up along steep winding cobbles as the Pennine Way climbs out of the Noe valley and onto the Dark Peak proper. We had done it several times before, the latest only 9 months earlier with Jimmy's younger brother Liam in the party. Hence we posed confidently for a photograph by the National Trust Jacob's Ladder sign at its foot. Then up we went. But something was not right. Jimmy, unusually started to grumble. And chunter. And moan. And complain. By the top of Jacob's Ladder he was downing tools, saying he was walking back to Edale and 'phoning his mum to come and pick him up. He was quitting the Pennine Way barely an hour into the campaign. The oppressiveness of the already nearing 30 degree heat was getting to him. And me. I stupidly engaged in a furious argument with him about all our preparations, non-refundable payments we had made for accommodation and the hundreds of people that had sponsored us.
I realised that the enormity of the challenge ahead was making me rather nervous, let alone my prone-to-anxiety 13 year old son. I realised that we both needed to focus on short-term achievable manageable targets. I regretted that such an approach was a little too much like being at work, but I had to do something. I promised Jimmy that we would simply get to Kinder Low, do the SOTA activation and then make a decison from there. I assured him that from that point, it would be just as close to walk to Crowden as walk back to Edale, and that Crowden would be easier for his mum to collect him from should he wish to resign at that point. I tried desperately to conceal my quickly lengthening nose from Jimmy's suspicious view, but his eyes told me that I had failed. However, he contested the point no more, and this convinced me that he too still had the burning desire to complete the Pennine Way.
Following the Pennine Way as it veered right and uphill just before the Edale Cross, we caught up with Don and Stuart. As the path levelled off around Swine's Back and Edale Rocks, Jimmy rediscovered the spring in his stride. Within minutes, we were on the vast lunar-like summit plateau of Kinder Scout, posing for photographs and setting up our amateur radio stations.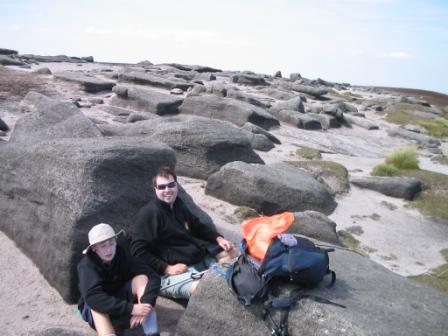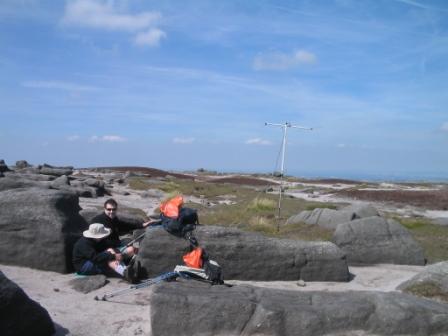 The wind was surprisingly brisk across the summit, encouraging us to shelter between two large rocks for the duration of our SOTA - Summits On The Air amateur radio activation. CQ calls were made on both 2m SSB and 2m FM, but the response was worryingly sparse. Eventually, the contacts did begin to trickle through, but certainly not at the rate we had either hoped or envisaged. It was pleasant to work Charlie G0PZO/P on Fountains Fell G/NP-017, and Roger G4OWG/P on Great Shunner Fell G/NP-006, both summits we would encounter further on along the 'Way'. Stuart was finding his radio even more quiet than ours, so wandered across and took his turn alongside Jimmy and myself on the Yaesu FT-817 and SOTA Beam in search of his four contacts. With only five different stations in the log after over 30 minutes on summit, we took the reluctant decision to get some more walking miles in. We were already well behind schedule for first day Pennine Way walkers - or so we thought. Don had already strode off, north along the Pennine Way, preferring an unbroken stroll at a leisurely pace to waiting for a full half hour. We would see him later, Stuart assured us. Stuart explained that this remarkably fit and strong 72 year old would not get too far ahead of us, restrained from more rapid progress by his love of a good chat ("interview" was Stuart's description) with everyone he met coming the other way.
The following stations were worked, all on 2m FM with 2.5 watts, before we left the summit in heat of 27 degrees Celcius:
| | | | |
| --- | --- | --- | --- |
| G0PZO/P | Fountains Fell NP-017 | Charlie | T, J |
| M3HJG | Urmston | Andy | T |
| M0EIQ/M | Oldham | Dick | T, J |
| G4OWG/P | Great Shunner Fell NP-006 | Roger | T, J |
| G4BLH | Brierfield | Mike | J |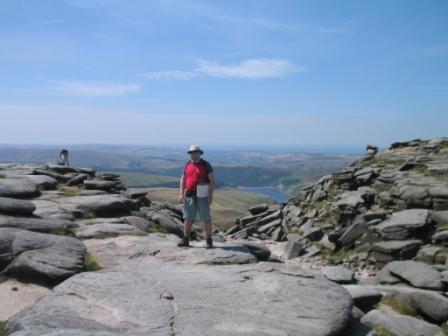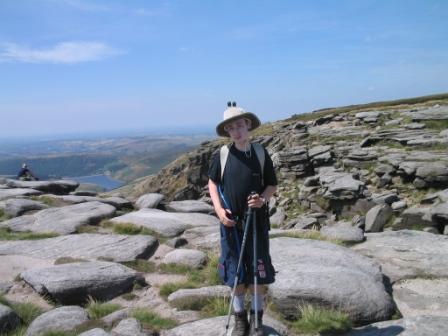 The next stretch of walking was one of the first highlights for us, as it was all new territory. All previous walks to Kinder had terminated there and followed by a same-route descent. Continuing north for the first time was rather like venturing into a previously forbidden unknown, and the sense of anticipation began to grow. For a good while we had a view out over Kinder Reservoir, and we were soon approaching the famous Kinder Downfall. The only thing was, there wasn't a great deal falling down it. Just the faintest trickle of water visible on a stone slab about 20 feet below us. I was glad I had decided to carry three litres of water, rather than rely on purification tablets. There wasn't any water to purify! Even so, I began to consider our own water supplies as three litres might still be pushing it on such a scorcher of a day.
We walked around the head of the Kinder Downfall and paused for our first sandwich of the day while admiring the clear views across Manchester and Cheshire. There was still no sign of Don however, so we soon pressed on with the sharp drop towards Mill Hill. Research had told us to avoid making the mistake of turning right too early, which would have led us down to the Snake Inn, and way off course. At the junction of this path, Don was waiting for us to ensure that we didn't. We were soon at the stake on Mill Hill, and Jimmy and Don began to stride out ahead towards the A57 Snake Road. Another rest was in order after crossing the main road, and several disturbing discoveries were made. Firstly, we ate the packets of crisps from within our packed lunches, but in the blistering heat they were not what our bodies, and particularly our mouths required. It was a most unenjoyable experience, and they would be the last crisps to be consumed on the Pennine Way. Secondly, we noted that our hydration bladders were barely 15% full. Thirdly, we noted that it was well past 3 o'clock in the afternoon, and we were at the point where Pennine Way walkers traditionally have their lunch on Day 1. And finally, we still had Bleaklow ahead of us to negotiate, and the long long walk down to Crowden to follow it. We could not be hanging around.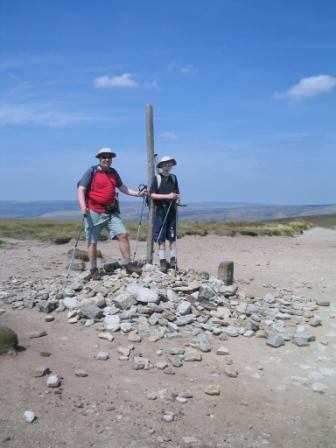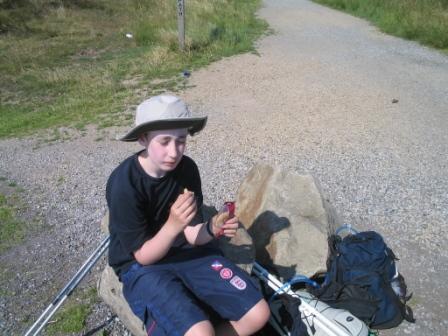 A rare benefit of the hot weather was encountered next, with a simple and dry approach to Bleaklow summit. This section is notorious for its peat bogs, but the series of winding groughs of Devil's Dike Drain and Hern Clough were dry as a bone and made for a pleasant and contrasting stroll. We reached the large cairn on the summit of Bleaklow, content that we had conquered the final major challenge of the day - or so we thought. We set off hastily, conscious of the ever impending 7pm marker for a Youth Hostel evening meal. And that was our mistake, for a few moments pause and contemplation, not to mention a spot of proper navigation, would have saved us at least an hour.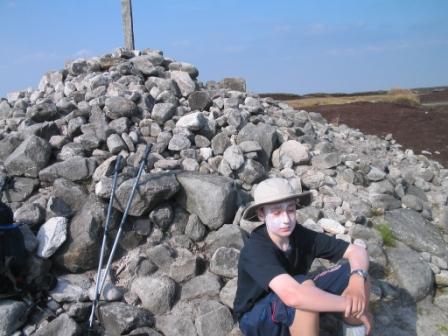 The guidebook indicated to bear right from the summit towards a cairn. A cairn was spotted, albeit a little further right than how it looked on the map. A well trodden path followed past it and continued, and continued, and continued down a winding channel. We were all very tired, but I eventually managed to realise that either the north-easterly curve of the path did not tie in with the map, or the sun was in the wrong place. It was clear that the cairn we followed away from Bleaklow summit was the wrong cairn! Stuart and Don were well ahead, but I shouted them back. We decided to try to cut straight across the peat hags to meet the real Pennine Way, although Jimmy wanted to retreat to the summit and go from there. In hindsight, his proposal was the better one, but the democratic vote of the three adults propelled us on an energy sapping plunder across the bleak inconsistent moorland.
It seemed to take an age to rediscover the Pennine Way, but thankfully we did, and we were pleased to be turning right, north, towards Crowden-in-Longdendale when we eventually reached John Track Well. Jimmy and myself tried to lose the path again here, following the stream down Torside Clough, but this time I was paying more attention and realised the error sooner rather than later. The path took us along Clough Edge, with great views over Torside Reservoir, which looked a heck of a long way down from our lofty position. Stuart telephoned the hostel to advise of our later than expected arrival. We did not relish the prospect of the steep descent on this hot evening. Stuart and Don were soon a long way ahead of Jimmy and myself, with seemingly greater endurance and stamina. Jimmy and I were now out of water too, and relying on lozengers to stimulate a meagre hydration and freshness in the mouth.
The steep descent off the hill was hard work on the fatigued feet and knees. We walked across the dam at the west end of Torside Reservoir which brought us to a residence. With an estimated 30 to 40 minutes still to Crowden Youth Hostel, I got the attention of the gentleman at the house. He was most obliging, and kindly brought us out two pint glasses of cold water with large slabs of ice in them. His warmth of spirit was something we became accustomed to from the locals along the Pennine Way. He expressed his surprise that we were coming down from Bleaklow at 8 o'clock in the evening. His experience was that Pennine Way first day walkers came down from there either at 3pm in the afternoon, or 11pm at night. Refreshed, we continued the last mile and a half, noting where the Pennine Way led off for tomorrow morning, before following the long lanes past the campsites to the hostel.
We arrived at Crowden Youth Hostel at 8.50pm. The staff were superb and said that they would serve us our evening meal after 9 o'clock, and would even wait while we settled in and had a shower. Arriving even later than us were two more pairs of Pennine Way walkers - another father and son team, Pete and Jack from Norwich who were walking as far as Hebden Bridge, and college students Toke and Bobby from Louth, who were, like ourselves, walking the full distance. Both pairs had also found day one to be an exhausting experience, and both pairs and also navigated incorrectly off Bleaklow, ending up down Black Clough like ourselves.
The evening meal comprised starters of either melon or vegetable soup, followed by sweet & sour chicken, and apple crumble or ice cream for desert. This was washed down by copious quantities of water as we all attempted to rehydrate our aching bodies.
The four bunk bedroom, shared by Don, Stuart, Jimmy and myself, was tiny. It was nigh on impossible to find firm ground upon which to plant one's feet to get from the bunk to the sink with our rucksacks occupying virtually all of the already meagre floor space. On the back of a poor night's sleep the previous evening, and a tough 17 mile walk in the July heat, Jimmy this time slept soundly. Thank goodness. I wasn't in the mood for more whingeing. Don and Stuart also slept soundly. I knew, I could hear them, particularly Don, who seemed to activate some kind of outboard motor every time he started to snore. Jimmy began to talk and mutter. Disaster, I thought, Don must have woken him up. I dreaded the probable unbearability of his company tomorrow. I whispered to him to shut up and go back to sleep, but on and on he rambled, until eventually unleashing a loud "NOT THAT BLOODY CAIRN!". No-one seemed to stir, but I seemed to stay awake for what seemed like an eternity. Tomorrow would be my turn to struggle with the after-effects of a disturbed night.