Great Shunner Fell, G/NP-006 - 716m ASL - SD 848 973 - OS Explorer OL19 / OL30 - 6 SOTA points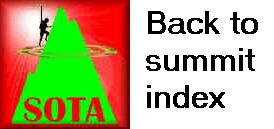 Wednesday 2nd August 2006, Pennine Way Day 9
Our well-honed routine of completing all preparations before breakfast was going well, until we entered the hostel drying room in order to collect all our dried-out clothes and equipment. Last night we had hung out our sopping-wet clothes, jackets, boots and rucksacks in this rather over-subscribed facility. This morning I returned to find all our clothes, jackets, boots and rucksacks still wet. The same was the case with everyone else's gear. The drying room was stone cold. I enquired at reception as to why this would be the case, to which the reply was "Maybe the thermostat is faulty". The stuff we didn't need like socks and shirts were stuffed into carrier bags and into the carry-on hold-all bags, but we faced up to a damp start in the gear we did need.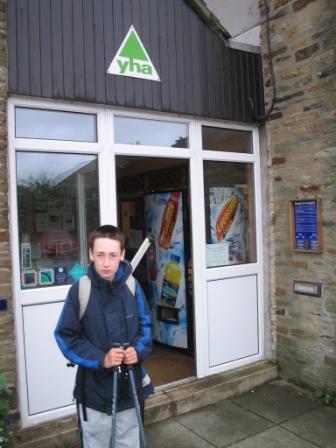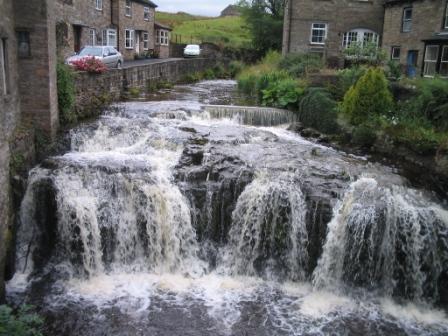 After breakfast, we looked around Hawes for a laundrette. The sleeves of our fleeces were particularly damp, and we did not relish that sensation for the full day ahead. Alas, the one we did find was closed on Wednesdays, so tumble-drying was not an option. We wondered if we would find something in Hardraw, which we would reach only half-an-hour into the day. An easy walk in light drizzle through meadows in the Ure Valley brought us to Hardraw and the well-known Green Dragon Inn, which doubles as the entrance to Hardraw Force waterfall.
We could see through the windows that there was a roaring open fire warming up the inviting-looking inn. Perhaps beginning to take for granted the hospitality and kindness of residents and workers along the Pennine Way, we went into the Green Dragon and asked if we could hang our fleeces out in front of the fire. "I'll have to ask the manageress" replied the staff member. The landlady came into the bar to see why she had been called, so I repeated my request, already beginning to feel somewhat uncomfortable. "Yes alright" she replied. I thanked her and began to place items in front of the excellent fire. "No, not there" insisted the landlady, directing us instead through to another room with a comparatively meagre fire. Oh well, better than nothing, I thought, and repeated hanging coats and fleeces out, although it was clearly going to be a longer process. It was a fire, but it certainly could not be described as "roaring".
Soon the landlady was back again. "You can't use the chairs to hang your things, I've got a table in for breakfast here you know". I started to recollect something I'd heard about the "infamous hospitality" at the Green Dragon Inn. We collected our stuff back up, and I was now reduced to the futile action of just holding the cuffs of our fleeces over the fire. It was getting silly. The manageress skulked around barking instructions at her staff to get the table laid for breakfast for the group of three couples sitting down in the same room as us. One of the women remarked "God, she's grumpy", to which another replied "Well I'm not staying here then, we'll go somewhere else if she's grumpy". With this, all six of them got up and left. The waitress continued to set the empty table, while her boss continued to shout at her. It was ten minutes since the six would-be breakfasters staged their walk-out, but their absence had not actually registered with the waitress or the landlady. I was wasting my time trying to get anything dry in front of this excuse for a fire, but realised that I was probably going to be getting the blame once the grumpy landlady realised she had lost some custom. Time for our own sharp exit.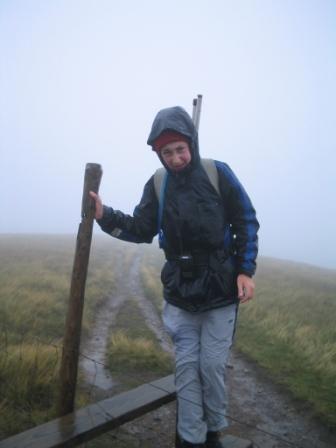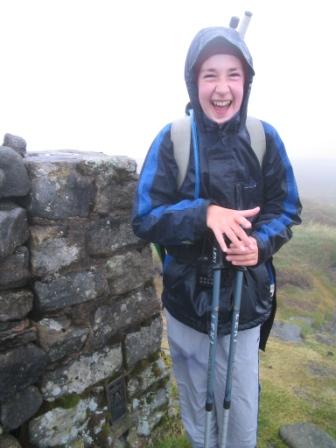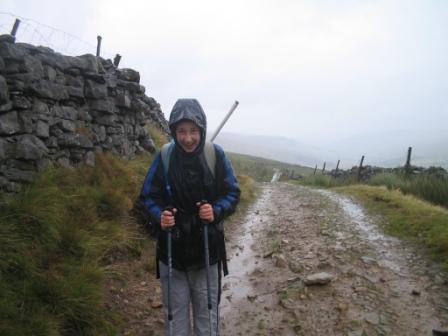 It was not long before we were curling slowly around to the right and trudging steadily uphill on the long approach to Great Shunner Fell. The ridge was very exposed, and with every step forward and slightly upwards, the wind was stronger, the rain heavier and the temperature colder. Jimmy expressed his disappointment that his second ascent of this hill would be, as his first, devoid of a view. Our waterproof trousers still being wet as a result of the drying-room-that-wasn't at Hawes Youth Hostel, there was no point donning them, and so we just allowed our existing trousers to face the music and hope they would get some respite from the rain at some point. They didn't.
After many a false summit disappearing only to be replaced by the prospect of yet another long uphill drag, we reached the stile that indicated we were close to the top of the hill for real. The psychological boost naturally quickened our stride and the stone cross shelter loomed eerily out of the mist. We tried to find the quadrant of the shelter that gave best respite from the horizontal icy rain sweeping viciously across the summit. We unanimously decided to attempt a handheld-only activation; this was no place to be hanging around.
First though, we concentrated on the rest that the sit down afforded us, and tried to re-energise with sandwiches, fruit and fruit juice from our YHA packed lunches. My first call again brought Mike G4BLH/M, this time hunting us down from Thwaite, the next village we would reach ourselves. In the absence of any other callers, Mike worked both Jimmy and I under his own callsign, and then under G4CPS/P, the club callsign of the school. That at least got us halfway there, in terms of the four contacts required to qualify a Summits on the Air activation. Nearly twenty minutes passed by without further interest, and we were just about to reluctantly set up the beam aerial in the deteriorating weather, when Brian G1ZED called us from Accrington. After Jimmy and I both made the contacts with him, Mike chipped in with "He has a licensed daughter you know...". Brian couldn't hear Mike from his location (and vice versa), but I put this to Brian to see if his "licensed daughter" was available to come to the radio and exchange reports with us. "You don't miss a trick do you?" remarked Brian. "Not in this weather I don't" I replied, before gratefully speaking to Louise M3UOL and then giving Jimmy the opportunity to do likewise. It had been half-an-hour on summit, but a long half-an-hour in the circumstances. Thanks to the following stations, all worked on 2m FM with 2.5 watts:
| | | |
| --- | --- | --- |
| G4BLH/M | Thwaite | Mike |
| G4CPS/P | Thwaite | Mike |
| G1ZED | Accrington | Brian |
| M3UOL | Accrington | Louise |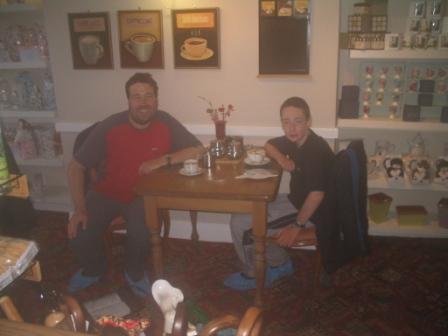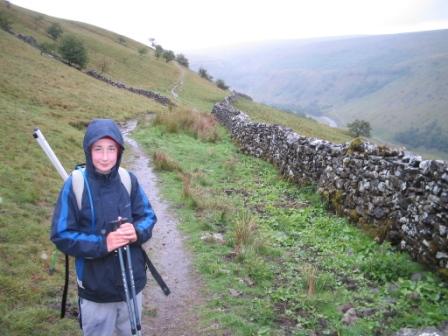 We were very cold as we were packing away to commence the descent. The second day of August, and we were as cold as we have ever experienced on summit. I would estimate that the wind-chill factor was at least equal and opposite to whatever the actual temperature was. Together with the driving rain, it was really rather unpleasant. At least the walk down from the summit of Great Shunner Fell to Thwaite was not undulating, as so many "descents" can be, forcing one to actually do some climbing as part of the deal. It was straight and steadily downhill, so by kicking off with gusto, we were able to walk with a consistent quick pace all the way to Thwaite, which we did need to do in order to make the evening meal at Keld Youth Hostel.
Reaching the point where the path came off the open fell and started to follow a walled drove road was a boost. We could see that we were now approximately two thirds of the way from the summit to Thwaite, and we now had the slight extra shelter that the walls offered. I had my hand-portable transceiver switched off, so was quite surprised to see Mike G4BLH and his car again at the end of track, as we did two days ago. We had another brief chat, and Mike recommended the Kearton Country Hotel Tearooms just down the hill in Thwaite village. Jimmy and I were more than ready for another sit down, indoors in a warm dry room. And a cup of tea. And a pint of bitter (Theakstons). We were taken with the warmth and welcome we enjoyed at the Kearton. Despite it being a beautifully presented tearoom, we were warmly welcomed and assured not to worry about our wet muddy appearance. "Just slip on the plastic overshoes love" advised the staff, who then waited upon us with a level of customer service above and beyond the call of duty. What a contrast to the Green Dragon Inn earlier the same day!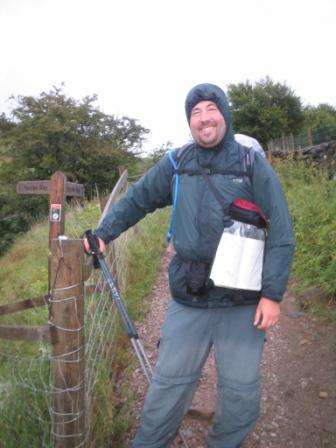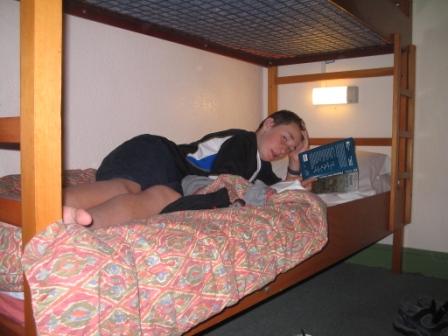 Leaving Thwaite, we were immediately climbing quite steeply up the southern flanks of Kisdon Hill. We had already decided not to try and "nip up it" and bag a bonus SOTA activation. Time was short anyway, and the physical profile of the area suggested that VHF radio operation may not be successful. Nonetheless, it was a very pleasant walk through Swaledale up on Kisdon Side. This was supposed to be one of the most beautiful parts of the Pennine Way. The weather conditions suppressed its full potential, but the view of the low swirling cloud in the steep-sided valley was dramatic enough in its own way.
We reached the footbridge, to which we would return tomorrow morning in order to resume our campaign, but now it was a case of a quick march up the lane through the village to the youth hostel. Keld YHA was yet another condemned hostel, and indeed it closed shortly after we stayed there. It is rumoured to be reopening as a private and more upmarket accommodation for Pennine Way and Coast to Coast walkers and cyclists, which would be good news. The first job was to determine whether the drying room was likely to be switched off at 11pm again - we had another collection of very wet things! To my amazement, the hostel staff confirmed that it would indeed be switched off. The tiny drying room was stuffed to capacity with everyone else's gear anyway, so I decided to "do my own thing". Jimmy and I had a four-bedded room to ourselves, which was strange because Bobby and Toke had tried to book in here, and told it was full. Still, having the room to ourselves meant we could, without sense of guilt, load up chairs around the radiator with all our wet gear and boots, our own "homebrew" drying room!
Dinner that night was vegetable soup, Swaledale sausage and chocolate gateaux. To accompany, I had a couple of bottles of Old Peculiar ale as sold by the hostel. We chatted with two ladies cycling the Coast to Coast route over dinner. An early night was in order as we were both shattered. We were both tucked up in bed by around 9.30pm and a very good night's sleep was had by us both.