Cross Fell, G/NP-001 - 893m ASL - NY 687 343 - OS Explorer OL31 - 8 SOTA points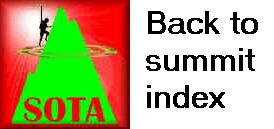 A busy weekend in Cumbria came to an end with an opportunity to get out and activate on Sunday 11th May 2014. An alarm set for 5.11am (local BST) got me out to an early start from where I was staying in Sleagill. I had big ideas for a 4/5 summit day, but the rain eventually dampened my enthusiasm, while distant rumbles of thunder and the sound of static crashes on my radio encourage me to "play safe".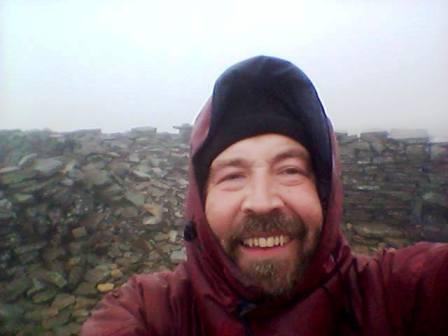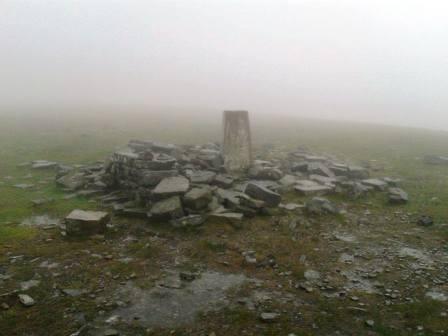 But that was later. My first job this early morning was to drive across to the village of Knock and up the road towards the NATS radar station. After parking beside the road on a pull-in, I first walked up the rest of the road to Great Dun Fell summit. Visibility was so poor that I couldn't even see the "golf ball" even while walking alongside the fence outside it! Towards the saddle before Little Dun Fell, the first of the many stone flags along the Pennine Way route were picked up. There were defintiely more flags down that last time I walked this route, meaning that the wet boggy sections between the flagged sections were fewer and farer between.
At times it seemed quite a nice day, with the sun peeping out occasionally. However, after crossing Crowdundle Head (the saddle between Little Dun Fell and Cross Fell G/NP-001), a stupidly intense hail shower hit, and gave my outer layers a good soaking. Heavy rain then continued after reaching the cross shelter at the summit, throughout setting up and activating. Fortunately, my bothy bag gave effective service while I was operating.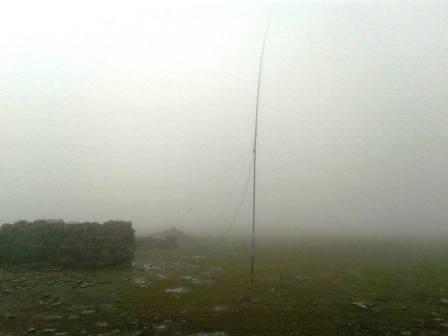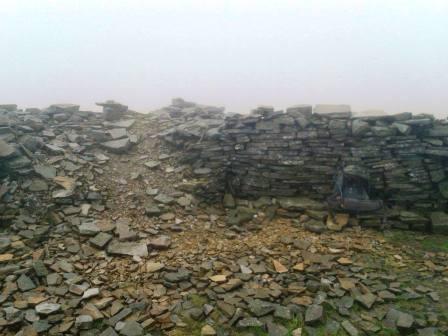 After first switching on, it appeared that activating was going to be nigh on impossible. S8-9 of noise was present, on every HF band from 1.8MHz to 29MHz. I wondered if this was static rain, and assumed that it was. I was somewhat taken aback when this noise instantaneously vanished bang on 8.32am local. Even with a quiet band, there were still no takers in response to my CQ SOTA calls. Therefore I was delighted when Phil G4OBK called in to give me the multiplier. Things were alow going and I kept trying the 2m FM handie for the other contacts, but without success. Slowly but surely though, YU1EL, OE6WIG and OH9XX were worked on 12m CW, taking me to qualification.
I set off on the return walk, carefully peering through the clag and rain for the tall stone men that indicated the direction of the Pennine Way back off the summit. The rain continued pounding the back of my coat and rucksack until there was finally relief after crossing Little Dun Fell. Now the sun reappeared and lit up Great Dun Fell as I climbed back towards it. Finally, the seemingly endless tarmac road back down to the car was walked, and I could treat myself to a well-earned banana (courtesy of John G3WGV) for breakfast. It would be over to Hallin Fell G/LD-043 next.
| | | |
| --- | --- | --- |
| G4OBK | 12m | CW |
| YU1EL | 12m | CW |
| OE6WIG | 12m | CW |
| OH9XX | 12m | CW |