We couldn't quite squeeze all eleven GI/AH summits into three days, but three-and-a-bit days is probably a competitive enough record to withstand any future challenge. Until G1INK takes a visit over there anyway!

So we did have to drive out North once again on the morning of Sunday 30th March 2008, and up the A2 Antrim Coast Road it was. This is a lovely road to drive in daylight, for it clings right to the coast and offers great views across the Irish Sea to the Mull of Kintyre, and around each successive bay around County Antrim. From Larne, we passed through Drains Bay, Ballygalley, Glenarm, Carnlough, Glenariff and Cushendall, before we took the minor road that passes to the west of the hill.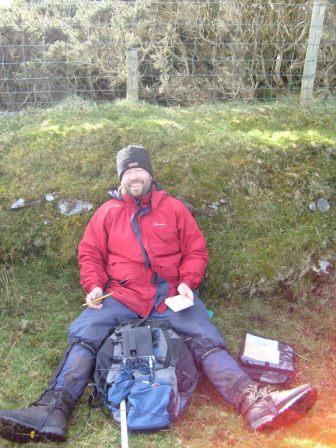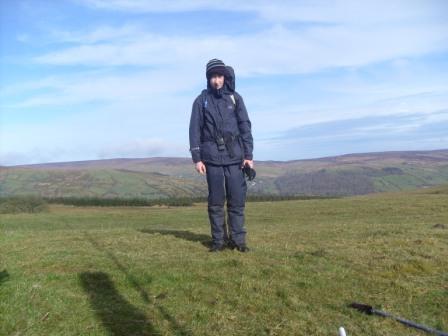 In 2005, we had ascended through farm fields from the East, but I wanted to investigate a public road indicated on the OSNI 1:50,000 sheets. This road turns left off the lane we were on, and was gated, although only one gate was closed. There was a small parking area at the top, and from here it was a trivial walk along the summit ridge through a couple of fields.

Jimmy spent sometime agonising over the map and exploring around all the possible candidates for the true summit. I made up my own mind quickly as to where it was, and set to setting up for 80m. An almost full day-off yesterday had reignited my enthusiasm for HF, and I was QRV at 2 minutes to 10 local BST. Not bad considering that the clocks went forward during the night, and I had ordered a later 7am get-up to compensate.

A steady stream of callers was worked on 3.557MHz CW, interspersed with an interlude of four SSB contacts by Jimmy on 3.660MHz. I didn't bother with lots of CQing after the pile-up was worked down, nor a blast on 2m FM. I wanted to make the most of the easy descent and allocate the time for the long drive south.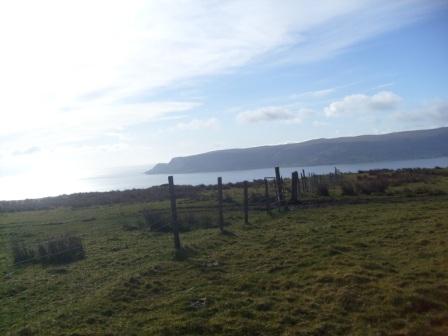 A very long drive south. Eighty miles no less, to Knockiveagh GI/MM-016. Many thanks to the following stations, all worked on 80m with 5 watts:
| | | | | |
| --- | --- | --- | --- | --- |
| GI0RQK | Ballyclare | Colin | CW | T |
| G4OBK | Pickering | Phil | CW | T |
| GM0AXY | Edinburgh | Ken | CW | T |
| G3RMD | Cheltenham | Frank | CW | T |
| G3OHC | Selby | Graham | CW | T |
| GI0RQK | Ballyclare | Colin | SSB | J |
| GW0VMZ | Merthyr Tydfil | Alistair | SSB | J |
| G4OBK | Pickering | Phil | SSB | J |
| G6MZX | Thornton-in-Craven | Geoff | SSB | J |
| G4SSH | Scarborough | Roy | CW | T |
| EI7CC | Dun Laoghaire | Pete | CW | T |
| ON4CAP | Oostkamp | André | CW | T |
| G4CPA | Crosshills | Geoff | CW | T |
| MX0BCQ/A | Crosshills | Geoff | CW | T |
| EI2CL | Dublin | Michael | CW | T |