Crugiau Merched, GW/MW-021 - 462m ASL - SN 722 455 - OS Explorer 187 - 1 SOTA point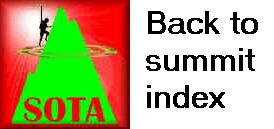 Mid Wales trip, Day 1 - Sunday 18th August 2019
It was a fairly late time, relatively speaking, that we set off from Macclesfield on this SOTA activating mission. I was quite tired and just not in the mood for the more usual very early start. We drove across to the Lazy Kettle transport cafe near Oswestry for their pancakes with bacon and eggs breakfast. Once into our Mid Wales target area, we recognised a pub from a camping trip some years earlier - the Towy Bridge Inn. Somewhat unconventionally, Jimmy and I partook in a pint of beer before our hillwalking. Soup of the Day was Heinz Beef & Vegetable Big Soup from the flask.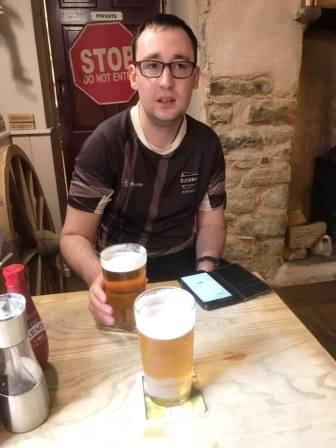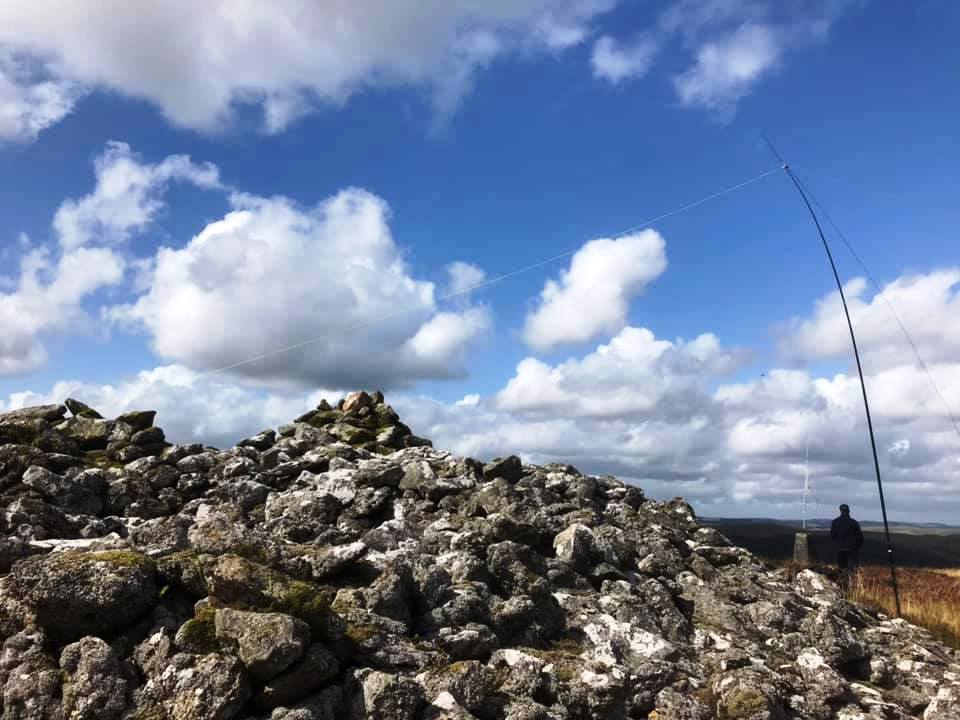 We parked in a single space between the house and small chapel at Ty Capel, SN 730 465. From here we were anticipating a fairly brutal slog straight up the gulley, but were pleasantly suprised by a good surfaced zigzag track working its way up the hillside to the right of the watercourse. The walking was therefore rather enjoyable and we were soon gaining good height. Midway up the hill, we followed the path on the ground through some thick and high vegetation (bracken) which wasn't too great. We could have easily avoided it by simply walking up the grassy bank beside it. We made a mental note for the descent route.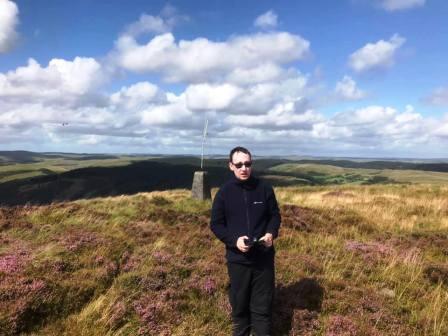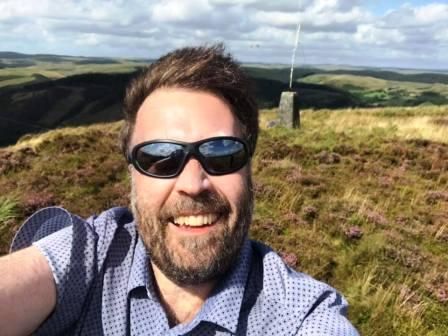 It was a pleasant mild afternoon, and shirt-sleeve order for me. I set up the SOTAbeams Bandhopper 4 linked dipole beside the large summit cairn, but not to full length as i had no intention of using the 80m band. I qualified easily on 40m CW. Jimmy meanwhile had only been able to manage two QSOs on VHF, so he completed his activation on my set-up, using 40m SSB.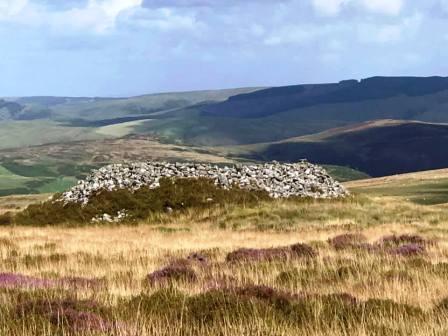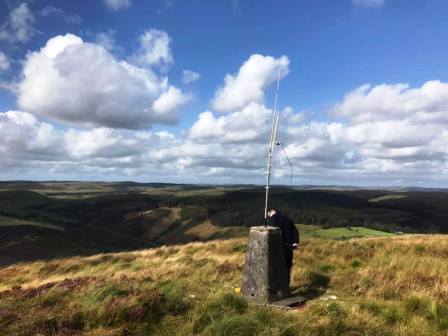 This was only ever planned to be a one-summit day so as not to place too much pressure on the drive over, checking-in, finding somewhere to eat etc. The two bedroom cottage - Old Lion Cottage in Newbridge-on-Wye - was lovely and perfect in every way but one - it didn't have Wi-Fi despite the Booking.com page for it stating that it had Wi-Fi throughout the property. This was an annoyance for Jimmy who likes to catch up on the SOTA Reflector last thing at night, plus upload all his day's photos to Facebook. It was a concern and inconvenience to me. I still had 15 songs to learn for a dep gig in Bristol the following Saturday, and had brought my acoustic guitar, laptop and iPad in order to work on them while away. A lack of Wi-Fi was a big spanner in the works.
The pub adjacent to the cottage - the Golden Lion - was nice, but wasn't serving food on any of the evenings we were staying that week. However, the other pub in the village - the New Inn - was an absolute treasure of a find. Quite possibly the friendliest pub I've ever been in, great food served every night (and as late as we wanted it), good local ale, good pool table, good Wi-Fi, and the blessing of the management to use the back bar area - and pub Wi-Fi - to sit and work every night! We enjoyed Hunters Chicken and Dragon Ale on that first night. The trip was off to a fine start.
The next morning we would first head to Drygarn Fawr GW/MW-003.
| | | | | | |
| --- | --- | --- | --- | --- | --- |
| Time | Call | Band | Mode | S2S | Op |
| 14:33z | GW4VPX/M | 144MHz | FM | | MW0HGY/P |
| 14:36z | MW0OFA | 144MHz | FM | | MW0HGY/P |
| 14:41z | PA3ECJ | 7MHz | CW | | MW1EYP/P |
| 14:42z | EA2DT | 7MHz | CW | | MW1EYP/P |
| 14:43z | PA0HRM | 7MHz | CW | | MW1EYP/P |
| 14:47z | US2UM | 7MHz | CW | | MW1EYP/P |
| 14:48z | ON6ZQ | 7MHz | CW | | MW1EYP/P |
| 14:51z | EA2LU | 7MHz | CW | | MW1EYP/P |
| 15:02z | M0OAT/P | 7MHz | SSB | G/TW-001 | MW1EYP/P, MW0HGY/P |
| 15:02z | M0MDA | 7MHz | SSB | | MW1EYP/P, MW0HGY/P |