Drygarn Fawr, GW/MW-003 - 645m ASL - SN 862 584 - OS Explorer 187/200 - 4 SOTA points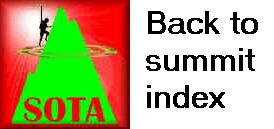 Mid Wales trip, Day 2 - Monday 19th August 2019
It was another non-early start. In fact we weren't rushing out of bed on any morning on this trip. Morning duties were for me to make the soup for the flask - Heinz Chicken & Vegetable Big Soup on this occasion, and Jimmy to make the porridge for breakfast. When we did set off, Jimmy directed me along the lanes south-west from Newbridge-on-Wye to the beautiful valley north-west from Abergwesyn, where we parked in the wide track entrance at SN 836 555.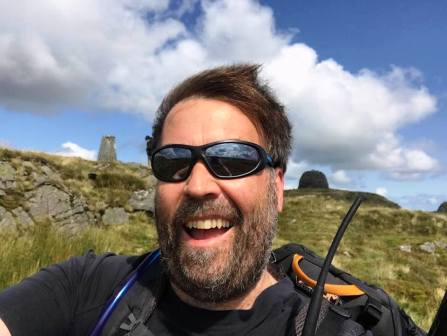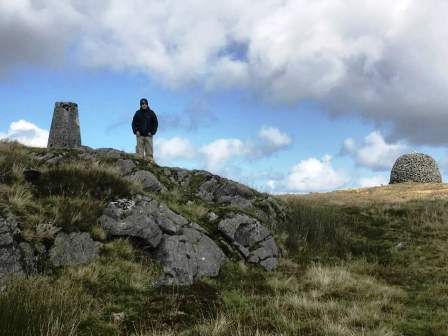 A lot of the height was gained with easy walking along a wide graded track, working its way gradually up the valley side. The track bent around a couple of harp hairpins as the topography plateaued out somewhat. Just after a gate, Jimmy indicated we now needed to leave the track, and head up, cross-country, towards the summit. This was now clearly visible, but one of those "so near, and yet so far" situations, with boggy ground, dense vegetation, and finally a hidden descent the reascent to negotiate.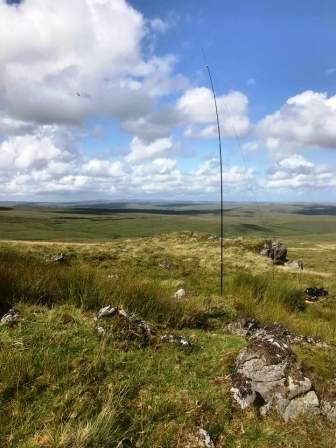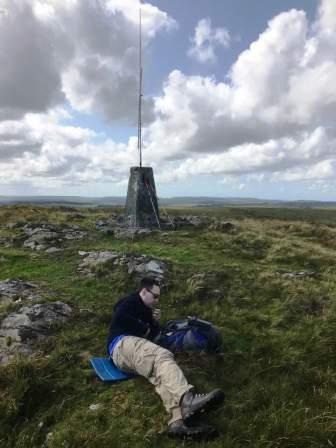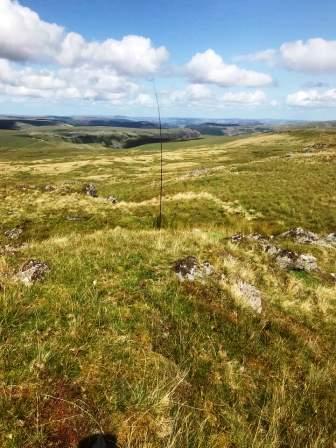 The summit was pleasant with trig point and large pudding-shaped stone cairn. Jimmy set up near the trig, while I moved the other side of the cairn and dropped down a few metres for more shelter from the prevailing wind. On this activation, Jimmy did well on 2m FM, recording eleven QSOs including two summit-to-summit contacts. I made just eight QSOs on 40m CW - still sufficient of course - before tail-ending Jimmy to grab the two S2S contacts on VHF.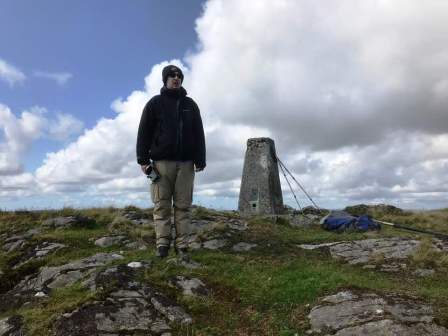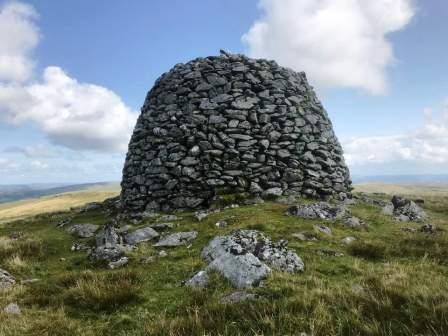 It was getting towards 5pm BST by the time we were back at the car, but we decided to press on with the second activation we'd planned for the day. This was Pen y Garn-goch GW/MW-016.
| | | | | | |
| --- | --- | --- | --- | --- | --- |
| Time | Call | Band | Mode | S2S | Op |
| 13:18z | 2E0RYR | 144MHz | FM | | MW0HGY/P |
| 13:19z | MW0OFA | 144MHz | FM | | MW0HGY/P |
| 13:21z | MW0TYM/M | 144MHz | FM | | MW0HGY/P |
| 13:24z | MW7ROY | 144MHz | FM | | MW0HGY/P |
| 13:30z | M0RIF/P | 144MHz | FM | | MW0HGY/P |
| 13:36z | GW6OVD | 144MHz | FM | | MW0HGY/P |
| 13:42z | EA2DT | 7MHz | CW | | MW1EYP/P |
| 13:44z | F5MNO/P | 7MHz | CW | | MW1EYP/P |
| 13:46z | OE7PHI | 7MHz | CW | | MW1EYP/P |
| 13:47z | ON4MB | 7MHz | CW | | MW1EYP/P |
| 13:47z | F6EAH | 7MHz | CW | | MW1EYP/P |
| 13:48z | DF7IS | 7MHz | CW | | MW1EYP/P |
| 13:49z | OZ7JZ | 7MHz | CW | | MW1EYP/P |
| 13:50z | F6GUF | 7MHz | CW | | MW1EYP/P |
| 13:54z | GW4VPX/P | 144MHz | FM | GW/MW-019 | MW1EYP/P, MW0HGY/P |
| 13:59z | G3SMT | 144MHz | FM | | MW0HGY/P |
| 14:03z | 2W0LPU | 144MHz | FM | | MW0HGY/P |
| 14:15z | MW0TYM/M | 144MHz | FM | GW/NW-007 | MW1EYP/P, MW0HGY/P |
| 14:27z | MW1EYP/M | 144MHz | FM | | MW0HGY/P |