Pen y Garn-goch, GW/MW-016 - 487m ASL - SN 884 502 - OS Explorer 187 - 1 SOTA point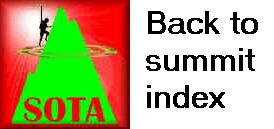 Mid Wales trip, Day 2 - Monday 19th August 2019
From Drygarn Fawr GW/MW-003, Jimmy directed me back down to the A483, and then up the cul-de-sac lane to a parking spot at SN 890 504. This was adjacent to the track we would be ascending, which we marched up briskly, assisted by the easy gradient and good surface. As the track wound in towards the summit in the final section of the walk, the route became more muddy and overgrown, but this was not for too long and we were soon emerging into the clearing and onto the summit.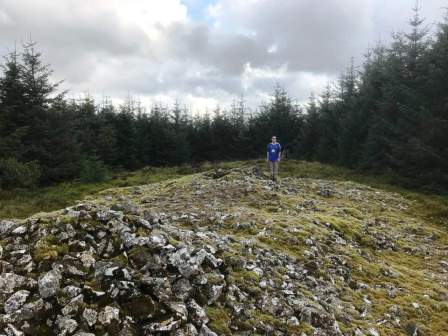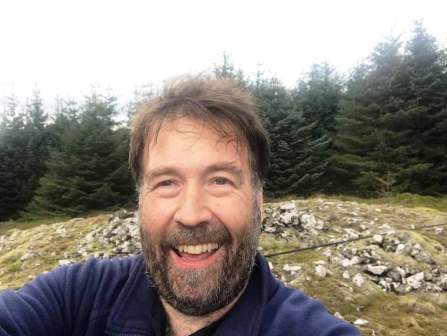 I decided to go for the 20m GP, which turned out to be a poor decision! Jimmy, on 2m FM, did twice as well as me. Basically, he managed two QSOs on VHF, to my single contact on 20m CW. The RBN was spotting me all round Europe, but apart from Jan OK2PDT who worked me, the entire CW and SSB segments of 20m were devoid of activity. I did have the Bandhopper 4 available, but I decided to try one last mode on 20m before going through the tedium of taking down one antenna and setting another up!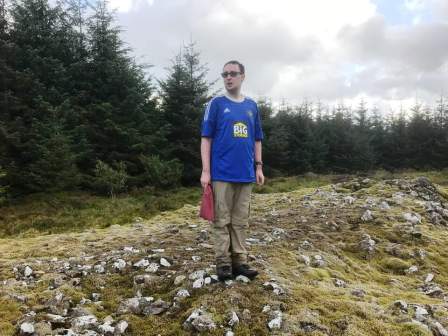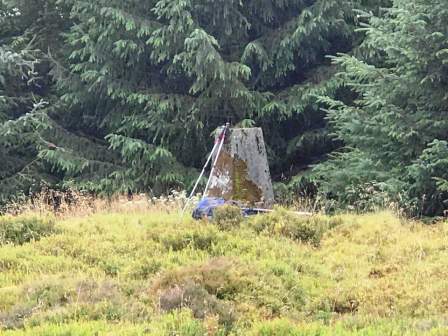 After plugging in the Windows tablet and interface, I tuned to 14.074MHz, the 20m FT8 frequency. To my surprise, there was a loud cacophony of signals to be heard. So the band was far from dead; it was just that everyone was on FT8, and no-one on legacy modes! I got my remaining contacts very quickly! Jimmy joined me, edited his callsign details into the WSJT-X settings and began calling on FT8. He got his third contact, but then was calling for ages with no reply. He wandered back over to the 2m station while I kept my eye on the tablet display on his behalf. Within seconds, the line went red and Jimmy was being called. I shouted him over and he was back in time to complete the QSO with a couple of finger touches on the screen!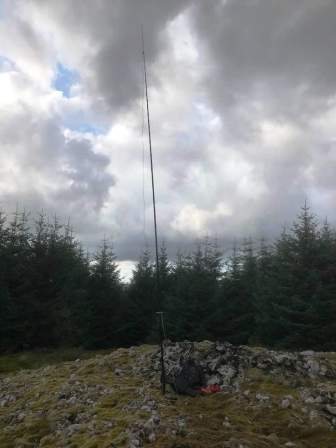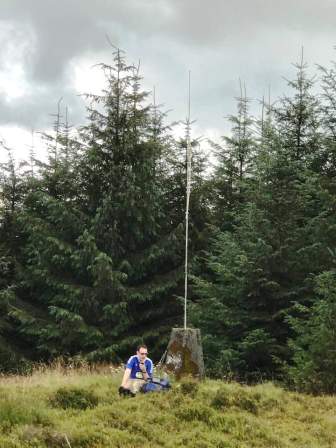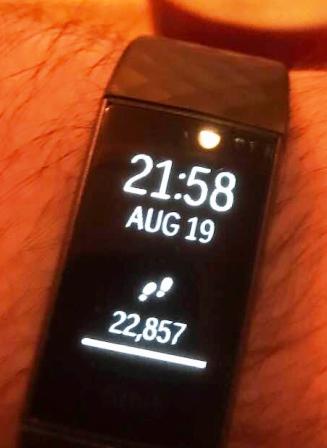 It took a while, and Jimmy had to be patient for that all-important 4th QSO, but it eventually came courtesy of SP3HDU. It had been a long day's walking with over 22K steps recorded on my Fitbit watch. As we drove back to Newbridge-on-Wye, we telephoned the pub to say it would be 9pm before we would be in for dinner. "No problem" they said, and we were treated to the most fantastic steak and ale pie, chips, mushy peas and gravy, all washed down with the delicious Dragon Ale. A few games of pool and more beer, and we were ready to wander back to the cottage.
After another good night's sleep in the lovely comfortable cottage, our first target the next morning was Carn Gafallt GW/MW-040.
| | | | | |
| --- | --- | --- | --- | --- |
| Time | Call | Band | Mode | Op |
| 17:25z | G4WUH/M | 144MHz | FM | MW0HGY/P |
| 17:31z | OK2PDT | 14MHz | CW | MW1EYP/P |
| 17:35z | GW7AEY/M | 144MHz | FM | MW0HGY/P |
| 17:41z | PD0ADC | 14MHz | FT8 | MW1EYP/P |
| 17:44z | OE3UKW | 14MHz | FT8 | MW1EYP/P |
| 17:56z | DL5CD | 14MHz | FT8 | MW1EYP/P |
| 18:10z | IZ3QVB | 14MHz | FT8 | MW0HGY/P |
| 18:26z | SP3HDU | 14MHz | FT8 | MW0HGY/P |