Curraghchosaly Mountain, GI/SM-010 - 416m ASL - H 478 839 - OSNI Discoverer 13 - 2 SOTA points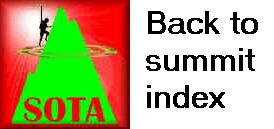 GI SOTA Trip - Activation #11 - Curraghchosaly Mountain GI/SM-010 - Thursday 2nd June 2016
The morning of Thursday 2nd June 2016 was spent either side of the B48 in the Gortin Glen Forest Park. After another 5am get-up, we had a fairly short drive from Mountjoy into the forest. Jimmy pointed out the entry road to the forest drives and parking areas for the second summit as we passed, but we noted with concern the stated opening time of 10am. There was a good chance we would be ready somewhat earlier than that.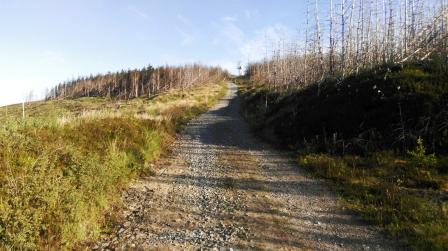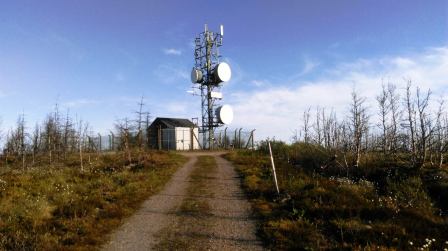 First though, we continued further along the road and turned right into a minor road. We parked in the wide forest entrance at Cullon Bridge and commenced our walk from there. The forest roads rose quickly but not punishingly and it was a straightforward walk of about 2.5km to the transmitter complex at the summit. We went slightly beyond that to set up in order to enjoy a wonderful open view out to the North West.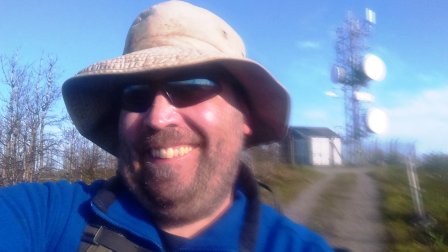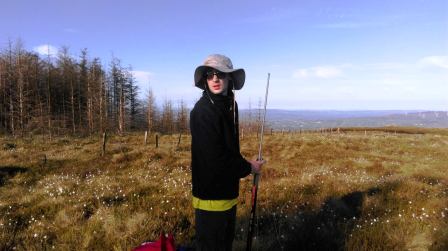 Despite being QRV at 0650 UTC, so were the chasers! 40m was behaving favourably affording coverage across near and central Europe, and a couple into the UK too. 19 contacts were made, all on 7.032MHz CW. Meanwhile, Jimmy managed to repeat his trick of getting agonisingly to 3 QSOs on 2m FM. He tried to get his qualification on my kit via 40m SSB, but no joy.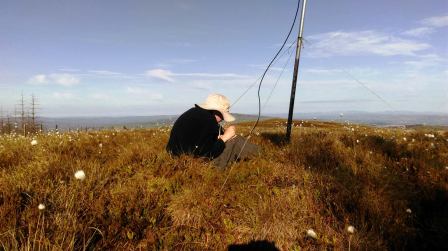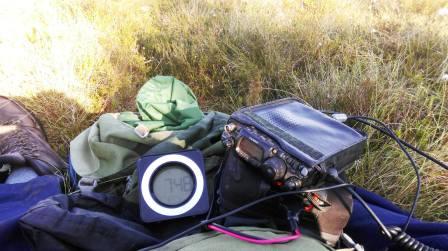 However, retuning the aerial and self-spotting and calling on 20m SSB did the trick. He added four contacts there for a comfortable qualification. We packed up and descended, keen to crack on, still with an eye on a potential 5 summit day. Next on the agenda was Mullaghcarn GI/SM-006.
| | | | | |
| --- | --- | --- | --- | --- |
| Time | Call | Band | Mode | Notes |
| 06:48z | MI0GDO | 144MHz | FM | MI0HGY/P |
| 06:50z | ON5SE | 7MHz | CW | MI1EYP/P |
| 06:50z | 2I0DJM | 144MHz | FM | MI0HGY/P |
| 06:53z | OK1ZE | 7MHz | CW | MI1EYP/P |
| 06:54z | G3RDQ | 7MHz | CW | MI1EYP/P |
| 06:55z | OE7PHI | 7MHz | CW | MI1EYP/P |
| 06:55z | DL2YBG | 7MHz | CW | MI1EYP/P |
| 06:58z | PA0ALW | 7MHz | CW | MI1EYP/P |
| 06:59z | MI0IRZ | 144MHz | FM | MI0HGY/P |
| 07:00z | PA0B | 7MHz | CW | MI1EYP/P |
| 07:01z | F5SQA | 7MHz | CW | MI1EYP/P |
| 07:02z | DL3HXX | 7MHz | CW | MI1EYP/P |
| 07:03z | DL6UNF | 7MHz | CW | MI1EYP/P |
| 07:05z | GM4WCE | 7MHz | CW | MI1EYP/P |
| 07:07z | OE1WIU/P | 7MHz | CW | MI1EYP/P |
| 07:08z | SM4BNZ | 7MHz | CW | MI1EYP/P |
| 07:09z | DL2HWI | 7MHz | CW | MI1EYP/P |
| 07:10z | DL6WT | 7MHz | CW | MI1EYP/P |
| 07:11z | SM6DER | 7MHz | CW | MI1EYP/P |
| 07:12z | SA4BLM | 7MHz | CW | MI1EYP/P |
| 07:13z | DJ5AV | 7MHz | CW | MI1EYP/P |
| 07:14z | PA7ZEE | 7MHz | CW | MI1EYP/P |
| 07:36z | SM6CNX | 14MHz | SSB | MI0HGY/P |
| 07:39z | EA2LU | 14MHz | SSB | MI0HGY/P |
| 07:41z | OE7FMH | 14MHz | SSB | MI0HGY/P |
| 07:42z | OH3GZ | 14MHz | SSB | MI0HGY/P |