Mullaghcarn, GI/SM-006 - 542m ASL - H 510 809 - OSNI Discoverer 13 - 4 SOTA points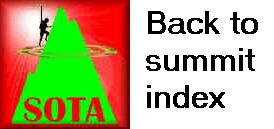 GI SOTA Trip - Activation #12 - Mullaghcarn GI/SM-006 - Thursday 2nd June 2016
The drive from the parking spot for Curraghchlosaly Mountain GI/SM-010 was less than a kilometre, so very short. There was no trouble getting into the car park, and we paid the £4 fee into the ticket machine. Jimmy instructed me to get onto the Forest Drive at the top of the car park, but it was closed due to forestry operations and blocked by a locked metal barrier. Instead, we found an alternative parking spot fairly high up in the park.
So the first part of the walk was uphill, up a road we were anticipating driving on to a higher and closer parking spot! Once that forest drive road reached its highest point (and where we were intending to park), we cut left up to the edge of the forest. Soon we reached the start of the final access road to the summit transmitter complex and were surprised to find the barrier open.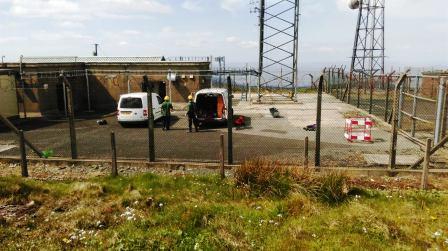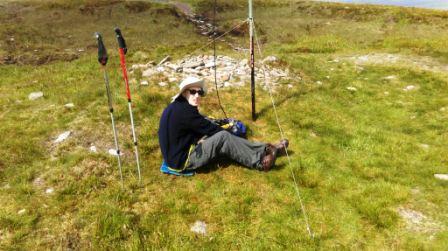 As we neared the summit, we discovered why - there were two men working on the masts, and they had left all the barriers open - apart from the one at the start of that road (as we later noticed). I had a chat to one of them, who said he came from Northampton (I had spotted his non-local accent!). He had noticed Jimmy, who was already QRV on 2m FM up by the trig point about 50 yards away, and said to me "Either he's a radio amateur or he's talking to himself"! He also told me that there was a 2m repeater on one of the masts.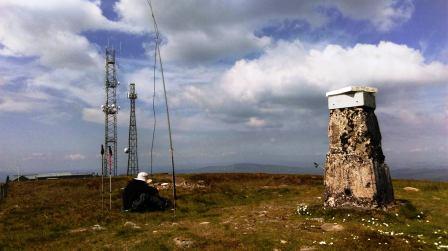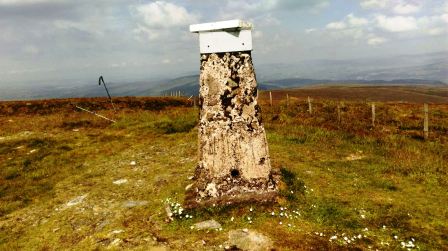 I left the guys to continue sending dishes up and down on their pulley system and went to join Jimmy on the summit. By the time I was set up, Jimmy had already qualified. Unfortunately, I held him back somewhat with a very "bitty" activation. Nothing on 40m, then one on 20m CW, then two on 30m CW, and finally two back on 40m CW.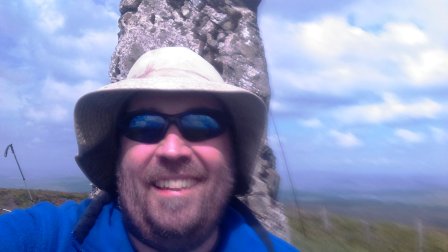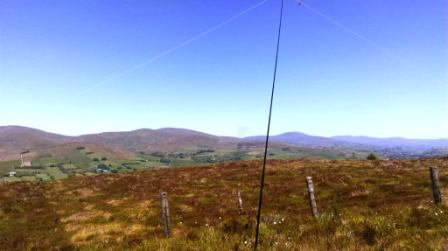 We were down to the car fairly quickly and then driving down the forest car park roads - until we reached a locked barrier. This was a surprise as it was open initially. We drove down the other way - to a locked barrier! Aargh - we were locked in! Anyway, I scurried across to a member of forestry staff who was just packing up after running a session with a party of children. She apologised for the lack of signage and unanticipated closures, and let us out! Not too bad a delay, but things were starting to indicate that a five summit day might have been somewhat overambitious. Anyway, we pressed on, and made our way towards Craignamaddy GI/SM-016.
| | | | | |
| --- | --- | --- | --- | --- |
| Time | Call | Band | Mode | Op |
| 10:10z | MI0GDO | 144MHz | FM | MI0HGY/P |
| 10:10z | MI1EYP/M | 144MHz | FM | MI0HGY/P |
| 10:30z | GI3UBA | 144MHz | FM | MI0HGY/P |
| 10:32z | GB0GPF | 144MHz | FM | MI0HGY/P |
| 10:33z | GI4KSO | 144MHz | FM | MI0HGY/P |
| 10:42z | DL8DXL | 14MHz | CW | MI1EYP/P |
| 10:47z | DL3HXX | 10MHz | CW | MI1EYP/P |
| 10:48z | HB9AGH | 10MHz | CW | MI1EYP/P |
| 10:52z | OE1WIU/P | 7MHz | CW | MI1EYP/P |
| 10:57z | G4OIG | 7MHz | CW | MI1EYP/P |