Cyrniau Nod, GW/NW-034 - 667m ASL - SH 988 279 - OS Explorer OL18 - 4 SOTA points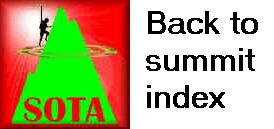 Sunday 17th April 2011 was confirmed as a SOTA day out for Jimmy and myself, so we were back on the roads west out of Macclesfield at 5.50am BST. Good progress saw us arrive in Bala at 7.35am. Too good progress - none of the breakfast options were open until 8am, including the supermarkets. Instead, we sat and waited. Two large cooked breakfasts and mugs of tea were worth the wait, and we enjoyed being able to drive all the way to the parking spot for our target hill, unimpeded by snow and ice. We parked in the area at SH946273, 500m ASL, opposite the start of the track. This was to be a long walk!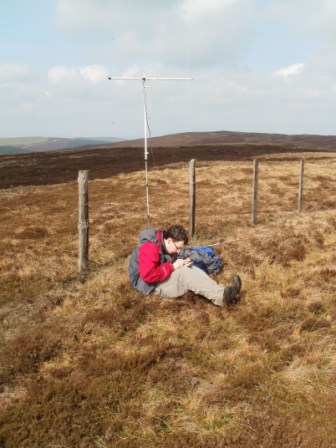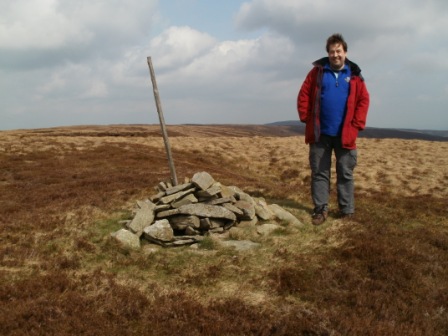 I was carrying my new Vango 60 litre rucksack. My old Berghaus pack had been used to death, and too many of its features were now not working properly. The Vango had a better design for everything I want to do and carry, although I hadn't quite got all the adjustments yet right. We were also carrying new bladders in our rucksacks. The new ones had a much better design with turn-to-open/close bite-valves and bite valve covers and a improved way of opening/closing the reservoir.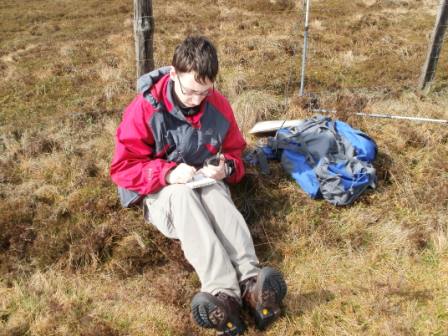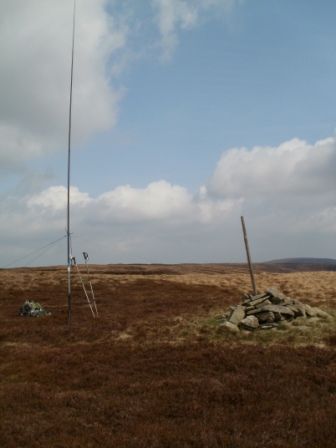 Once the track had climbed the angled bank from the road, it turned Eastwards for an undulating meander towards the summit. After an intermediate highpoint of 640m on the shoulder of Pen y Boncyn Trefailw, the track turned ESE for a series of long curving descents, as far down as 570m ASL. But that heralded the final ascent to the highest point of the track at SH988284, where we turned right (SE) on a narrow path through the heather to the fence. Here we turned right again, following the fence through bog and peat groughs to a junction of fences where we turned left (south) to the summit cairn.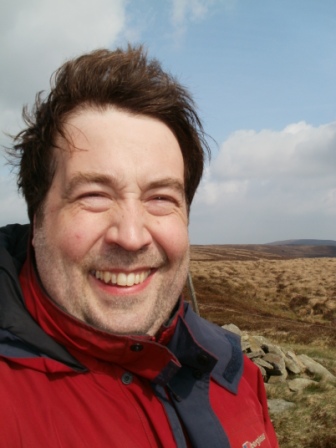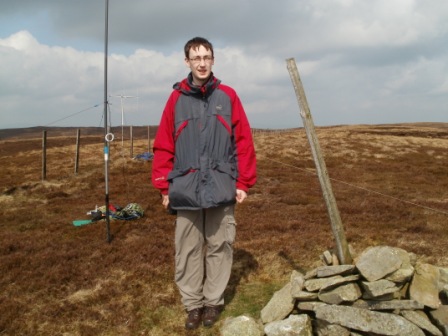 It was 2m FM for Jimmy MW3EYP/P and 20m CW for myself MW1EYP/P. Jimmy managed just the requisite four QSOs to qualify his activation, while I had a similarly mediocre total of six. Not even offering the WFF reference of GWFF-074 sparked any additional interest, so we packed away and braced ourselves for the long haul back to the car on this warm sunny midday.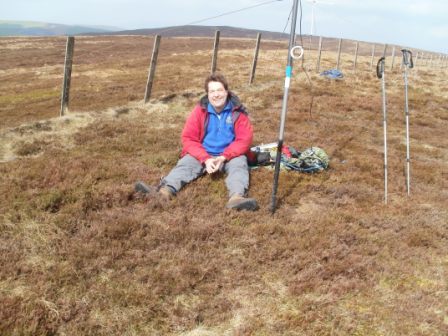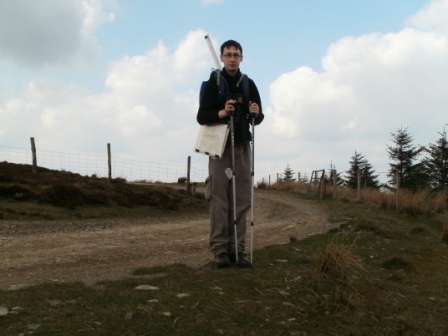 We reached the car by around 2.20pm. I was going slowly due to a combination of sleep deprivation (only four hours managed the previous night), tiredness and side pain as I struggled to find the best adjustments of my new rucksack. During the walk, we each worked new activator Rufus MW6MGB/P using our 2m FM handhelds. Rufus was activating Penycloddiau GW/NW-054.

At the car, we checked out the road atlas and the OS Explorer maps we had with us. I decided that we were about an hour too late to consider activating Esgeiriau Gwynion GW/NW-031, which otherwise may have been our first choice. Other options were mooted, such as Penycloddiau GW/NW-054, Mynydd y Cwm GW/NW-076, Foel Goch GW/NW-039 and Hope Mountain GW/NW-062. But ultimately Jimmy convinced me to take on another new unique, in the form of Mynydd Cwmcelli GW/NW-052. Thanks to all the stations that we worked:
| | | | |
| --- | --- | --- | --- |
| G1OPV/P on Pendle Hill SP-005 | 2m | FM | J |
| 2E0NVJ | 2m | FM | J |
| G6ODU | 2m | FM | J |
| G4ELZ | 20m | CW | T |
| OK1CZ | 20m | CW | T |
| DL6KVA | 20m | CW | T |
| G4SSH | 20m | CW | T |
| EA3EGB | 20m | CW | T |
| S57EA | 20m | CW | T |
| G0HRT | 2m | FM | J |