Disgwylfa Fawr, GW/MW-038 - 507m ASL - SN 737 847 - OS Explorer 213 - 2 SOTA points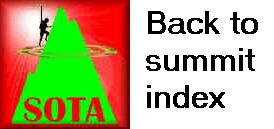 Sunday 2nd May 2021
We had waited a long time for this - the 158th and final Marilyn (P150) summit in Wales for us to summit and put on a radio activation. The quest had started over 18 years earlier, in March 2003 - my first Welsh SOTA activation, on Cyrn-y-Brain GW/NW-043. Our 157th summit - Esgair Ddu GW/MW-020 - came at the end of September 2020 - but then a succession of national lockdowns and travel restrictions prevented us from getting back into Wales to bag our final summit.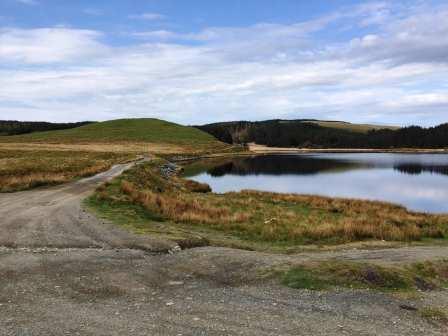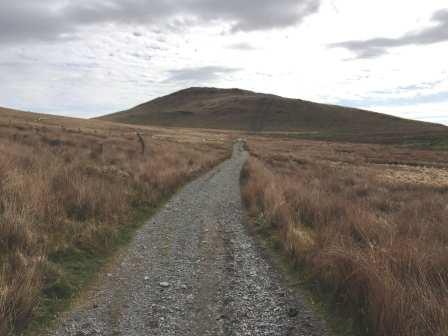 With restrictions finally eased, and a nice weather forecast for the May Bank Holiday Sunday, we planned for a 5am get-up and early departure. We stopped a couple of times en route for fuel, a quirky breakfast of cold madras in a naan bread (Tuffins filling station near Welshpool) and to make sure we'd collected supplies of Welsh cakes to take back home with us.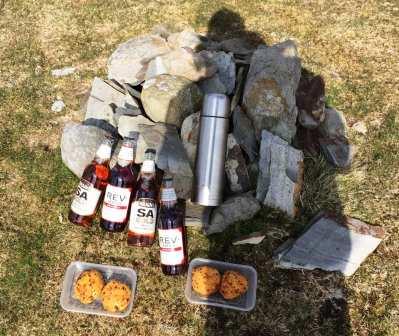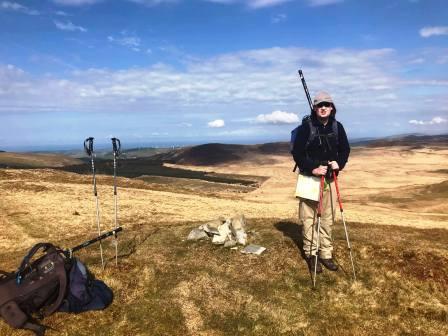 The previous evening, Jimmy and I had made up a batch of our famous homemade Scotch eggs, and we'd set aside two each to take for our celebratory summit lunch today. Jimmy directed me down to the A44 towards Aberystwyth, and onto the minor roads south of the hill. The final approach to the parking spot was a careful and slow drive along a byway alongside Llyn Syfydrin. We parked on some rough grass adjacent to the byway corner and a rough track leading off to the right.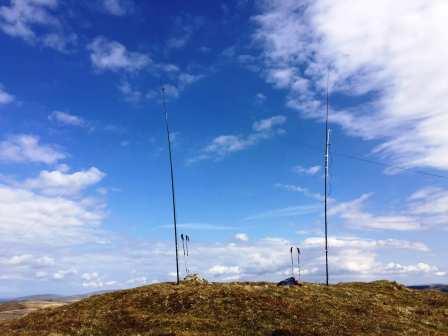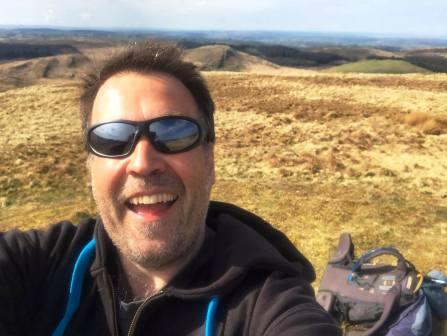 We set off walking along that rough track, and were soon overtaken by a couple of scrambler motorbikes, which continued straight ahead and up a very steep slope on the west side of Disgwylfa Fawr. We followed the main track as it swung around to the right to take a more graded approach. We followed a faint path through the grass contouring around the south of the hill, but on reflection, it would have been better to have gone for the ridge line. Indeed we descended on the ridge later.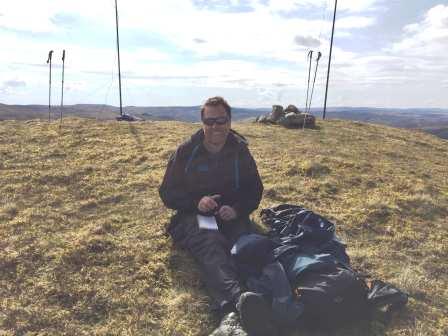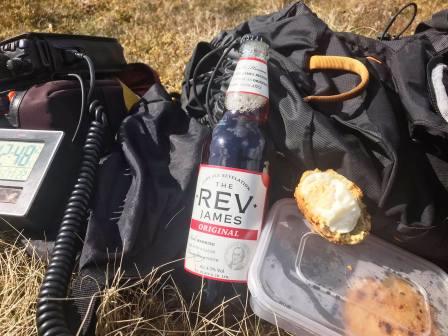 We spiralled in, anticlockwise, to the small summit, marked by a very small cairn. We set up our antennas - SOTAbeams 2m MFD for Jimmt, and 40m halfwave dipole for me - and got cracking with our activations. It was interesting to hear the several reports of inclement weather to the north, south and east of us today. Allan GW4VPX also warned of a storm that was supposed to be arriving in the afternoon. As it turned out, it was a gorgeous day all day. Which might sound surprising or indeed lucky - but it was in fact exactly what the Met Office forecast for our location had promised!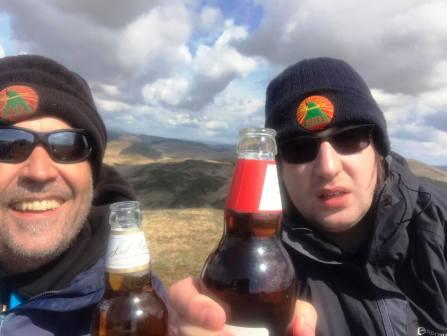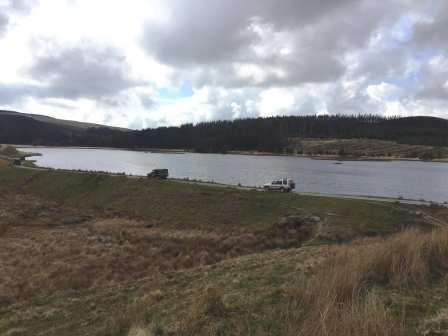 It was an excellent activation with which to "slay the dragon". Lots of QSOs including lots of S2S.
M1EYP/P - 71 QSOs including 16 S2S
40m CW: 26 QSOs
40m SSB: 8 QSOs
40m FT8: 17 QSOs
40m FT4: 4 QSOs
15m FT8: 3 QSOs
2m FM: 13 QSOs
M0HGY/P - 24 QSOs including 11 S2S
40m SSB: 1 QSO
15m FT8: 2 QSOs
2m FM: 21 QSOs
Best DX for both of us was Brazil on 15m. Fish and chips from Silverfish in Newtown was still superb. We enjoyed our celebratory homemade Scotch eggs, mulligatawny soup and Welsh bottled ales on the summit. We picked up the obligatory Welsh cake supplies to take home with us!
| | | | | | |
| --- | --- | --- | --- | --- | --- |
| Time | Callsign | Band | Mode | S2S | Op |
| 09:31 | DL6RAI | 7MHz | CW | | MW1EYP/P |
| 09:33 | HB9AGH | 7MHz | CW | | MW1EYP/P |
| 09:34 | DK1WI | 7MHz | CW | | MW1EYP/P |
| 09:34 | PA0B | 7MHz | CW | | MW1EYP/P |
| 09:35 | EA2DT | 7MHz | CW | | MW1EYP/P |
| 09:36 | F5LKW | 7MHz | CW | | MW1EYP/P |
| 09:38 | DL8WEM | 7MHz | CW | | MW1EYP/P |
| 09:39 | PF2X | 7MHz | CW | | MW1EYP/P |
| 09:40 | DL1GKC | 7MHz | CW | | MW1EYP/P |
| 09:41 | GW4VPX | 144MHz | FM | | MW0HGY/P, MW1EYP/P |
| 09:41 | IK2LEY | 7MHz | CW | | MW1EYP/P |
| 09:43 | MW6MNT/P | 144MHz | FM | GW/SW-013 | MW0HGY/P, MW1EYP/P |
| 09:43 | OM1AX | 7MHz | CW | | MW1EYP/P |
| 09:45 | ON3YB | 7MHz | CW | | MW1EYP/P |
| 09:51 | GW8SFT/M | 144MHz | FM | | MW0HGY/P |
| 09:54 | GW0JAI | 144MHz | FM | | MW0HGY/P |
| 10:03 | MW1HAX/P | 144MHz | FM | GW/NW-012 | MW1EYP/P, MW0HGY/P |
| 10:09 | 2W0XYL/P | 144MHz | FM | GW/NW-043 | MW0HGY/P, MW1EYP/P |
| 10:12 | MW0OFA | 144MHz | FM | | MW0HGY/P |
| 10:15 | EA2DT | 7MHz | SSB | | MW1EYP/P |
| 10:16 | F4WBN | 7MHz | SSB | | MW1EYP/P |
| 10:17 | MW0AEV | 144MHz | FM | | MW0HGY/P |
| 10:24 | HB15SOTA | 7MHz | SSB | HB/NW-022 | MW1EYP/P |
| 10:24 | MW0WBG/P | 144MHz | FM | GW/NW-035 | MW0HGY/P, MW1EYP/P |
| 10:30 | MW0OWM/P | 144MHz | FM | GW/SW-003 | MW0HGY/P, MW1EYP/P |
| 10:40 | IN3ADF/P | 7MHz | SSB | I/TN-319 | MW1EYP/P |
| 10:40 | ON4CB | 7MHz | SSB | | MW1EYP/P |
| 10:41 | GM0HUU | 7MHz | SSB | | MW1EYP/P |
| 10:41 | LB1DH | 7MHz | SSB | | MW1EYP/P |
| 10:45 | F6HBI/P | 7MHz | CW | F/AM-503 | MW1EYP/P |
| 10:52 | UW8SM | 7MHz | CW | | MW1EYP/P |
| 10:53 | GW4VPX | 7MHz | CW | | MW1EYP/P |
| 10:54 | HB9DDZ | 7MHz | CW | | MW1EYP/P |
| 10:55 | GM0HUU | 7MHz | CW | | MW1EYP/P |
| 11:00 | PA3FAL | 7MHz | CW | | MW1EYP/P |
| 11:02 | GM0AXY | 7MHz | CW | | MW1EYP/P |
| 11:06 | DL1HBT | 7MHz | CW | | MW1EYP/P |
| 11:08 | GM0HKS | 7MHz | CW | | MW1EYP/P |
| 11:11 | F6HBI/P | 7MHz | SSB | F/AM-503 | MW1EYP/P |
| 11:23 | DL7DJ | 7MHz | FT8 | | MW1EYP/P |
| 11:23 | MW7BPG | 144MHz | FM | | MW0HGY/P |
| 11:25 | PD0JOY | 7MHz | FT8 | | MW1EYP/P |
| 11:27 | DL3EBJ | 7MHz | FT8 | | MW1EYP/P |
| 11:31 | F5LKW | 7MHz | FT8 | | MW1EYP/P |
| 11:32 | DK8IZ | 7MHz | FT8 | | MW1EYP/P |
| 11:35 | GM0HUU | 7MHz | FT8 | | MW1EYP/P |
| 11:37 | ON4UP | 7MHz | FT8 | | MW1EYP/P |
| 11:39 | DD9WG | 7MHz | FT8 | | MW1EYP/P |
| 11:41 | GM0AXY | 7MHz | FT8 | | MW1EYP/P |
| 11:43 | DK7UY | 7MHz | FT8 | | MW1EYP/P |
| 11:44 | SA4BLM | 7MHz | FT8 | | MW1EYP/P |
| 11:48 | DJ0WJ | 7MHz | FT8 | | MW1EYP/P |
| 11:48 | GW7ONS | 144MHz | FM | | MW0HGY/P |
| 11:49 | G4OBK | 7MHz | FT8 | | MW1EYP/P |
| 11:50 | MW3LFL | 144MHz | FM | | MW0HGY/P |
| 11:55 | OZ5AGJ | 7MHz | FT8 | | MW1EYP/P |
| 11:58 | DK7ZT | 7MHz | FT8 | | MW1EYP/P |
| 12:01 | 2E0AGB | 7MHz | FT8 | | MW1EYP/P |
| 12:05 | GW4HQB/P | 144MHz | FM | GW/SW-004 | MW0HGY/P, MW1EYP/P |
| 12:07 | MW0OVW/P | 144MHz | FM | GW/SW-004 | MW0HGY/P, MW1EYP/P |
| 12:10 | PA1HGM | 7MHz | FT4 | | MW1EYP/P |
| 12:12 | M7AVT | 7MHz | FT4 | | MW1EYP/P |
| 12:17 | DK1FP | 7MHz | FT4 | | MW1EYP/P |
| 12:36 | DL2VN | 7MHz | FT4 | | MW1EYP/P |
| 12:40 | HB15SOTA | 7MHz | SSB | HB/NW-019 | MW1EYP/P, MW0HGY/P |
| 12:53 | MW0NLG | 144MHz | FM | GW/NW-010 | MW0HGY/P, MW1EYP/P |
| 13:01 | IZ8EYN | 21MHz | FT8 | | MW1EYP/P |
| 13:03 | GW4XXF | 144MHz | FM | | MW0HGY/P, MW1EYP/P |
| 13:06 | IK4LZH | 21MHz | FT8 | | MW1EYP/P, MW0HGY/P |
| 13:12 | PU2OOC | 21MHz | FT8 | | MW1EYP/P |
| 13:24 | MW0UPH | 144MHz | FM | | MW1EYP/P, MW0HGY/P |
| 13:29 | PY7GB | 21MHz | FT8 | | MW0HGY/P |
| 13:40 | 2W0BML/P | 144MHz | FM | GW/MW-017 | MW1EYP/P, MW0HGY/P |
| 13:48 | MW1HAX/P | 144MHz | FM | GW/NW-034 | MW0HGY/P, MW1EYP/P |
| 14:01 | GW1SWA/P | 144MHz | FM | | MW0HGY/P |
| 14:28 | F5PBG | 7MHz | FT8 | | MW1EYP/P |
| 14:35 | ON7GO | 7MHz | CW | | MW1EYP/P |
| 14:37 | SP9AMH | 7MHz | CW | | MW1EYP/P |
| 14:38 | PA0HRM | 7MHz | CW | | MW1EYP/P |
| 14:39 | LA3NGA | 7MHz | CW | LA/TM-011 | MW1EYP/P |