Fan Fawr, GW/SW-005 - 734m ASL - SN 970 193 - OS Explorer OL12 - 6 SOTA points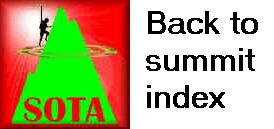 South Wales SOTA Trip - Day 4 - Wednesday 27th May 2015
The getaway from Brecon Beacons YHA was necessarily slightly slower on this morning, as we were checking out. We needed to strip our beds and make sure we had our luggage - and of course the usual flask of soup. Nonetheless, we were only starting with a relatively short drive down to the parkng spot opposite the Storey Arms Centre on the A470. It was a beautiful sunny morning with clear blue skies, and we relished the attractive looking climb in front of us.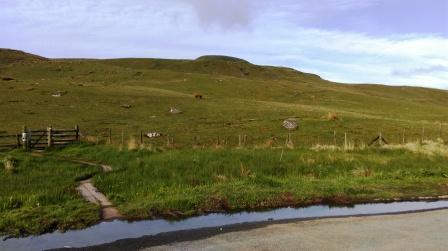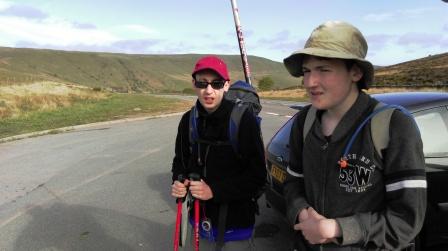 There wasn't much in the way of a distinct trodden path initially, but we could see the summit we were heading towards. The next phase of the hike was the brutally steep slog up the shoulder of the mountain, tamed in places by well trodden "footprint steps". This was very steep ground and I wasn't looking forward to descending! At least the severe gradient did mean we were gaining height quickly, and we were on the summit before 9am.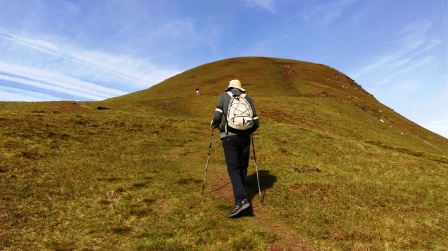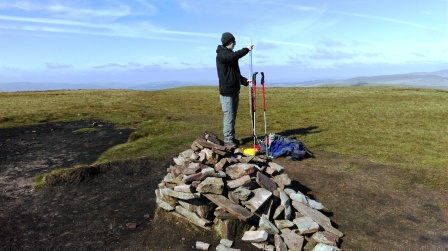 Half a kilometre further beyond the summit - and just 19m lower - was a trig point, but I decided I wasn't going to bother adding a spur to the walk to activate that in the WAB Trigpoints award scheme. Instead, I set up the end-fed and tuner close to the summit cairn and went in search of my 10m Challenge multiplier. This time, it was easy to get this just by "normal" operating. In fact four contacts came through easily on 28MHz before I added a couple more on 7MHz. Before all this, Jimmy had comfortably made five QSOs on 2m FM.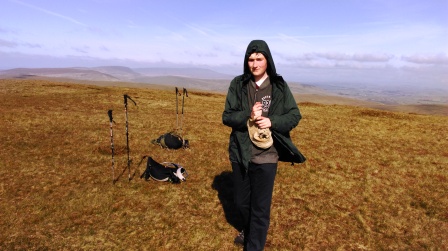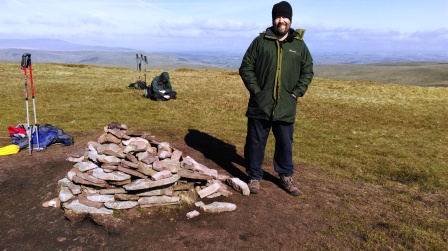 The descent was tricky in two respects. I did not much enjoy the very steep drop lurking very close to the left of the path as it contoured off the summit. Nor did I appreciate the paintakingly slow progress down the steep shoulder of the hill. It was nice to finally be able to stretch ones legs and regain some kind of rhythm when the gradient eased for the final part of the descent. Jimmy enjoyed this hill and later reported it to be his favourite of the whole week.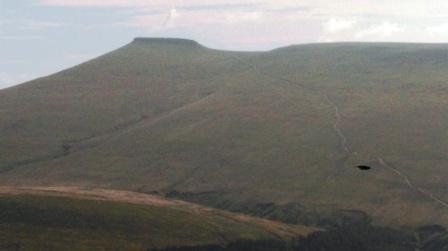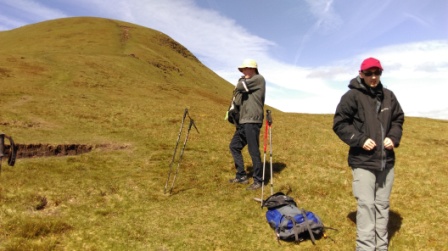 Temptation got the better of us as we returned to the car park, and three bacon and black pudding butties were ordered from the butty van now parked there, and doing good trade. That was a welcome pick-me-up before we headed over to Mynydd Marchywel GW/SW-021.
| | | | | |
| --- | --- | --- | --- | --- |
| Time | Call | Band | Mode | Op |
| 08:20z | GW4JYO | 144MHz | FM | J |
| 08:21z | MW0PJJ | 144MHz | FM | J |
| 08:22z | 2E0MDJ | 144MHz | FM | J |
| 08:22z | G0LGS | 144MHz | FM | J |
| 08:29z | GW6OVD | 144MHz | FM | J |
| 08:41z | OE5FSL | 28MHz | CW | T |
| 08:42z | G3RMD | 28MHz | CW | T |
| 08:45z | G4WTF | 28MHz | CW | T |
| 08:48z | OE6GND | 28MHz | CW | T |
| 08:55z | DL2EF | 7MHz | CW | T |
| 08:57z | GI4ONL | 7MHz | CW | T |