Mynydd Marchywel, GW/SW-021 - 418m ASL - SN 768 038 - OS Explorer 165 - 1 SOTA point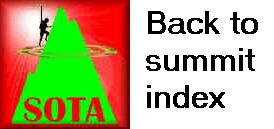 South Wales SOTA Trip - Day 4 (part 2) - Wednesday 27th May 2015
From Fan Fawr GW/SW-005, we drove south into the Vale of Neath and up into the narrow country lanes. We were able to find a single parking opportunity at the sharp road corner at SN757015. We followed the route recommended by Mal GW6OVD, following the field boundaries around to the forest track at SN759019. There now followed a long, straight and steady climb on a reasonable track, into the activation zone.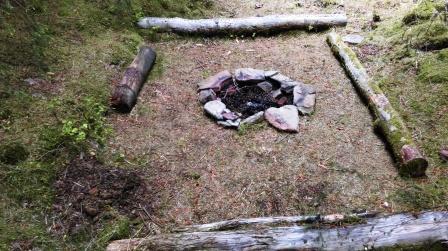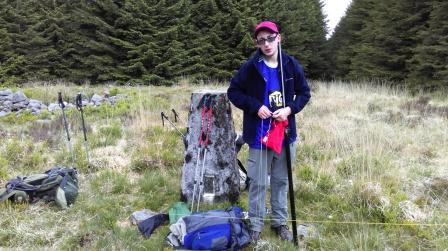 At the wall corner at SN767035, we were well within the activation zone as defined in the SOTA General Rules. Liam and I were quite satisfied with that as a possible operating spot, but agreed with Jimmy to find and photograph the trig point at the true summit first. However, Jimmy misinterpreted and thought we were just going to stay there. He shot off into the densely forested area determined to find the trig point!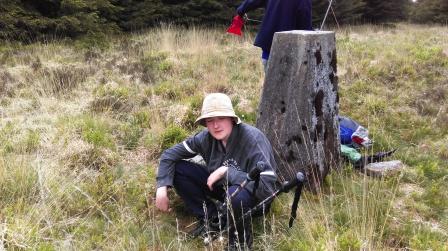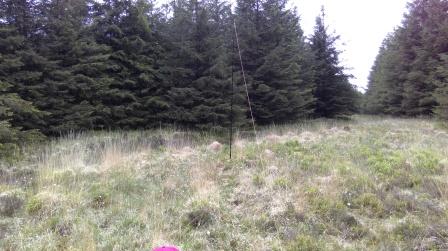 Soon, he had got himself disorientated and lost! He had dumped his rucksack on the track - and his map and compass! VHF handheld radio contact was not possible through the concentration of trees, but fortunately we were able to establish mobile phone contact. Jimmy described the terrain around him in great detail and continued to do so until I was able to determine his precise position on the OS 1:25000 map in my possession. From this, it was a simple job to give Jimmy instructions about how to get to the trig point from where he was.
The best route for him did not involved returning to where he had ditched his rucksack, walking poles and map, so I ended up retrieving all that and carrying it up to the summit along with my own! A rare and most uncharacteristic moment of poor decision-making from Jimmy, but I suppose he "owed me one" from my own "moment of stupidity" on Pillar G/LD-006 a few years ago! Pobody's Nerfect, as they say.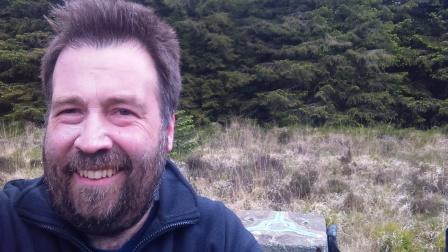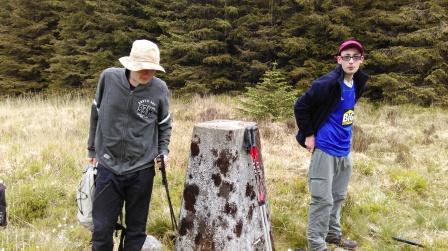 We set up, we sat down, we rested, we drank hot soup and we called CQ. Five contacts each, including a couple on 10m and a S2S for me, and the essentials were in the bag. It was time to walk back down and consider our next move. And that next move was to squeeze in a repeat activation of the very trivial Mynydd y Betws GW/SW-028 ahead of checking in to another youth hostel - Llanddeusant - over towards the west of the national park.
| | | | | | |
| --- | --- | --- | --- | --- | --- |
| Time | Call | Band | Mode | S2S | Op |
| 13:30z | SP8RHP | 28MHz | CW | | T |
| 13:33z | GW6WRW/P | 144MHz | FM | | J |
| 13:34z | G0RQL | 144MHz | FM | | J |
| 13:39z | GW6OVD/M | 144MHz | FM | | J |
| 13:40z | GM0AXY | 7MHz | CW | | T |
| 13:41z | MW6RDL | 144MHz | FM | | J |
| 13:41z | G4OBK | 7MHz | CW | | T |
| 13:42z | G4FGJ | 7MHz | CW | | T |
| 13:53z | HB9BIN/P | 28MHz | CW | HB/BE-151 | T |
| 13:55z | GW7MMG | 144MHz | FM | | J |