Pillar, G/LD-006 - 892m ASL - NY 171 121 - OS Explorer OL4 - 8 SOTA points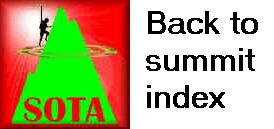 On the morning of Saturday 28th July 2012, we had the pleasure of waking up in the splendidly remote setting of Black Sail Pass. It had been raining a little during the night, but the morning was dry. The forecast was for a good morning, with a damper late afternoon, so we were keen to get cracking. The forecast was over 24 hours old though - we had carried it up from Ennerdale the previous day at the request of the warden Sue! The packet broccoli & stilton soup had worked quite well, and was in the flask ready to go. After porridge and cooked breakfast, Jimmy and I kitted up and bade farewell to our fellow hostellers, and the wardens Suzy and Martin. We followed the stony path down over the river close to the PhD students' tent, and then up towards the summit of Black Sail Pass.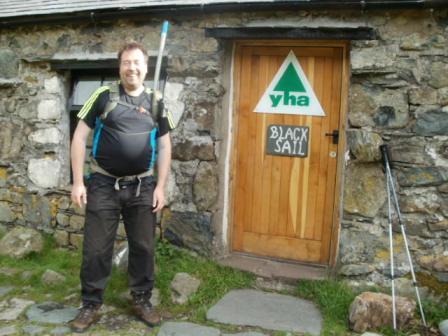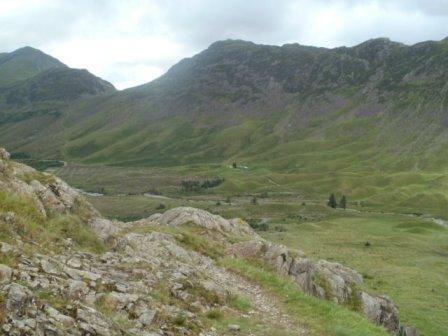 Some horrid drizzly rain came in as we climbed out of Sail Beck, and it was being whipped up by a brisk breeze. This was way earlier than expected, and illustrated the greater inaccuracy of a 36 hour old forecast. Either that, or it illustrated what we all know can happen in the mountains! Full waterproofs were quickly donned, and would remain on all day.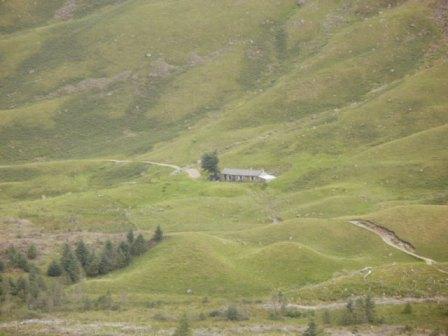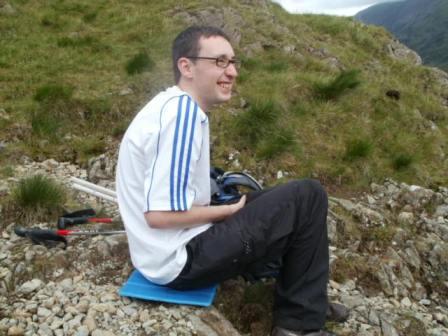 The walk was fairly gentle past Looking Stead, but we were soon into a steep path with hands down on occasions as we climbed above 750m ASL. The rain was now hitting harder and it was clear we were going to be getting rather wet! As we approached the summit plateau, a couple of the hostellers from Black Sail caught us up. Just two of them had elected to climb Pillar, with the rest preferring to just go straight to the Wasdale Head Inn. "Sensible people" I remarked. The rain did not abate on the summit, so 2m FM handheld-rubber duck only operation was a necessity. Jimmy 2O0EYP/P worked 4 WOTA chasers, while I worked double that amount.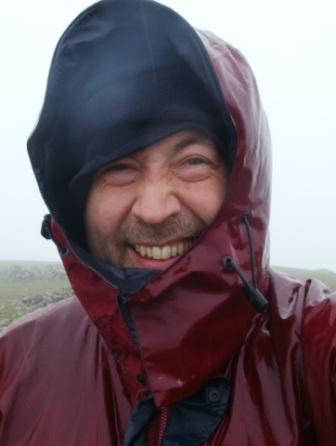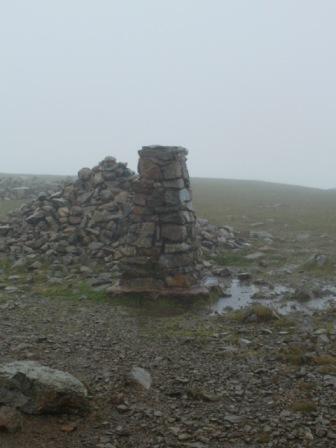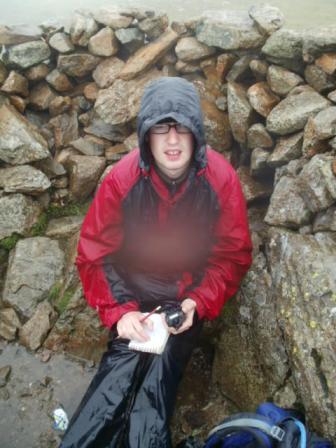 We descended steeply down to Wind Gap, which would be the scene of a poor decision. The weather was still poor, and the climb directly ahead onto the WOTA summit Scoat Fell did not look appealing (but would have been a much better and easier option in fact). The map indicated a route down Wind Gap back to Ennerdale, and we thought this would be a good escape route. Alas not - in reality, it was too steep a descent to be considered in such wet conditions, and I would soon pay for this error of judgement - but fortunately not too dearly!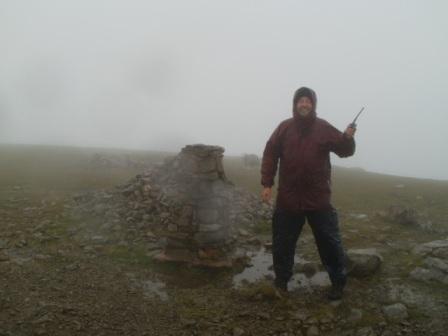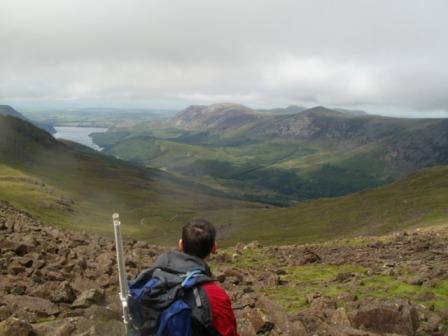 As Jimmy and I gingerly edged our way down the steep path, I had veered onto a grassy bit and suddenly lost all friction between myself and the ground, and went into a slide that I couldn't arrest. I sped past Jimmy who looked on in horror. I managed to roll onto my front and thankfully slowed to a halt. I had bumps and bruises, a couple of nasty cuts and some very sore spots, but I was generally OK. The shape of the hillside meant that I wouldn't have fallen off anything, but it was good that it was a slide rather than a tumble, and that I didn't bang my head.
Jimmy picked his way carefully down to where I was, collecting my dropped walking poles and SOTA pole on the way. We rested there for some time while we considered a strategy to complete the descent safely. This was a painstaking and slow job, but I wasn't taking any chances. We picked out objectives around 20 yards away and moved across to them. This continued in a zigzag pattern until the valley became flatter and we could sit by some rocks and have our soup lunch.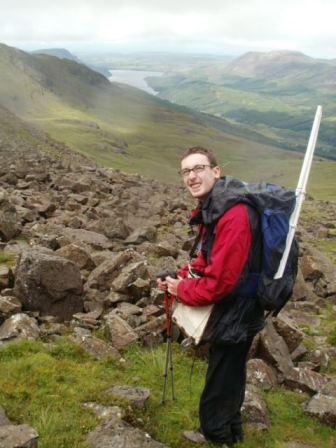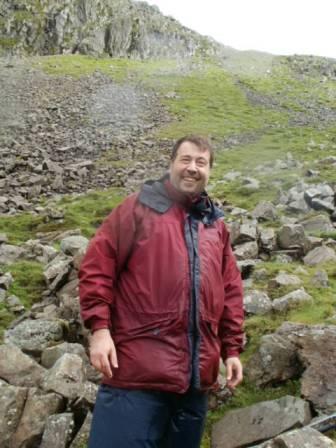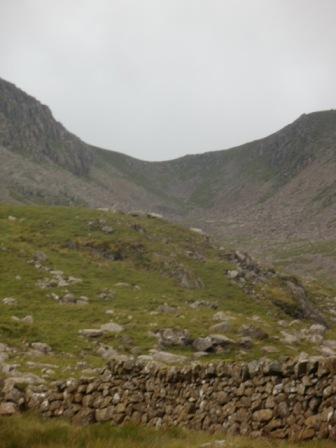 I checked for damage in my rucksack, but thankfully all the radio gear and camera were fine. My waterproof overtrousers were ruined though! We pressed on until reaching the path that had come down from the shoulder of Pillar, after which we had a tricky stream crossing to negotiate. The normal crossing point was unfeasible due to the large amount of water flowing through. We climbed onto some rocks in the middle of High Beck, which we then clambered along upstream until spotting a way across to the other bank.

There was still plenty of descent to go, confirmed when we spied Ennerdale YHA well below us in the view! We were tired as we followed the forest paths downhill, and a little unnerved when we were suddenly aware of a sheer 50 foot drop into a ravine and waterfall right by the left edge of a muddy slippy path! I had already got away with one slip today. I dared not risk another. Therefore I was pleased to be down at the forest ride and some horizontal walking at ground level! We took the footpath that edged closer to the River Liza so I could check if there were any routes directly across to Ennerdale YHA, but as the map, and the warden had said, there were not. So we continued to walk west until we could use the bridges, and then walk the final 1km east to the hostel.

Again, I sent Jimmy ahead to book in, order meals and attempt to bags two bottom bunks. He completed this mission successfully, even radioing his results to me on 2m FM! This meant I had a relaxed final walk through Low Gillerthwaite Farm knowing that my dinner was ordered, and I would have a bottom bunk ready made up for me! Jimmy is an excellent team member!

He did it just in time as well, for a father-and-son team ending their first day on the Coast 2 Coast arrived in the same dorm shortly after. They had got very lost coming out of Cleator, and were having to get a taxi back to there in the morning. A family of four with two very young sons had completed the first C2C day successfully, while a lady called Lynette had run out of time by Ennerdale Bridge and taxied to the YHA from there. We offered to drop her back there on our way out the following morning.

Dinner was carrot & lentil soup, followed by chicken curry and rice. Jennings Sneck Lifter went down better than ever. The warden Sue was excellent again, and fetched some more newspapers from her living quarters to stuff into our wet boots in the drying room. She also gave me an antiseptic wipe to clean around the cuts on my finger. We chatted to Lynette about her Coast 2 Coast plans before going up to bed. I was ready for a good sleep ahead of the following day's assault on Harter Fell (Eskdale) G/LD-028.
| | | | |
| --- | --- | --- | --- |
| G4ZRP | 2m | FM | J |
| MO6EPW | 2m | FM | J |
| MO0XSD | 2m | FM | J |
| GO6ODU | 2m | FM | J |
| G4ZRP | 2m | FM | T |
| MO6EPW | 2m | FM | T |
| MO0XSD | 2m | FM | T |
| M0XAT | 2m | FM | T |
| GO6ODU | 2m | FM | T |
| M6ANX | 2m | FM | T |
| G0TDM | 2m | FM | T |
| 2E0MIX | 2m | FM | T |