Harter Fell (Eskdale), G/LD-028 - 654m ASL - SD 218 997 - OS Explorer OL6 - 4 SOTA points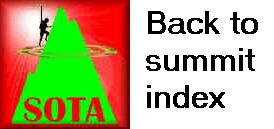 So to Sunday 29th July 2012, and our final day in the Lakes. Moreover, with our final English Marilyn summit ahead of us. The weather forecast remained somewhat vague, but one possible interpretation of it was that the worst of the rain would have passed to the east by afternoon, and that any following showers would be short and isolated. Although cancelling the activation for a future date remained a possibility, we agreed we would only make a final decision once at the Dunnerdale car park.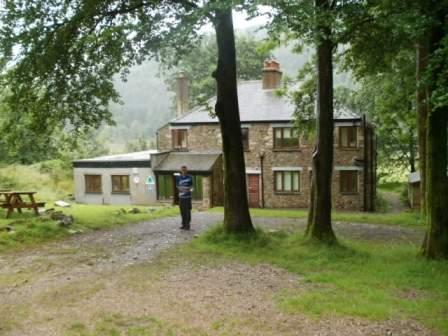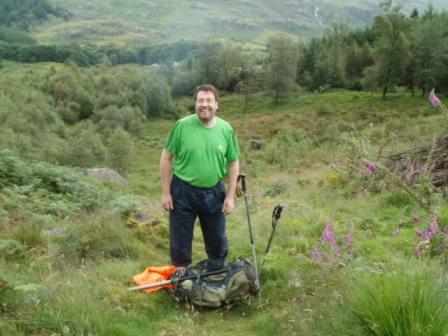 First it was another hearty YHA breakfast at Ennerdale, and I also prepared a flask of broccoli, salmon & watercress soup. Lynette joined us in the car, and we dropped her in Ennerdale Bridge to resume her C2C walk. Jimmy directed me south through Calder Bridge and then on the high road over Birker Fell, before turning left at Ulpha to drive up through Dunnerdale. We parked in the car park at SD235995, and with very light drizzle and clearng skies, took the decision to proceed. We walked along the forest track to near the farm at Birks before turning right to head steeply uphill on Mart Crag.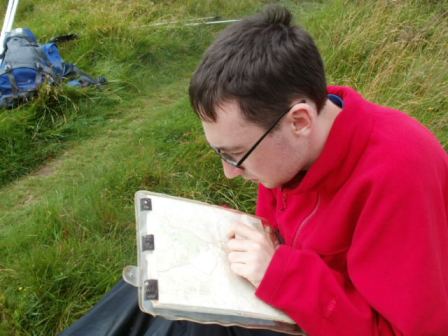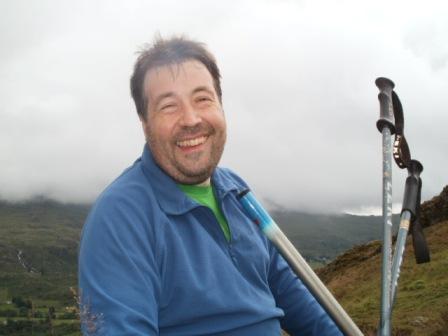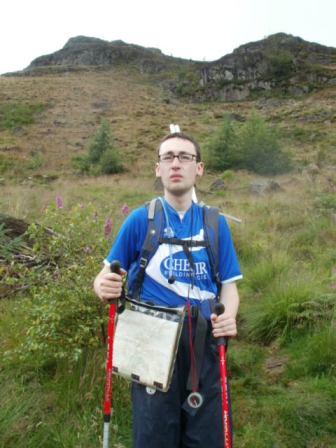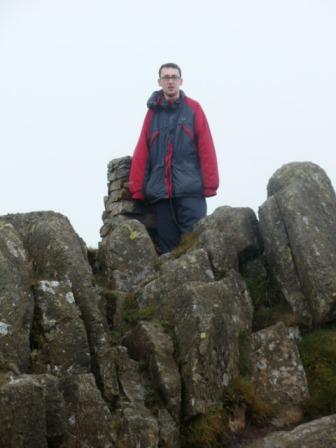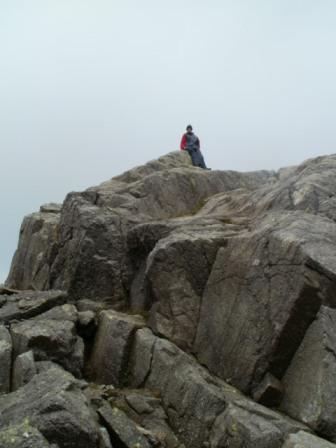 In all honesty, I was very fearful of this very steep looking approach, especially after my slip on Pillar G/LD-006 the previous day. The general tiredness, aches and pains of the last few days, not to mention discomfort from the minor injuries sustained in Wind Gap, did not help either. I did not enjoy the route as it became ever steeper, more scrambly and rather exposed. "No way am I going back down that way" I advised Jimmy as we emerged on kinder ground at SD224992.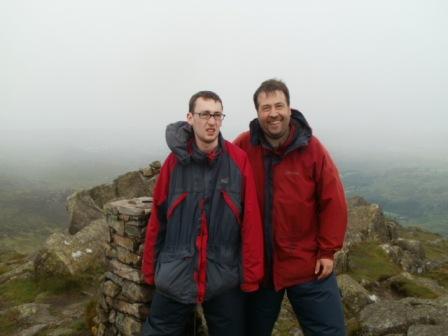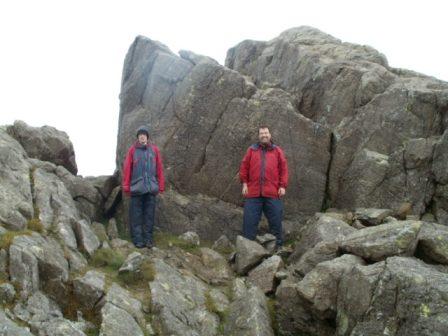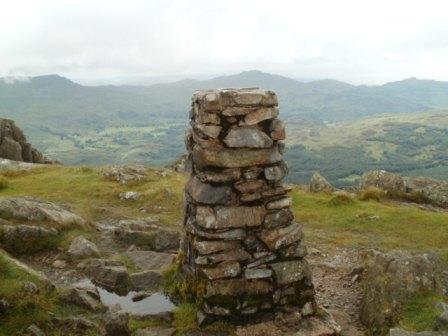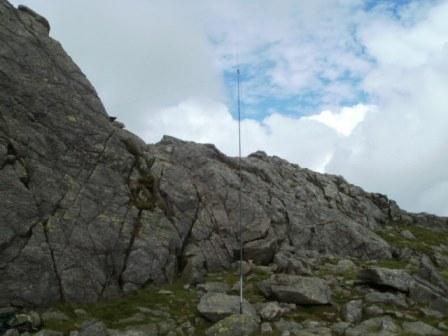 Indeed, I was prepared to take any walk off the other side of the hill and walk all the way around in preference. I even stated that I would descend to Hard Knott Pass and hitch a ride from there if necessary, much to Jimmy's disdain. At least now it was more of a straightforward wander up towards the summit. The summit area itself was a super place, with lots of tall rocks, trig point, cairns, great views and plenty of sheltered operating points. I posted a spot on SOTAwatch using my mobile 'phone, but then lingered around for half-an-hour soaking up my final G summit.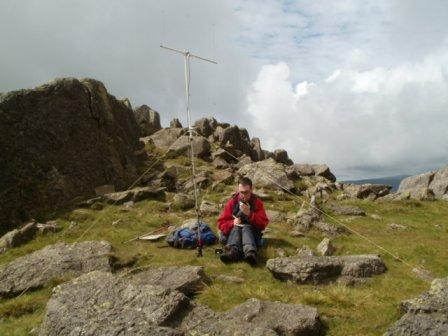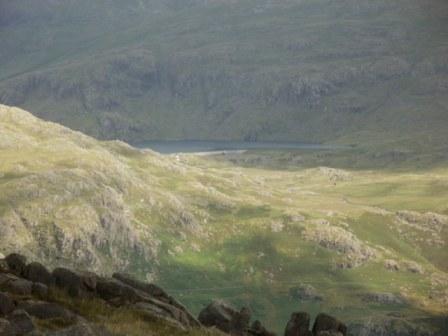 Eventually I set up under the tall rock upon which is the highest point. Jimmy insisted on clambering up to it before settling into his 2m FM operation. I didn't bother before cracking on with 40m. I had decided to scrap 20m this time, as more of my loyal friends and chasers who normally call me would be on 40m, and wouldn't have to compete with the WFF "wall". In the end, I made 40 contacts, mostly 40m CW, but including 8 on 40m SSB and 3 on 2m FM. Jimmy made a sizeable 33 on 2m FM.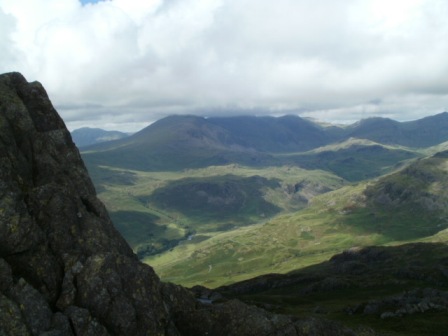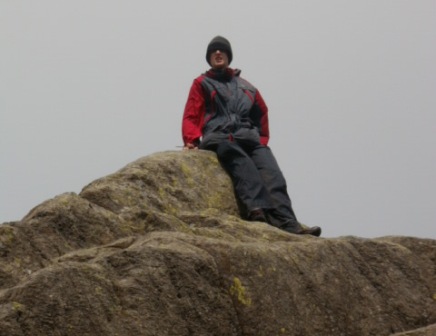 Jimmy had interviewed all the other walkers and most of his chasers as to the best route down. He decided on Rob G4RQJ's suggestion of the path towards Hard Knott Pass, before doubling back on the forest bridleway to the Dunnerdale car park. The two tired lads drove home via the M6, snacks and Red Bull, before indulging in mixed meat kebabs from a shop on our estate. And we had done it - activated every summit in the G SOTA association, including all those that had existed but became deleted during our participation time. Many thanks for all the calls and support.
| | | | |
| --- | --- | --- | --- |
| GO0HRT | 2m | FM | J |
| GW4ZPL | 2m | FM | J |
| G4BLH | 2m | FM | J |
| 2O0LKC | 2m | FM | J |
| G1KLZ | 2m | FM | J |
| G4UXH | 2m | FM | J |
| GW3GUX | 2m | FM | J |
| GO6ODU | 2m | FM | J |
| G4ZRP | 2m | FM | J |
| 2E0MIX | 2m | FM | J |
| MO6EPW | 2m | FM | J |
| MO0XSD | 2m | FM | J |
| 2E0XYL | 2m | FM | J |
| GO1OHH | 2m | FM | J |
| GO0VOF | 2m | FM | J |
| M6NYC | 2m | FM | J |
| G4YLB | 2m | FM | J |
| M3NHA | 2m | FM | J |
| G3VXJ | 40m | CW | T |
| HB9BIN | 40m | CW | T |
| G0NUP | 40m | CW | T |
| M6NHA | 2m | FM | J |
| MO3OUA | 2m | FM | J |
| G4SSH | 40m | CW | T |
| DJ5AV | 40m | CW | T |
| DF5WA | 40m | CW | T |
| ON4CAP | 40m | CW | T |
| G4RQJ/P on Dent LD-045 | 2m | FM | J |
| DL3HXX | 40m | CW | T |
| DL3FT | 40m | CW | T |
| G4OOE | 40m | CW | T |
| G4ONG | 2m | FM | J |
| HB9AGH | 40m | CW | T |
| G0TDM | 40m | CW | T |
| 2O0RCS | 2m | FM | J |
| G4ELZ | 40m | CW | T |
| DL1FU | 40m | CW | T |
| GO4WSX | 40m | CW | T |
| DL5AWI | 40m | CW | T |
| M0SCU | 2m | FM | J |
| GO0OOO | 40m | CW | T |
| M3SJL | 2m | FM | J |
| DL6KVA | 40m | CW | T |
| G0SJS | 2m | FM | J |
| GM0AXY | 40m | CW | T |
| MW0IDX | 40m | CW | T |
| GO0VOF | 40m | CW | T |
| G0ELM | 2m | FM | J |
| M0XAT | 2m | FM | J |
| 2M0NCM/P on Grey Hill SS-256 | 2m | FM | J |
| M0CGH | 40m | CW | T |
| ON4ARF | 40m | CW | T |
| DK7ZH | 40m | CW | T |
| OM7DX | 40m | CW | T |
| G0TDM | 40m | SSB | T |
| MM1AVR | 40m | SSB | T |
| M0MDA | 40m | SSB | T |
| G6MZX | 40m | SSB | T |
| G0RQL | 40m | SSB | T |
| G4UXH | 40m | SSB | T |
| MW6GWR | 40m | SSB | T |
| MO6EPW | 40m | SSB | T |
| F5SQA | 40m | CW | T |
| DL8AAM | 40m | CW | T |
| M6BRM | 2m | FM | J |
| GW8NZN | 2m | FM | J |
| M6ANX | 2m | FM | J |
| M1AVV/M | 2m | FM | J |
| GO1OHH | 2m | FM | T |
| M0XAT | 2m | FM | T |
| G1KLZ | 2m | FM | T |
The following press article appeared in the Macclesfield Express, recording our achievement: