Grisedale Pike, G/LD-015 - 791m ASL - NY 198 225 - OS Explorer OL4 - 6 SOTA points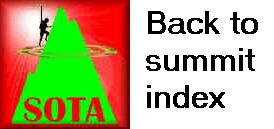 On Wednesday 29th August 2007, again I was up early making the soup - Seafood Chowder today (which tasted just like chicken soup, but with straggly bits of fish in instead of straggly bits of chicken, for three times the price - not impressed). By the time Jimmy entered the youth hostel lounge, around 7am, the rucsacs complete with refilled bladders were ready in the car boot. We sat at the dining table munching on Nutri-Grains and drinking lots of water. Jimmy asked if we were doing Scafell Pike G/LD-001 today, but I said I thought it would be best to stick with the original plan to do a three-summit day.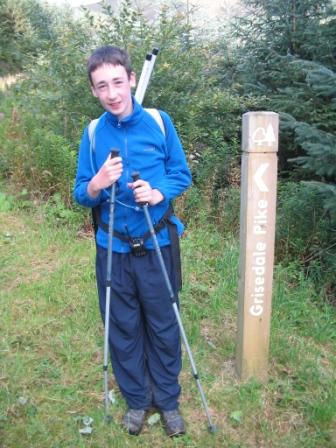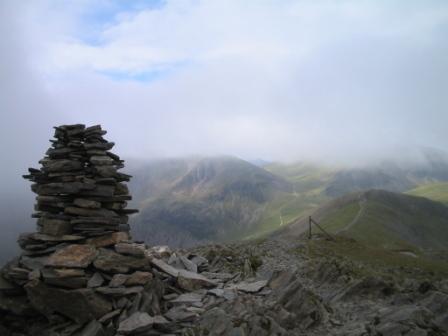 We drove through Borrowdale, Keswick and Braithwaite and climbed up the Whinlatter Pass. I parked at the third car park, which is on the left just before the main car park for the Whinlatter Forest Visitor Centre. This car park we used is free, although the next one at the centre is not. I was a little disorientated, but Jimmy remembered the route from two years ago and led the way through the maze of forest tracks to the sign and stile for Grisedale Pike.

I knew what to expect here. Steep, steep, steep. Relentless unforgiving climbing. At least it was along the crest of an increasingly narrowing ridge, with increasingly pleasing views to each side. It seemed we were the first out today, and we saw no-one at all, all the way to the summit which we reached by 9.20am, powered by Kendal Mint Cake!

This was one of the summits I was concerned about with not having the FT-817 for HF back-up, for despite its lofty position, it is all but screened to the south by a range that is at least 100m higher. However, I was discounting the possibilities of the sea path, anyone extremely local or of course that ubiquitous C.Q. chaser himself.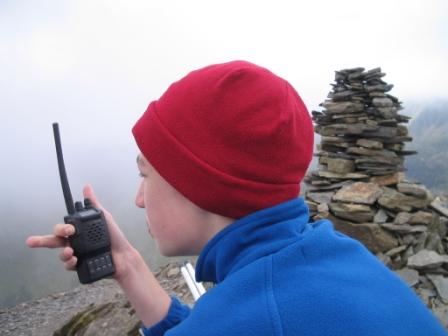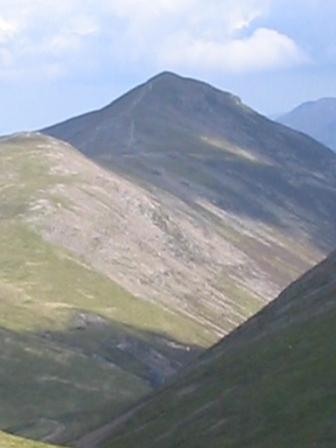 With the initial calls going unanswered, I was relieved to discover strong signals on 145.525MHz with a QSO between stations in Frizzington, NW Cumbria and Ramsey, Isle of Man. I asked to join the frequency, and both Jimmy and myself were given a very warm welcome, and both worked enthusiastically. That gave sufficient opportunity for GW0DSP to find and call us, and a simple fourth contact came courtesy of G0PZO/M, Charlie completing his drive into the Lakes for some activating of his own.

The weather was very nice, and the views from the summit were wonderful, and it was with a touch of reluctance that we got up to traverse across to Grasmoor G/LD-009. My legs went ever-so-slightly jelly-like as I descended down to Coledale Hause, so I stopped looking at the seemingly vertical wall up the opposite fell and just looked at my boots! Our return journey from Grasmoor later required us to reascend Grisedale Pike in order to get back down to the Whinlatter Forest where the car was parked and from where we wanted to do a third summit. Reaching Grisedale Pike summit just after 2pm, I put out a speculative call on the handheld, which to my surprise brought in two further contacts, meaning a gap of nearly 4.5 hours in my LD-015 log entry!

The steep descent of the Pike was hard work on the tiring legs, but we reached the car park at 4pm, and so I gave the go-ahead for an activation of Lord's Seat G/LD-033. Many thanks to the following stations, all worked on 2m FM with 2.5 watts:
| | | | |
| --- | --- | --- | --- |
| GD3RFK | Ramsey | Doug | T, J |
| G3XIU | Frizzington | Bill | T, J |
| GW0DSP | Connahs Quay | Mike | T, J |
| G0PZO/M | Dunmail Raise | Charlie | T, J |
| G4WHA/M | Penrith | Geoff | T |
| M3IWN/P | Keswick | Simon | T |