Scafell Pike, G/LD-001 - 978m ASL - NY 215 072 - OS Explorer OL6 - 10 SOTA points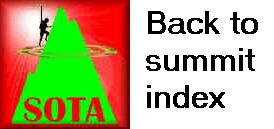 We slept well at Buttermere Youth Hostel, and there was no need to get up too early. It was one of those new-fangled B&B hostels - ie where a hostel breakfast is included in the price, making it kind of compulsory! Anyway, the croissants, yoghurt, tea, toast and bacon & eggs went down very well, before we stepped outside into yet another gloriously sunny morning.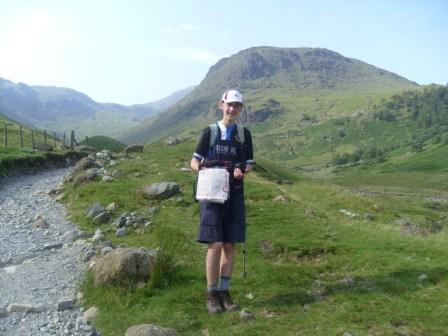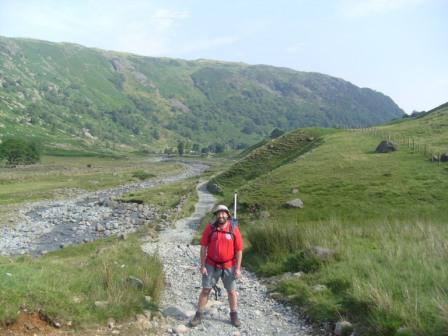 We drove over Honister Pass and down to Seathwaite, where we turned right and headed up the long cul-de-sac to the farm and tea room. Many people were parking here for their day out on England's highest mountain, but fortunately there remained a space right near the end, only a few yards from the farm gate. Other walkers would have already done a quarter of a mile by this point!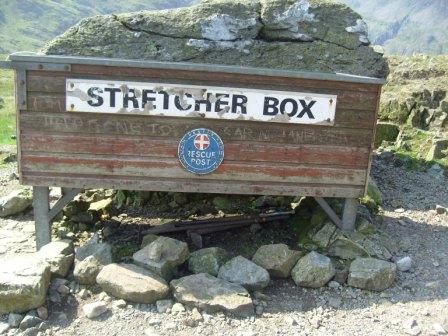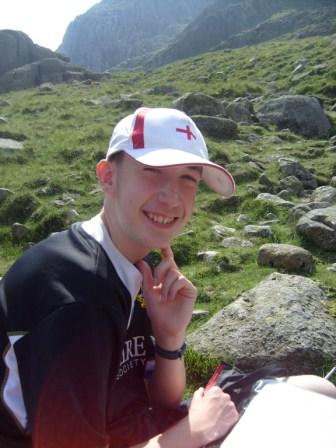 Jimmy and I marched along at a fair pace to Stockley Bridge, but at this point we would divert from out last route in 2005. This time we turned right to climb steeply to follow Styhead Gill up to Sty Head Tarn. This was a very enjoyable section of walking, and we made good progress.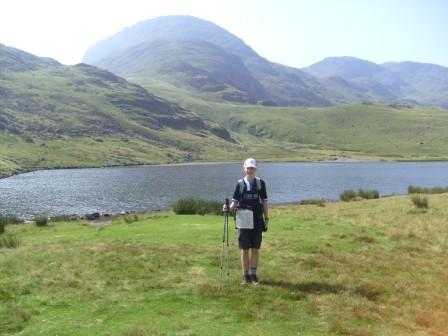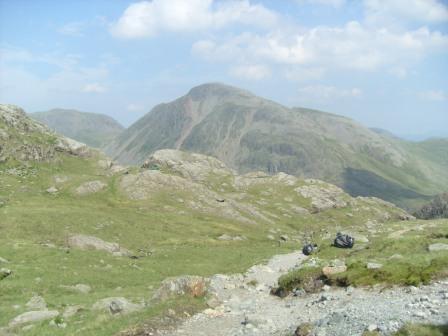 We had already decided to try the Corridor Route from this point. Visibility was excellent, and you could see the Corridor Route path snaking its way around the fells and climbing up towards Greta Gill. Upon reaching a downward scramble, I realised we had reached the point where G6DDQ and myself "lost" the Corridor Route when we tried to descend it back in 2004. If only we had had the assurance to scramble upwards to continue on that path then!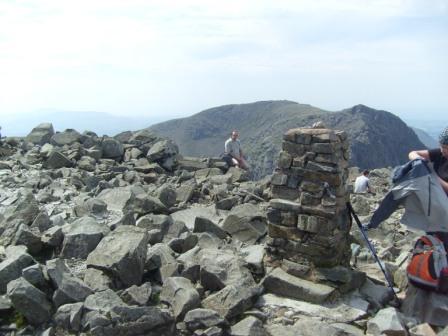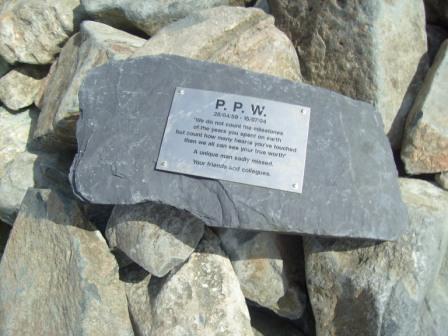 Upon reaching the point where the path bends sharply to the left, for the final steep uphill push for the summit, we came across a large group of walkers sitting admiring the view. I took the excuse for a chat and a rest, before pressing on in a vain bid to catch up with Jimmy.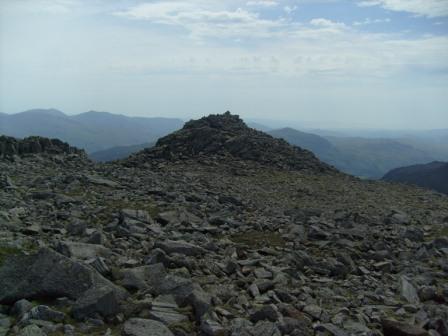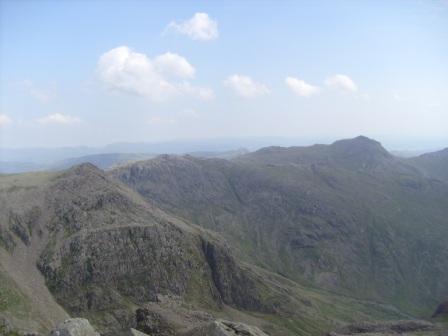 Once at the summit, the weather was different in one major respect. It was still hot. It was still sunny. It was still dry. There were still excellent views in all directions. But blasting across the summit was a rather menacing wind, that needed to be sheltered from.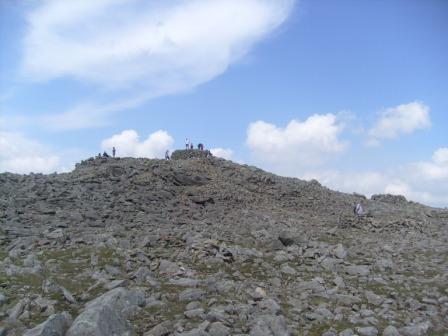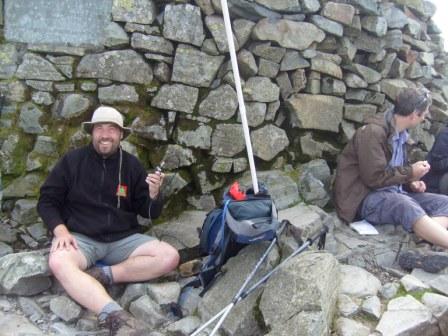 We settled down on the north side of the summit cairn and had a bite to eat. I then connected my VX-7R to the Rucksack Special antenna and made my initial calls. From that point, Jimmy and I enjoyed a non-stop pile-up for nearly three-quarters of an hour. However, when I heard Arthur GW1LDY calling me, he clearly couldn't hear my reply. I completed the remaining stations in the pile-up, then moved around to the south of the summit cairn to improve my take-off.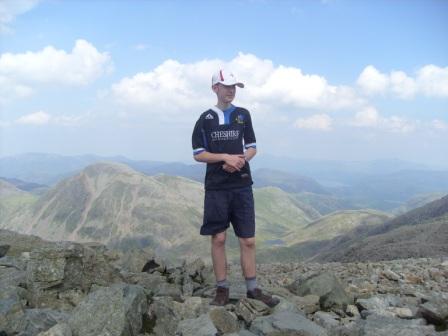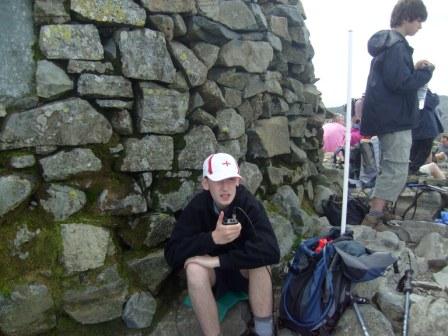 The wind was still battering in from that side, and in contrast to the over-populated conditions of the other side of the summit, the only souls on this side were huddled in the several shelters - except me! Several more stations were now worked, including Arthur, before the frequency was quiet, and we went QRT. 24 stations worked, from Scotland, Cumbria, North Yorkshire, West Yorkshire, Lancashire, Merseyside, North Wales and Cheshire, all on 2m FM.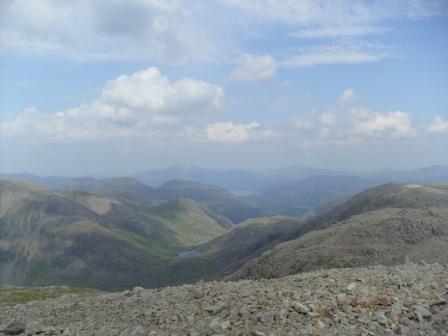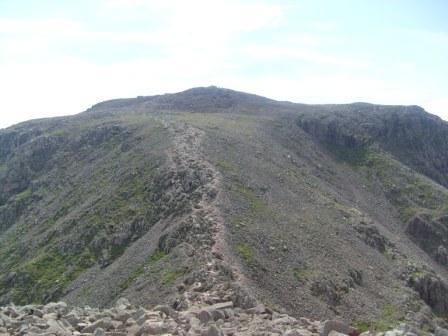 For the descent, we went over to Broad Crag - a section I never really enjoy, but then down by Sprinkling Tarn to Sty Head, and then back via the route we came up. We reached the car by about 6pm, and set off into Keswick looking for mobile network coverage. Once achieved, I 'phoned around the Youth Hostels, but could get nothing more convenient than Cockermouth. Cockermouth it was then!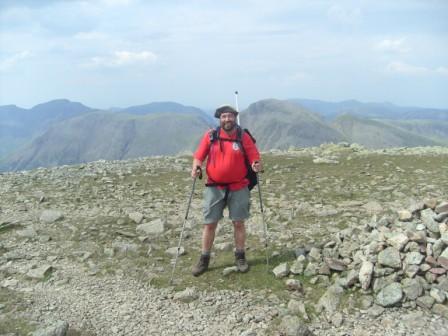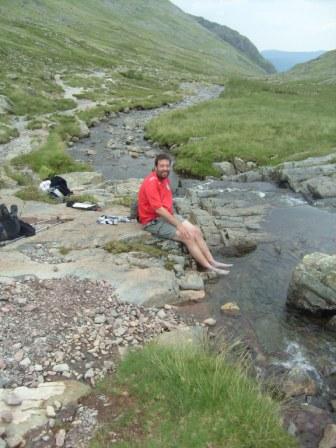 We stopped for a quick pint in Keswick, and then drove out to Cockermouth, which did not take long on the A66. After locating the Youth Hostel, we showered and changed, and made our way to the Taste of India restaurant in the town. There were some very heavy rain showers knocking around now, in total contrast to the day. Jimmy began to replan our final day over his curry, pointing out that our surprise stopover in Cockermouth perhaps opened up some summits we hadn't considered. It would be the nearby Watch Hill G/LD-054 to kick things off in the morning. Many thanks to the following stations, all worked on 2m FM with 2.5 watts:
| | | | |
| --- | --- | --- | --- |
| G4RQJ | Walney Island | Rob | T |
| G1OHH | Lancaster | Sue | T |
| M0TES | Gleaston | Chris | T, J |
| G0TDM | Penrith | John | T, J |
| GW0DSP | Connahs Quay | Mike | J |
| G4WHA/M | Penrith | Geoff | J |
| G4CPA | Crosshills | Geoff | J |
| GW1LFX | Connahs Quay | Mike | J |
| M3CWC/M | M61 near Preston | John | J |
| 2E0NHM | Warton | Nigel | T |
| 2E0PXW | Ellesmere Port | Barry | T |
| G1OAE | Workington | Tony | T |
| GM7IGB/P | 10 mile south of Dalbeatie | Rob | T |
| 2E0BMO | Standish | Roger | T |
| G4BLH | Brierfield | Mike | T |
| G6MZX | Thornton-in-Craven | Geoff | T |
| M3WAZ | Blackpool | John | T |
| M3UHG | Skelmersdale | Bob | T |
| GW1LDY | Broughton | Arthur | T |
| G1TAG | Osmotherley | John | T |
| G4ZRP | Wirral | Brian | T |
| G4JZR | Willaston | Eric | T |