Hard Knott, G/LD-034 - 549m ASL - NY 231 023 - OS Explorer OL6 - 2 SOTA points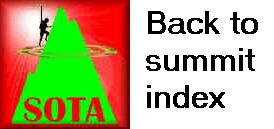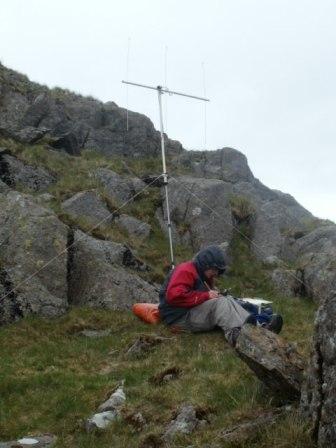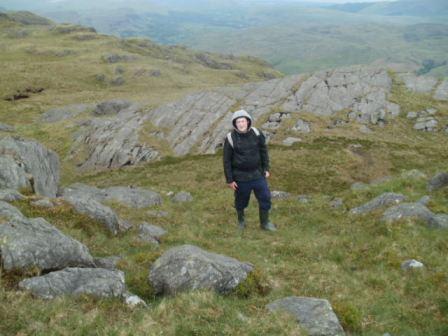 Sunday 3rd June 2012 began with a full English at the Bower House Inn for Jimmy and I, while Liam painstakingly worked his way through four Manx kippers. Here we were at the foot of Eskdale, and very close to the day's planned action, centred around Hardknott Pass. We parked in a convenient spot at NY232014, a few metres to the East of the summit of the Hardknott Pass road, and right at the start of the path up Hard Knott G/LD-034. I glanced across at Harter Fell G/LD-028 and knew that it wasn't going to happen. It just looked "wrong" - too far and too high for three tired lads in unsuitable weather - very high winds.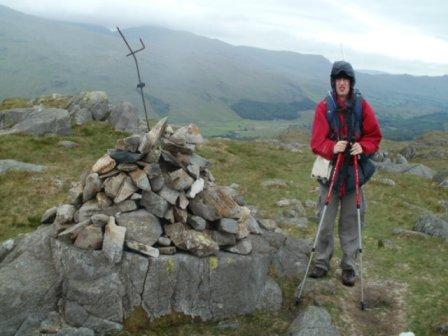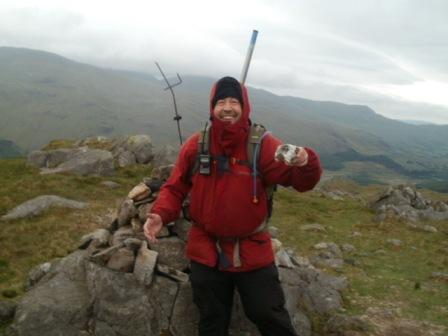 So even before commencing the ascent of Hard Knott G/LD-034, I cancelled Harter Fell from our schedule for the day, without any objections from Jimmy! The initial climb was quite steep, but thereafter the approach was fairly graded and doable, even if there were a couple of false summits to go up and over. As we reached the summit cairn, the wind was such that there would have been no way of keeping a mast upright. Not even the known-to-be resilient SOTA Beam WASP Special would have stood it. So we backtracked and used the peakedness of the summit to gain excellent shelter on its western side. On 2m FM, Jimmy made 13 QSOs, including Colwyn M0YCJ/P over on Harter Fell G/LD-028! On 40m CW, I had a satisfying activation of 18 contacts, followed by 8 on 40m SSB.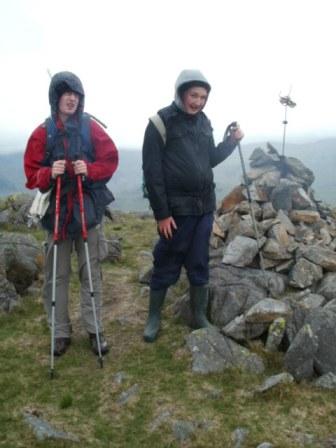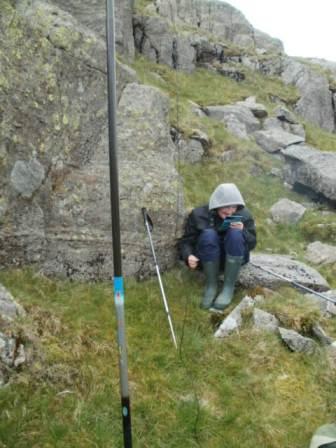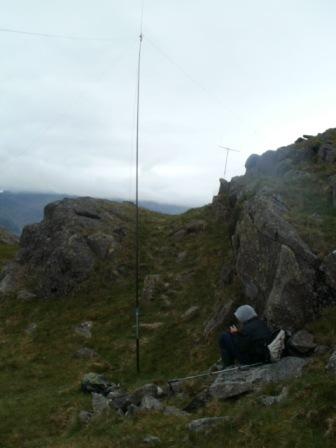 We descended to the car, and had our Highlanders Broth soup for lunch. It was then time for the white knuckle ride back down Hard Knott pass to Eskdale, agreeing that it would be better all round to approach Harter Fell from Dunnerdale, some time in the future. Cockermouth was again the destination, as we now had two more nights booked in here. The route took us through Frizington, where we called to see Liz M6EPW and Colin M0XSD, and then Rawrah, home town of the infamous Derrick Bird. Coincidentally, the first time we tried to activate Hard Knott, the pass was closed by the police due to Bird's antics that day at the other end of it, as far as Boot.
We decided to use the early finish to check out the Bitter End pub, as enthused about by G4OIG, and get to the youth hostel in time for opening at 5pm, and maximising our chances of snagging bottom bunks! This was successful, so after a freshen up we walked along the riverside into the town and returned to the Bitter End. A three course meal of black pudding fritters, followed by Cumbrian roast beef and yorkshire pudding, and hot chocolate fudge cake was a steal at £10.95 per head. More fine local real ales were enjoyed, and I even treated myself to a blue Chimay (9%) later on.

The hostel was at full capacity that night, so we had done well to reserve our beds early. Most slept very well, but the chap in the bunk above me sneered at me in the morning - "Do you know if they sell earplugs here?" in a very snidy voice. He was later to be seen bending the volunteer warden's ear about his sleeping woes. Simple advice - get out there in your walking boots or on your bike and make yourself very very tired during the day. Or - book a deluxe single at the Scafell Hotel or Lodore Falls! But not a cheap bed in a room with eleven other blokes who are all going to be sleeping well! Muppet. We got on our way to the rather fearsome prospect of Mellbreak G/LD-036.
| | | | |
| --- | --- | --- | --- |
| GQ6ODU | 2m | FM | J |
| G4ZRP | 2m | FM | J |
| GQ0HRT | 2m | FM | J |
| G4RQJ | 2m | FM | J |
| MQ6EPW | 2m | FM | J |
| GM0DSP/P | 40m | CW | T |
| MQ0XSD | 2m | FM | J |
| GQ4WSX | 40m | CW | T |
| G0TDM | 40m | CW | T |
| G0OXV | 2m | FM | J |
| G0NUP | 40m | CW | T |
| G4SSH | 40m | CW | T |
| M0YCJ/P on Harter Fell LD-028 | 2m | FM | J |
| G4RQJ | 40m | CW | T |
| PA0SKP | 40m | CW | T |
| HB9BIN | 40m | CW | T |
| GQ0OOO | 40m | CW | T |
| PA0B | 40m | CW | T |
| G4BUR | 40m | CW | T |
| G3TBK/P | 40m | CW | T |
| G3WPF | 40m | CW | T |
| DL3HXX | 40m | CW | T |
| G3RDQ | 40m | CW | T |
| G3OKA | 40m | CW | T |
| GQ0VOF | 40m | SSB | T |
| G3VXJ | 40m | SSB | T |
| MQ3ZCB | 40m | SSB | T |
| MQ1MAJ | 40m | SSB | T |
| G4UXH | 40m | SSB | T |
| G3RMD | 40m | SSB | T |
| MW6GWR | 40m | SSB | T |
| MW0IML | 40m | SSB | T |
| DL0MZ/P | 40m | CW | T |
| DL0DX/P | 40m | CW | T |
| 2E0XYL | 2m | FM | J |
| M6AUE | 2m | FM | J |
| M6ANX | 2m | FM | J |
| MQ3ZXQ | 2m | FM | J |
| 2Q0NVJ | 2m | FM | J |