High Stile, G/LD-012 - 807m ASL - NY 170 148 - OS Explorer OL4 - 8 SOTA points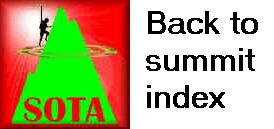 Friday 27th July 2012, and it was necessary to make the rucksacks a fraction heavier. A change of some items of clothes, a toothbrush, blood pressure tablets, hiking towel and packets of powdered soup was not an enormous additional payload, but was nonetheless felt by my shoulders! After the YHA cooked breakfast, we walked a short distance along the track from Ennerdale. But very soon we turned left and began climbing up the grassy slope. We were ready for a rest just before where we would cross the stream as the gill narrowed, so munched on Nutri-Grain bars while enjoying the commanding views over Ennerdale.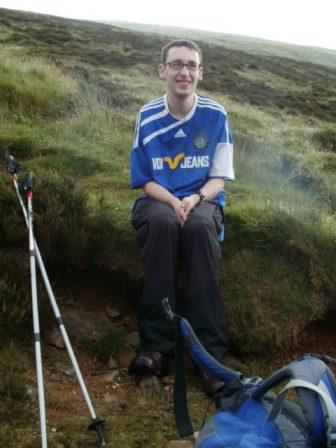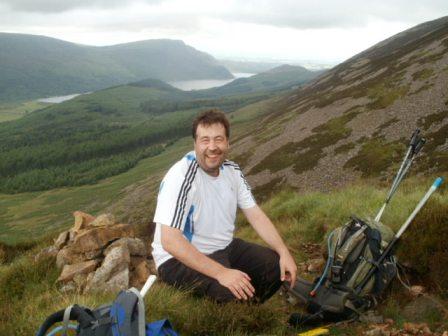 The hard work would not relent, and after crossing the beck we remained locked into a lung-busting pull up the slopes of Red Pike. Derek 2E0MIX waved at us from above. It transpired he had passed the youth hostel at 8am, but thought it necessary to push on and get a head start so as not to hold us up later in the day! Seeing Derek was motivation enough for Jimmy to push on, and I could soon see them conversing up the hill ahead of me. I plodded on at my own slow pace before eventually converging with Jimmy and Derek at the summit of Red Pike, WOTA LDW-062.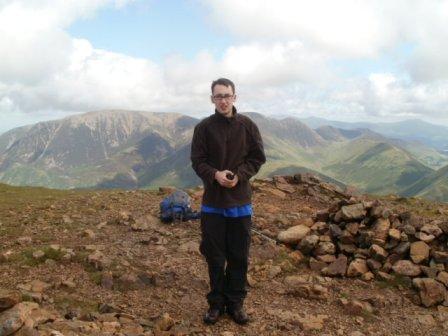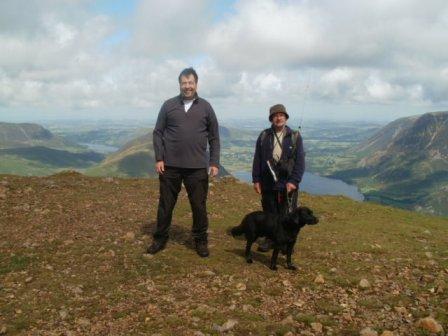 All of us worked some WOTA chasers using 2m FM handhelds, although in my case it was just a couple of contacts. But after a brief rest, it was time to proceed along the ridge and up the hill to High Stile G/LD-012 (WOTA LDW-029). Derek claimed not to have a head for heights, yet him and Deano (his lovely black labrador) skipped fearlessly past some plunging drops right at the pathside. I edged past them somewhat more cautiously! The summit of High Stile was reached, but it was something of a lottery as to which of the three summit cairns marked the highest point. I didn't agonise over that issue, and dropped a little down a slope for some shelter, and to set up the 20m groundplane antenna. Jimmy and Derek remained at one of the cairns and used 2E0MIX's handheld and 2E0EYP's SOTA Beam for 2m FM work.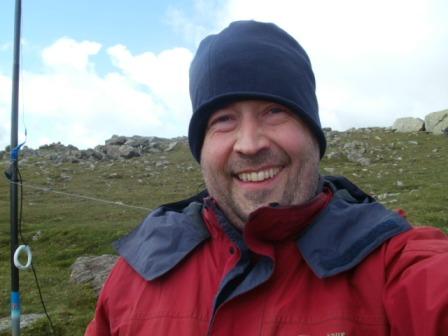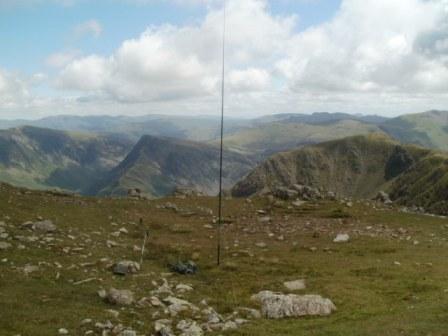 Jimmy made 8 QSOs using the 2O0EYP/P callsign, while my MO1EYP/P proved popular on 20m CW - or was it the references I was offering? In addition to SOTA G/LD-012 and WOTA LDW-029, I could also be worked for WFF Lake District - GFF-008. And I was definitely worked by chasers keen on each of those three awards programmes. After 54 QSOs, I relaxed with Jimmy over lunch, which was Thai red curry vegetable soup.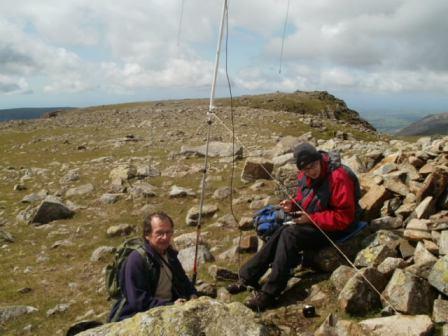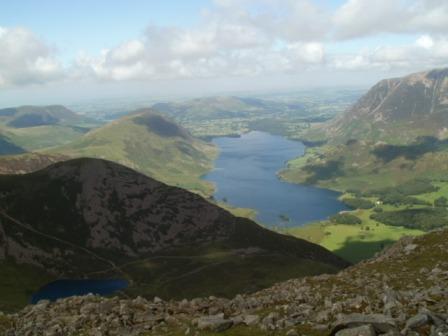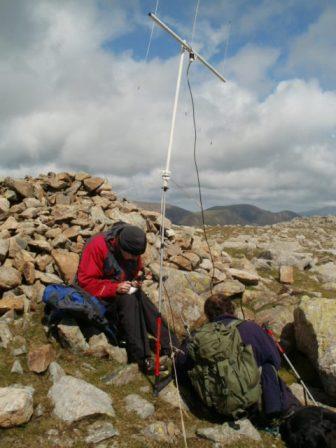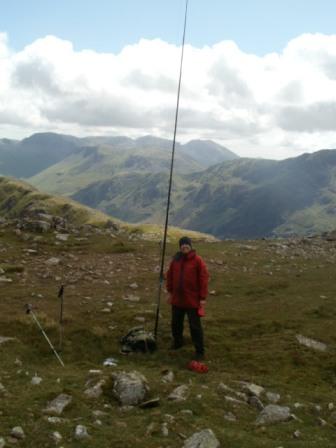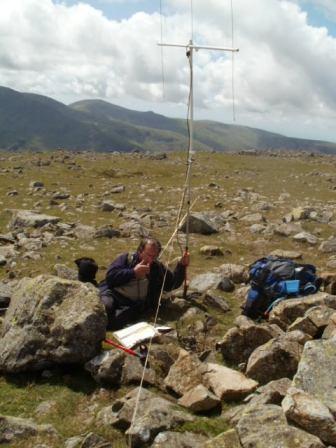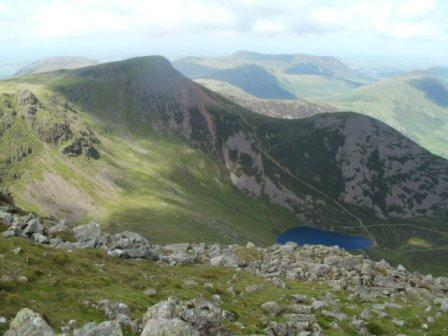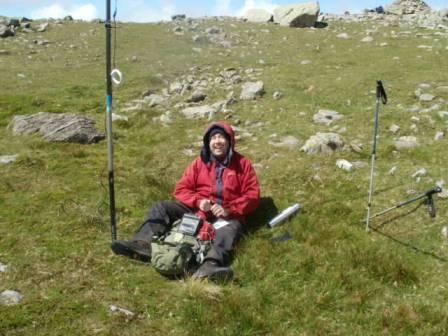 We double-checked using map and compass to establish the route over to High Crag, WOTA LDW-065. Again, Jimmy and Derek led the way working known WOTA chasers on 2m FM. Derek was using a rucksack antenna and was stood up on the summit. I was sat down at the cairn and just using the helical antenna with my VX-7R, so Derek looked very surprised when Dave GI4SNA came back to my first call!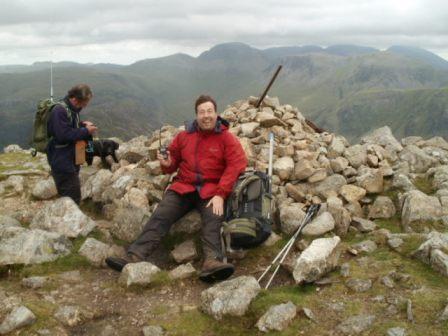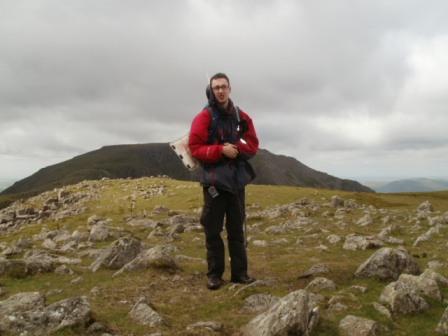 Now came the worst part of the day, a horrible steep stony descent of High Crag to Seat down Gamlin End. I kept Jimmy and Derek waiting some considerable time here! Over Seat (not a Wainwright) it was another descent down to Scarth Gap. I stated that I did not want to climb Haystacks (WOTA LDW-131), which was agreed by Jimmy. Derek therefore said that he would leave it as well, and crack on with his 7 mile walk down the Ennerdale track to his car at Bowness Bridge. He did walk with us as far as the gate into Black Sail YHA though. It had been great fun walking, activating and chatting with Derek (and Deano) during the day.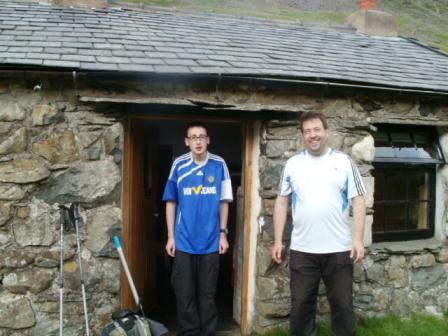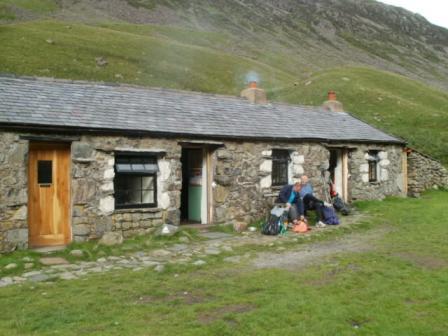 Jimmy and I now arrived at the famous Black Sail Hut, a genuinely remote youth hostel, some 3 miles mountain walking away from the nearest public road. It was quite a place, it a beautiful remote setting, and with a great atmosphere generated by the other hostellers (two families) and wardens Suzy and Martin. Dinner was vegetable soup followed by cottage pie, so exactly the same menu as Ennerdale YHA the night before! However, the recipes and presentations were sufficiently different to provide interest, moreover the food was delicious and we were hungry! Chocolate fudge cake and ice cream was dessert, while Jennings Sneck Lifter and Cumberland Ale were the tipples of choice.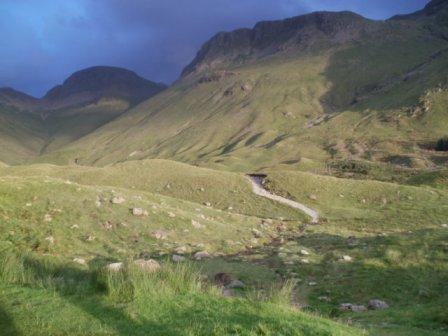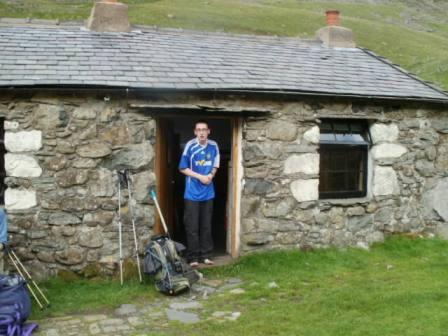 I was chatting to Suzy the warden, and she told me that Jimmy (who had raced ahead of me earlier to do the booking in and making of bunks) had explained about our radio activity. "We had two chaps doing something like that last year" she explained, "but I can't remember their names". "Paul and Gerald" I told her, and she nodded and said "Yes, that's them, do you know them?". Jimmy and I scoured the 2011 guestbook but it seemed G4OIG and G4MD had not made an entry. However the books made interesting reading as we sipped our beers, and I had a go on one of the acoustic guitars. A rendition of "Dirty Old Town" was joined in with enthusiastically by one of the lady hostellers, while I was amused to find an alternative set of lyrics for the reggae classic "Don't Worry, About A Thing" in the 2012 guestbook. Just imagine the line "This is my message to you-oo-oo-oo" replaced with "This is the best hut in the Lake District"!

Around 9pm, three girls came into the hut. These were university friends of Suzy's, and had set up camp down by the river in Black Sail Pass. It was Suzy's day off the next day, and I think the plan was for them to go off in the Land Rover and have a day and a night-out somewhere before returning to Black Sail. After around 9.30pm, runners donning headtorches became a frequent sight outside the hut. They were in the Lakeland 100 fell race, which is run over 40 hours! Jimmy and I had an 8 bedded dormitory to ourselves at Black Sail, so we able to spread our gear around and not worry about upsetting other residents. I was straight to sleep as usual, ahead of the following day's prospect of Pillar G/LD-006, but others reported that headlamps were noted going past the windows up to around 3am.
| | | | |
| --- | --- | --- | --- |
| G4UXH | 2m | FM | J |
| M0XAT | 2m | FM | J |
| MO6EPW | 2m | FM | J |
| MO0XSD | 2m | FM | J |
| OK1ED | 20m | CW | T |
| ES0NW | 20m | CW | T |
| DL4FDM | 20m | CW | T |
| HA7UG | 20m | CW | T |
| N4EX | 20m | CW | T |
| DF5WA | 20m | CW | T |
| HB9AGH | 20m | CW | T |
| G0TDM | 20m | CW | T |
| M6IRV | 2m | FM | J |
| EA5YI | 20m | CW | T |
| DL3HXX | 20m | CW | T |
| HB9MKV | 20m | CW | T |
| DL6KVA | 20m | CW | T |
| CT1DRB | 20m | CW | T |
| G1KLZ | 2m | FM | J |
| G0TDM | 2m | FM | J |
| I5FLN | 20m | CW | T |
| RU4HD | 20m | CW | T |
| HA4XG | 20m | CW | T |
| OM7OM | 20m | CW | T |
| DL1CL | 20m | CW | T |
| OM3CND | 20m | CW | T |
| DL1EDR | 20m | CW | T |
| RA3CQ | 20m | CW | T |
| 9A2HF | 20m | CW | T |
| RV4AB | 20m | CW | T |
| HA5WG | 20m | CW | T |
| F5NPS | 20m | CW | T |
| VE2JCW | 20m | CW | T |
| HA1ST | 20m | CW | T |
| HB9CGA | 20m | CW | T |
| DL8YRM | 20m | CW | T |
| DH0LQH | 20m | CW | T |
| RW3QM | 20m | CW | T |
| SP8AJK | 20m | CW | T |
| DL1FU | 20m | CW | T |
| W1CU | 20m | CW | T |
| OZ4RT | 20m | CW | T |
| OM5LN | 20m | CW | T |
| UX1IM | 20m | CW | T |
| KF2O | 20m | CW | T |
| DL8UVG | 20m | CW | T |
| S52KM | 20m | CW | T |
| UX1DC | 20m | CW | T |
| OK1DVM | 20m | CW | T |
| OM1AX | 20m | CW | T |
| OH2BLD | 20m | CW | T |
| OM7DX | 20m | CW | T |
| 9A4W | 20m | CW | T |
| SP9BRP | 20m | CW | T |
| VE1WT | 20m | CW | T |
| S58AL | 20m | CW | T |
| IZ1DXS | 20m | CW | T |
| R3QJ | 20m | CW | T |
| RA3IS | 20m | CW | T |
| SM0GNS | 20m | CW | T |
| HA6OB | 20m | CW | T |
| G3XIU | 2m | FM | J |