High Willhays, G/DC-001 - 621m ASL - SX 580 892 - OS Explorer OL28 / 113 - 4 SOTA points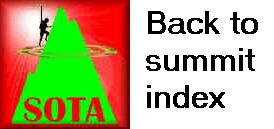 Day 4 - Wednesday 28th July 2010 - The other kind of waves!
This was the lovely sunny day just as forecast. And just as promised, it was beach, not summits. After the compulsory pasty breakfast, we went to Trevone Beach on the North Cornwall coast, just west of Padstow, and had a ball trying to swim in a sea more suited to surfers than swimmers. We had all taken a battering from the awesome waves by the time we had finished, and the main objective delivered in that Liam was delighted with his beach day.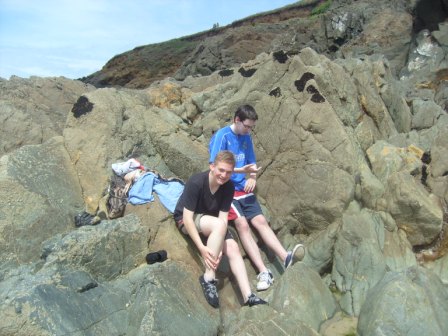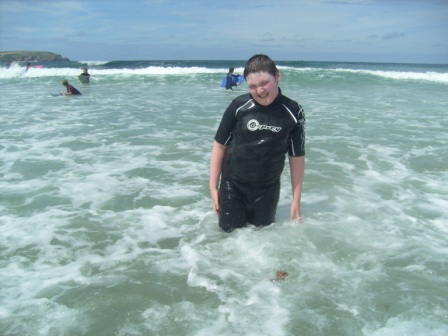 In the evening we ate at the Colliford Tavern on the campsite where the food and service was absolutely superb. We also got to watch the telly all night in the bar, which resounded with Liam's belly laughter when "An Audience With Freddie Starr" was broadcast on ITV3!
Day 5 - Thursday 29th July 2010 - Dartmoor and Okehampton

Another decent day was forecast for the Thursday, which meant we could press ahead with intentions for me to bag my last activator unique in G/DC. Jimmy would have to wait another day for his, but that would come with its own moment of glory.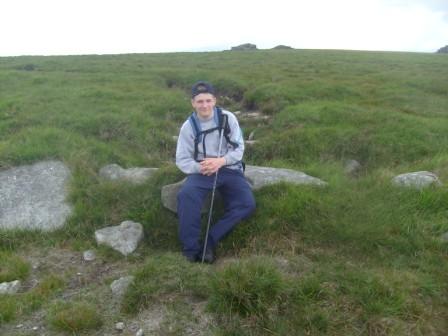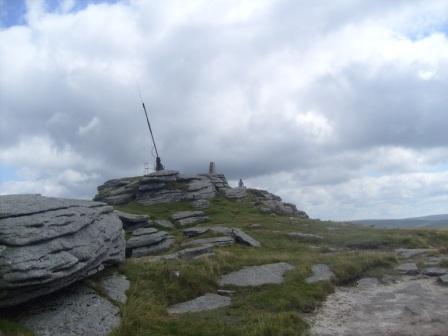 Cornish steak pasty breakfast was taken in a coffee shop in Okehampton, after which Jimmy directed me down through the Okehampton Camps permissive road on Dartmoor. We used up as much of the road as we could before parking, at about SX586917. Public vehicles were permitted a few hundred yards further (to about SX590912), but only ATVs would cope with the damage to the road at SX588914. Nonetheless, this was still a welcome head start and a dramatic shortening of the route. Thank you to Geoff G4ELZ who had provided this tip in a phone call earlier.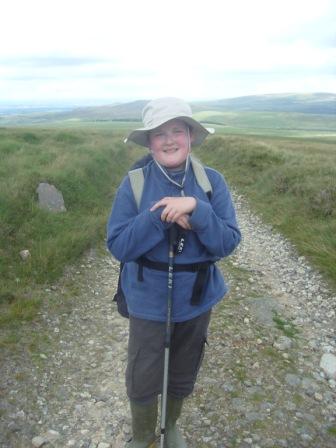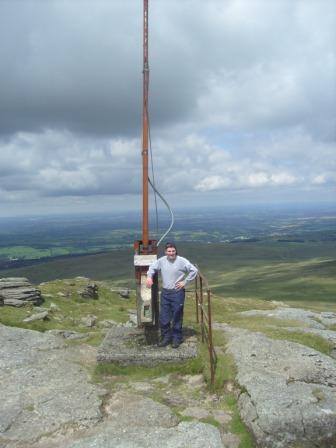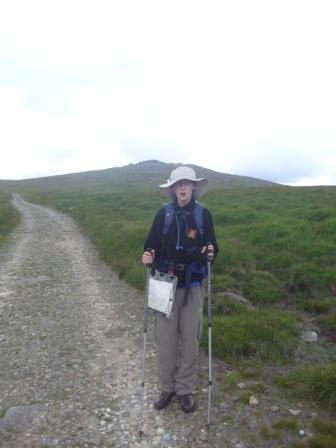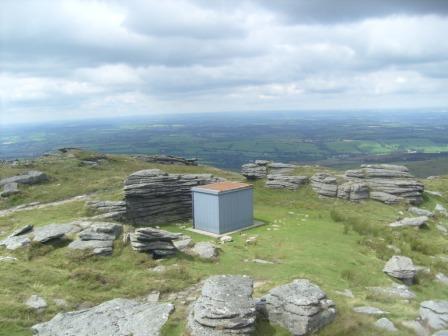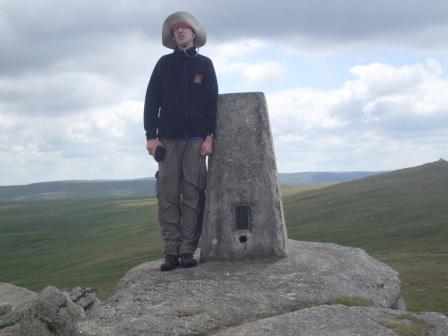 Liam really motored on this walk, and we reached the summit in good time. Before that, it was interesting to curve around the much more distinctive (but non-Marilyn) summit of Yes Tor, complete with its MOD vertical and feeder! Jimmy was QRV on 2m FM while I was still setting up, and making a comfortable run of 4 QSOs - the first time he had met his target of qualifying exclusively on 2m FM. One of these contacts was a S2S with Richard GW3CWI/P who was on Mynydd Dramau GW/SW-038, and I snatched the microphone from Jimmy to get that one for myself also.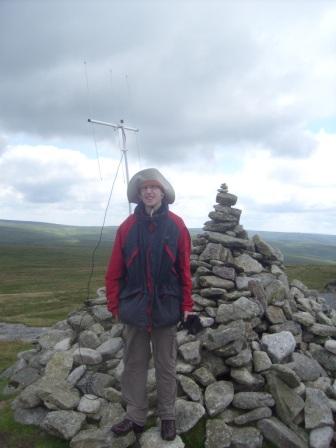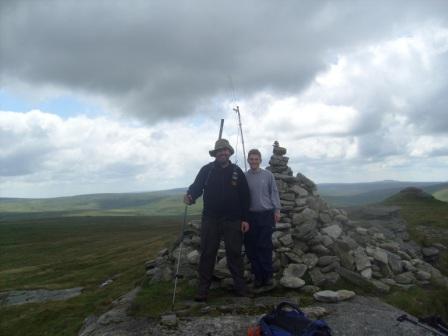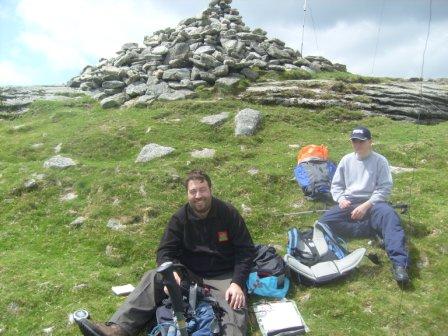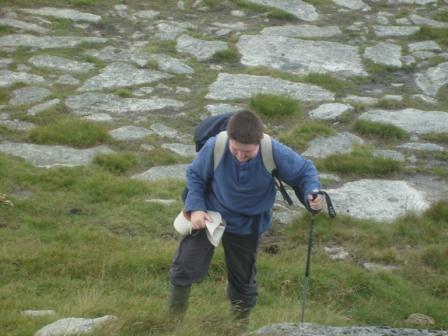 The 40m dipole went up, but it was rubbish. The band was dead and only G0TDM and HB9BQU were able to force themselves through to me. Using the same antenna, I switched to 15m CW and placed a self-spot for 21.015MHz. This was much more productive with 13 QSOs in 12 minutes, and the completion of the DC region for me as an activator.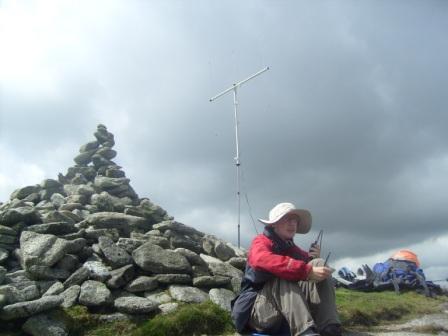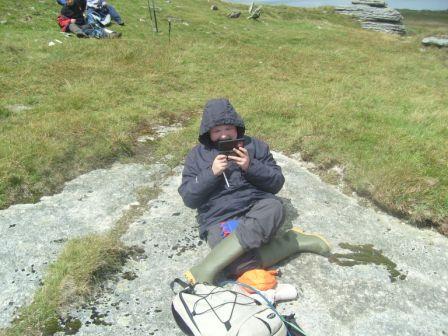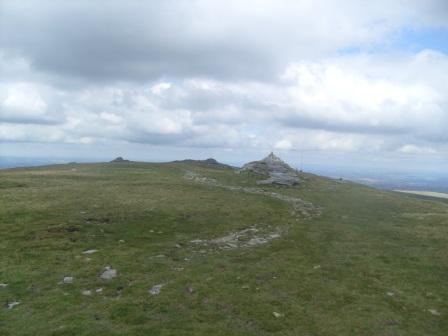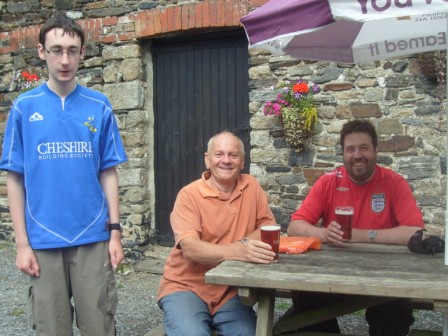 We descended and drove back into Okehampton, where we met Jeff G4ELZ who had kindly taken a bus ride over from Newtonabbott to meet us for a beer. Thus a pleasant afternoon rounded off a pleasant day. For the evening, we returned again to the excellent on-site Colliford Tavern for another feast of culinary magnificence - and a couple of decent pints. I had now completed the G/DC region - but Jimmy needed one more. He would get that the following day on Christ Cross G/DC-005. Thanks to all stations that worked us in the activation:
| | | | |
| --- | --- | --- | --- |
| G4PVX | 2m | FM | J |
| GW3CWI/P on Mynydd Drumau SW-038 | 2m | FM | J, T |
| G4STH | 2m | FM | J |
| G4YLO | 2m | FM | J |
| G0TDM | 40m | CW | T |
| HB9BQU | 40m | CW | T |
| 9A7W | 15m | CW | T |
| DF5WA | 15m | CW | T |
| SM5APS | 15m | CW | T |
| OK1CAM | 15m | CW | T |
| DL5KUS | 15m | CW | T |
| SK5PZ | 15m | CW | T |
| 9A4MF | 15m | CW | T |
| HA3OD | 15m | CW | T |
| DL2HUM | 15m | CW | T |
| EW1BA | 15m | CW | T |
| SM5BTX | 15m | CW | T |
| HA5CW | 15m | CW | T |
| OK2PDY | 15m | CW | T |