Hoove, G/NP-024 - 554m ASL - NZ 003 071 - OS Explorer OL30 - 2 SOTA points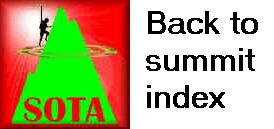 Tuesday 30th October 2018 - Hoove G/NP-024
Gig: Joe Longthorne
Venue: Billingham Forum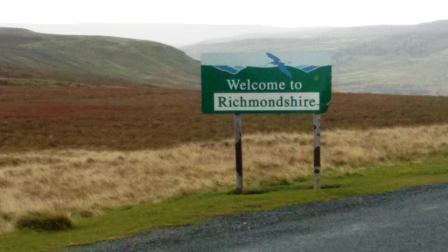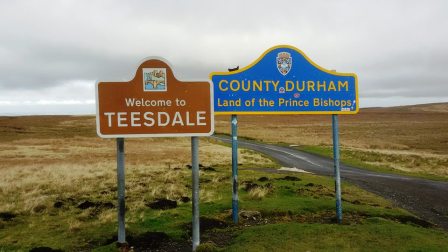 A substantial leg of the tour kicked off first thing in the morning. First I finalised a musical arrangement of "That's Life" into "My Way" - for Joe's Frank Sinatra impression - then hit the roads north - A34, M60, M61, M6 and A66 being the main ones. I'd been to the parking spot by the County Durham / Teesdale / Richmondshire border signs in late 2017 - but I didn't have map and compass with me, and I wisely decided I wasn't venturing onto that featureless moor in low visibility without them, even though it was a relatively short walk. On that occasion, I did Little Mell Fell G/LD-037 instead en route to the next gig in Scotland, but this time - I had my map and compass!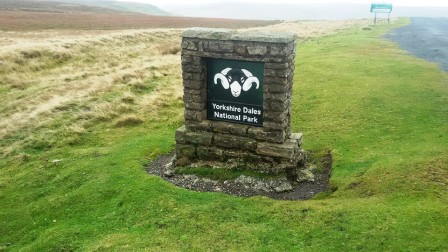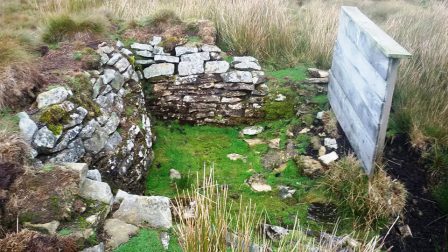 The approach was a boring and tedious slog, 30 minutes to cover about a mile, carefully placing each footstep, and even a little faith the feet didn't disappear into unseen deep puddles - which they did - twice. Several shooters' hides were passed before the final ascent up steeper and former ground. Eventually I could see the trig point and the depression in the ground beside it.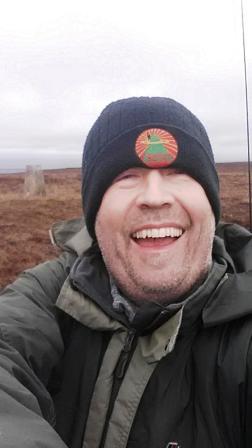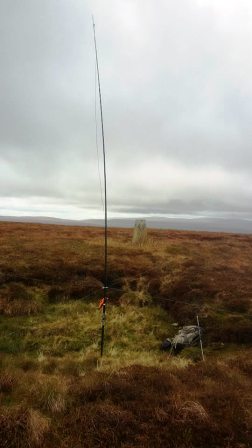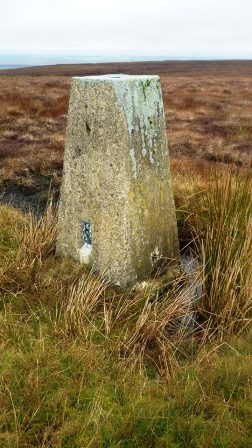 I set up the 20m GP in the big hole in the ground, and sat in there myself affording complete shelter. I started on FT8 and made 5 QSOs. The plan was then to chase some of the exotic DX CQing on FT8 - VP6D, HC, EA9 etc, then move onto CW for the chasers. However, some heavy drizzle kicked in and threatened to seriously dampen everything. I started packing away, reluctantly completing the activation early.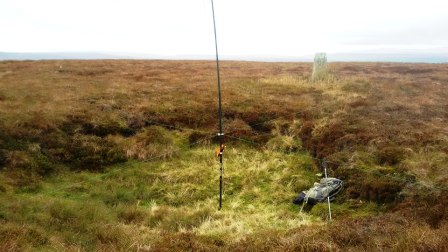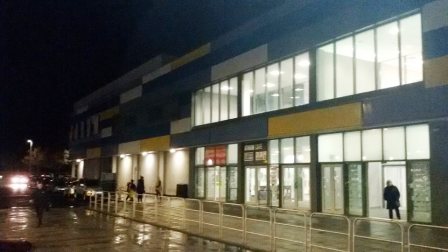 The rain stopped, but I was almost packed up, so I finished and commenced the return walk to the car. Before leaving the summit I did try calling on 2m FM, but no takers. It was then an hour's drive to Billingham on Teesside and set up/soundcheck. I then accompanied the bandleader and road crew to the local Chinese restaurant for some food before doing the show. Finally onto the digs in Darlington before the next day's drive to Scotland via Great Mell Fell G/LD-035 and Little Mell Fell G/LD-037.
| | | | |
| --- | --- | --- | --- |
| Time | Call | Band | Mode |
| 13:25z | EB5JFJ | 14MHz | FT8 |
| 13:28z | OH3EQY | 14MHz | FT8 |
| 13:32z | N2OO | 14MHz | FT8 |
| 13:37z | US7TX | 14MHz | FT8 |
| 13:40z | I6FPN | 14MHz | FT8 |