Hope Mountain, GW/NW-062 - 330m ASL - SJ 294 569 - OS Explorer 256 - 1 SOTA point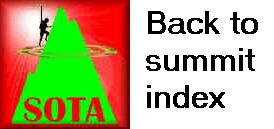 Sunday 1sth March 2020 - Brown Clee Hill G/WB-002, Titterstone Clee Hill G/WB-004, View Edge G/WB-018, Long Mynd-Pole Bank G/WB-005, Stiperstones G/WB-003, Corndon Hill GW/MW-013, Mynydd-y-briw GW/NW-060, Gyrn Moelfre GW/NW-049, Hope Mountain GW/NW-062, The Cloud G/SP-015 & Gun G/SP-013
Just before I set off from Moelfre Hall following my Gyrn Moelfre GW/NW-049 activation, I made a phone call to the Bannisters at Coed Mawr Uchaf Farm. The yard there is the only feasible parking for Hope Mountain, plus the summit is on their private land. Anyway Mrs Bannister said that the gate would be locked, but invited me to park in the driveway up to the gate, and to access the summit via the gate in the adjacent field. That was a very pleasing outcome to my phone call!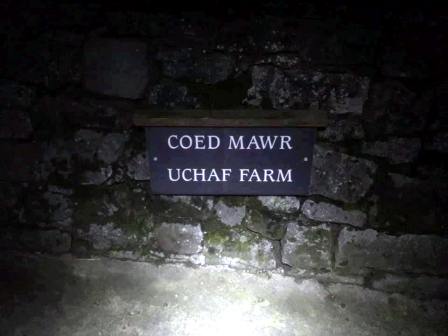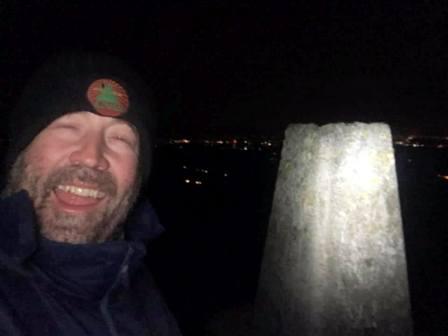 The headtorch was essential for this one. I coped with my "night vision" on the descent of Gyrn Moelfre GW/NW-049, but it was now fully dark - plus I would be walking on a rough and muddy field, not a farm vehicle track. It was a quick and easy five minute walk up to the trig point, from which I could see the lights of Liverpool.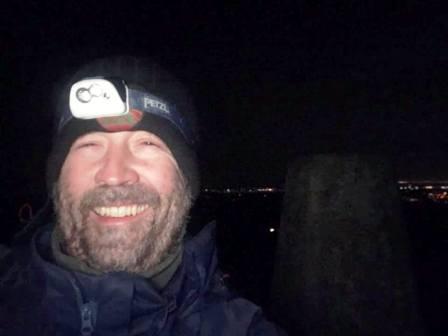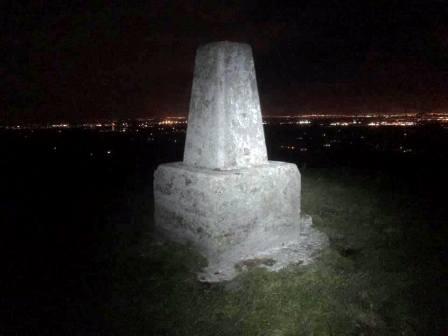 Steve 2W0JYN and his partner Steph MW6SHJ were worked on both C4FM and FM, and two further analogue QSOs were added which qualified the activation for the SOTA point. I was a little surprised that I didn't get any more callers, as this summit has an excellent take-off towards the major population centres of the North West of England. Still, I wasn't overly concerned about this, as I was still keen to get back over to Cheshire with enough time to activate Gun G/SP-013 - and first, The Cloud G/SP-015 - before midnight.
| | | | |
| --- | --- | --- | --- |
| Time | Callsign | Band | Mode |
| 20:14 | MW6SHJ | 144MHz | FM |
| 20:17 | MW6SHJ | 144MHz | C4FM |
| 20:17 | 2W0JYN | 144MHz | C4FM |
| 20:20 | 2W0JYN | 144MHz | FM |
| 20:22 | MW0CSO | 144MHz | FM |
| 20:22 | M6BLV | 144MHz | FM |