Illgill Head, G/LD-029 - 609m ASL - NY 169 049 - OS Explorer OL6 - 4 SOTA points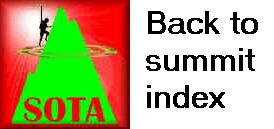 The second day of our two day camping trip was Saturday 30th May 2009. I woke up to incredible light and heat from blazing sunshine poking through my single skin tent. I assumed the time would be at least 8am, but it was just before 6am. By the time that Jimmy and I were up, with Richard and Mai Ling, the heat was incredible - and still not yet 8am. We agreed to being slightly unnerved by the heat at not yet 8am, with a significant full day's mountain route ahead of us.

Anyway, I had only just started warming the soup on the camping stove when my gas bottle ran out. And I hadn't brought a spare with me. And there wasn't a shop on site. Richard to the Rescue again! He had plenty of fuel left for his Trangia stove, so after the first serving of porridge was ready, the soup went on there. And then some more porridge for Jimmy and I. It was a pleasant and tasty breakfast in the hot early sunshine, and none of us were tempted to adjourn a few metres to the Bridge Inn for a fry up.

Unpitching didn't take long with Richard's backpacking tent, and my new £17 Sainsbury's gimmick, and we were on the road shortly after 8am. We didn't have a long drive. We were aiming for Illgill Head G/LD-029, and Jimmy directed us to a large parking area just up the road at NY121012.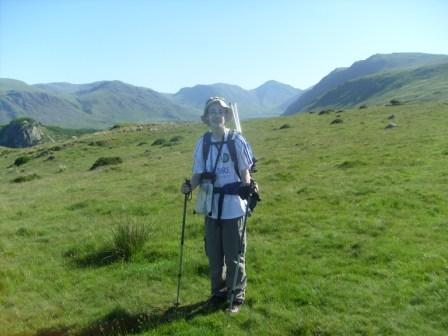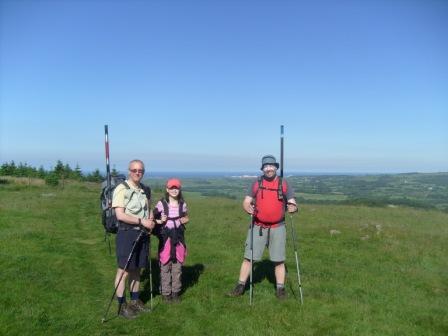 Jimmy and I covered up with suncream and hats purchased from a shop in Eskdale the previous evening, and we commenced our long walk in the most gorgeous - and hot weather. The good path first rose along the flanks or Irton Pike before striking out onto higher ground, with the ridge line always seeming to be moving away - and above us, to the right. Eventually, we decided to head with determination to attain the ridge by the wall, and shortly after doing so paused for a well earned snack of Chorley cakes and beef jerky.

Miterdale Forest, to our right, gave some much needed shade and respite from the blazing sun as we climbed Irton Fell. We could now sense our first major objective of the day, which was the Wainwright summit of Whin Rigg LDW-156. From the small loose stone shelter on the summit, I conducted a quick WOTA activation using 2m FM on the VX-7R. Four QSOs were made, including into North Wales. After the rest this afforded, it was time to press on to the SOTA summit.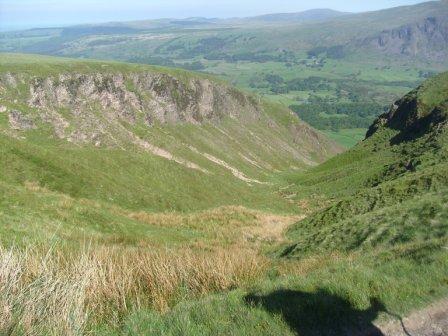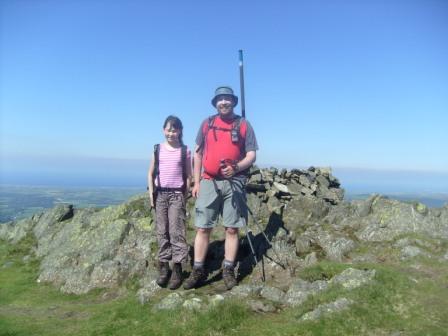 It was not far to go. After a very small drop off Whin Rigg LDW-156, we were wandering between two beautiful blue tarns on the broad saddle, and then up the well trodden path for the final 130m vertical push for Illgill Head G/LD-029. Glancing back at the tiny rise back up to Whin Rigg, we all expressed surprise that anyone, let alone the great AW, could consider it to be a "summit"!

We paused briefly at the first cairn on Illgill Head, which was well within the activation zone, but we had to press on to the true summit another 200m away. We met a walking couple at the summit, and took some photos of them with their camera as they requested. Naturally, I got them to return the favour, before dropping off in lee of the wind to set up. Operation was to be exactly as per Whitfell G/LD-032 the previous day, with Jimmy on 2m FM from the VX-110 and SOTA Beam, Richard on 40m CW with the homebrew rig and dipole, and me on 20m CW with FT-817 and Magic Moggy vertical.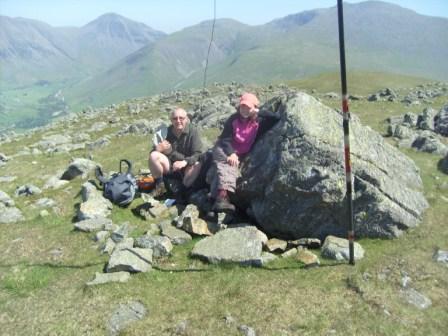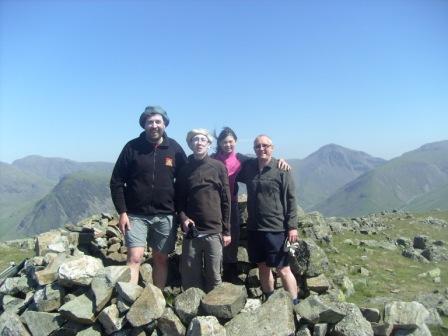 The WPX CW contest meant the space was at a premium on both 40m and 20m, but I managed to establish a frequency on 14.070MHz CW - with a little help from SPOTlite, SOTAwatch and those wonderful chasers. Following this, I worked my way down a few contest stations on 20m, including one from the USA.

Jimmy enjoyed his 2m FM activation, especially as it included four QSOs into GI. Jimmy proudly told these stations of his own Northern Irish heritage due to his mum coming from Larne, County Antrim. The best one was Fred GI4MWA/P on Slieve Donard GI/MM-001. I grabbed the microphone from Jimmy for a quick chat with Fred myself, as Slieve Donard is one of my all-time favourites. The summit time was rounded off with a delicious lunch of Moroccan chickpea & couscous soup.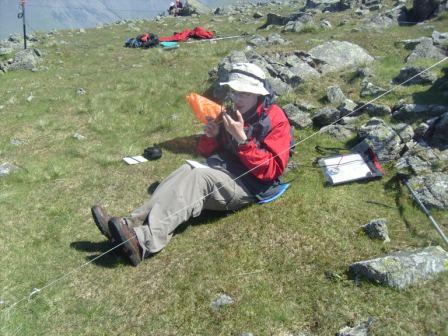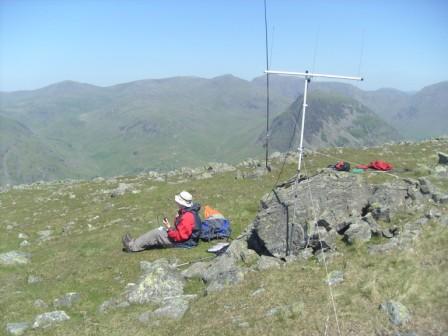 By 1pm, we were completely packed away and ready to continue the walk. And what a walk we still had to do! Richard's planned route had us dropping off Illgill Head in an ENE direction, then turning south-west to contour along the lower flanks of the hill on a good path above Burnmoor Tarn. This bit was really enjoyable, until fences and forest blocked further progress, and the path turned sharp left and steeply downhill. Richard, Mai Ling and Jimmy were down in no time, but I was struggling, gingerly edging my way down. We paused for a snack and reapplication of suncream. Disaster! I had left my suncream on the parcel shelf in Richard's car. Richard to the Rescue again with yet another benevolent donation of suncream for Jimmy and I.

Down on flat ground, it was tempting to feel "job done" - but it wasn't. There remained still several kilometres of walking to be done, expertly navigated by Jimmy through farmland and woodland, and finally about one kilometre of road walking back up to the car park. Phew!

All in all, the route was about 20km, and it is fair to say that we were all pretty tired upon returning to Richard's car! Richard himself was so tired and thirsty that he pulled over at the very first pub we came across, and in we went for some ale (and water and J2O). There remained a very long drive back, but despite a couple of congested stretches on the M6, we made decent enough time.

Thanks to Richard for the driving and the invite, and thanks to all callers:
| | | | |
| --- | --- | --- | --- |
| HA7UG | 20m | CW | T |
| S51ZG | 20m | CW | T |
| HB9AGH | 20m | CW | T |
| DL3JPN | 20m | CW | T |
| OK1DDQ | 20m | CW | T |
| SP4NKU | 20m | CW | T |
| 9A7W | 20m | CW | T |
| GI4MWA/P on Slieve Donard MM-001 | 2m | FM | J, T |
| M1AVV/P on Dodd Fell Hill NP-016 | 2m | FM | J |
| GI4SRQ | 2m | FM | J |
| HB9DDO | 20m | CW | T |
| LY7A | 20m | CW | T |
| GW0DSP | 2m | FM | J |
| M3TMX | 2m | FM | J |
| 2I0BOW | 2m | FM | J |
| 9A800VZ | 20m | CW | T |
| 2E0BMO/P | 2m | FM | J |
| NN5J | 20m | CW | T |
| G0MJG/P | 2m | FM | J |
| IR4X | 20m | CW | T |
| G4ZRP | 2m | FM | J |
| F5IN | 20m | CW | T |
| YT9A | 20m | CW | T |
| 2E0GHQ/A | 2m | FM | J |
| GI3FFF | 2m | FM | J |