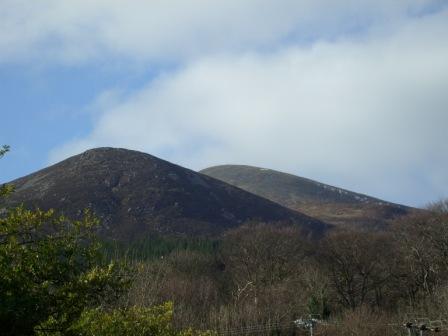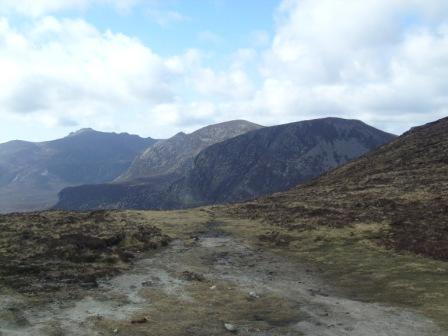 Just five and a half hours sleep after hauling my tired body into the bunk bed, and the alarm was going off again. Jimmy had slept through his alarm, so I gave him a shout. He was looking pretty tired! I went down to make the soup, refill the bladders, pack the car, and extract suitcases etc from the house in Larne. We wouldn't be returning, planning to drive directly to the docks at Belfast after our walking today. By the time he reached the passenger seat of the car, Jimmy had awoken sufficiently to provide directions. We took the A8 and M2 into Belfast, and then then A24 and A2 south to Newcastle. Parking was free in the appropriately and conveniently named Donard Car Park, and we were walking through the local municipal park and into the woods just before 10am.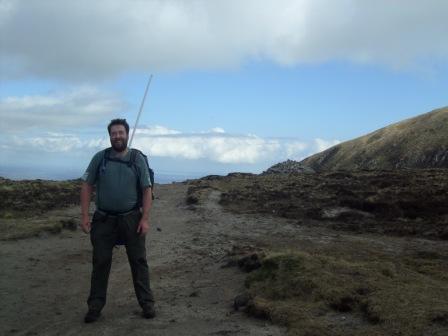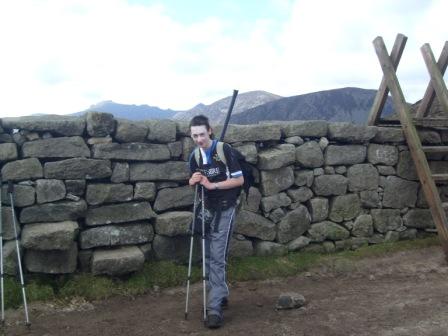 The path began to climb steadily as it followed the Glen River uphill; we tracked our progress on The Mournes OSNI 1:25000 sheet. There were plenty of attractive and interesting waterfalls and cascades to demand our attention, but we knew we had set ourselves a major challenge to activate Northern Ireland's highest two summits and still get back to Belfast in time for the ferry. The top of the forest came after about an hour's walking, and we were into an open glacial valley, heading towards what appeared to be a high vertical wall at the saddle between Slieve Donard GI/MM-001 and Slieve Commedagh GI/MM-002.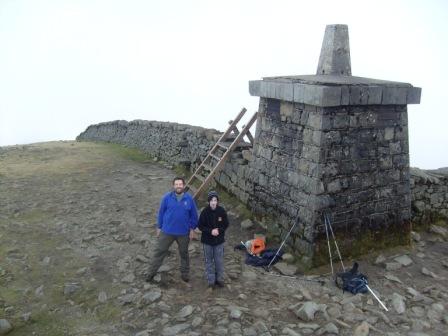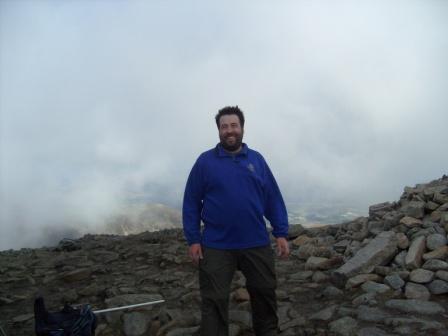 At the foot of this "wall", a steeper cairned path wound its way up on the left, and Jimmy and I shared a bar of chocolate covered Kendal Mint Cake before we ascended it. A look back to the beach at Newcastle showed how high we already were - 500m out of the 850m already attained, on a climb that commenced at near sea-level. Quickly that became nearly 600m, as we rested by the Mourne Wall at the saddle between our two target summits.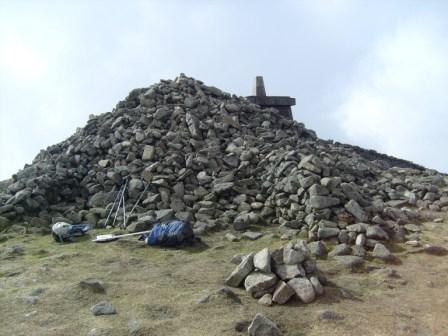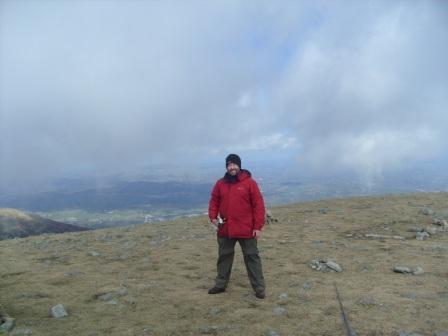 It was a lovely day, and we were walking in T-shirts. However, there was, in places, half a foot of a snow lying by the Mourne Wall, which we were following steeply to the summit. Jimmy and I left the main path and clambered up on the nearby wet grass, it being marginally safer than the snow covered scree path. This was tiring stuff, and so it was uplifting when I heard Jimmy's voice from fifty feet in front of me. "I can see the trig point!" he cried, putting a notable spring in my stride.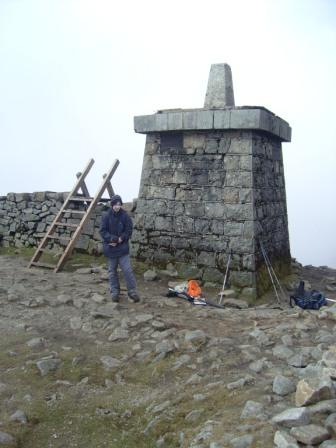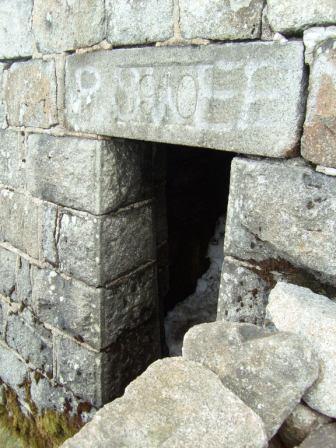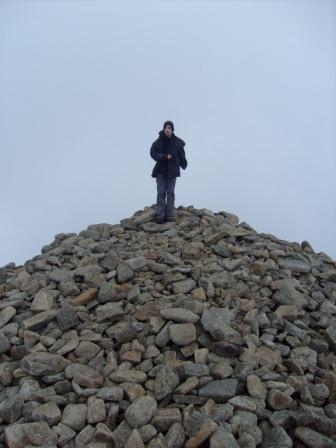 The Mourne Wall turned southwards on a perpendicular corner at the summit. Into this corner, a turret-like shelter was built, with the trig point standing high upon it, a good eight feet off the ground. We chose a spot on the other side of a large summit cairn, for it gave both shelter from the wind, and great view over Dundrum Bay. We initially debated whether to do a really good activation on 80m CW & SSB and have a one-summit day, or go for a quick 2m HH RSS effort and ensure we got GI/MM-002 in as well. Jimmy opted for the latter, preferring an extra unique to a better quality radio activation. However, after a short rest and spell of contemplation, I realised that we could afford an hour on summit and a visit to the neighbouring hill also.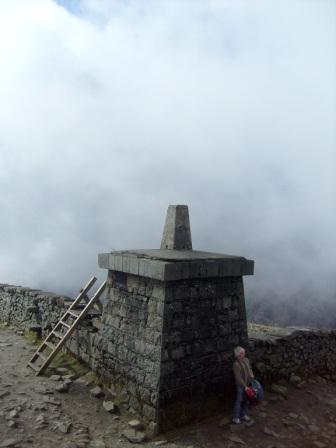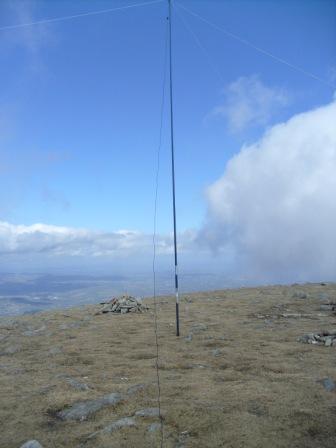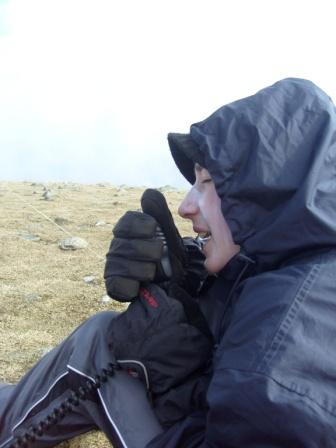 Just one contact - G3RDQ - was made on 3.557MHz CW, so we went to 3.660MHz SSB with Jimmy operating. He made five contacts, although a further three stations called. Sadly, Graham G4JZF couldn't hear his report, and Geoff G4CPA + MX0BCQ/A didn't receive his. We tried several times to call these stations back in, but they disappeared completely. It seemed QSB was at play again!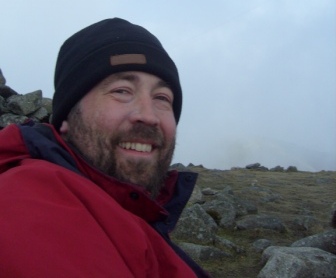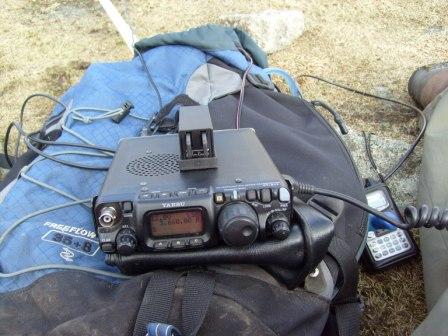 That certainly seemed to be the case, with just four more contacts for me back on 3.557MHz CW. All of a sudden the views disappeared, it got colder, wetter and windier. The weather was closing in big-time. We swiftly packed up and began our descent. The route being so steep meant that we were soon back out of the poor weather and under the cloud in which things were not so pleasant. It didn't take long to drop the 260m or so to the saddle. A check on the watch confirmed we still had time to do the second summit - Slieve Commedagh GI/MM-002.
Many thanks to the following stations, all worked on 80m with 5 watts:
| | | | | |
| --- | --- | --- | --- | --- |
| G3RDQ | Stockbridge | David | CW | T |
| GM4FAM | North Kessock | Cris | SSB | J |
| G3OHC | Selby | Graham | SSB | J |
| G6WRW | Kidderminster | Carolyn | SSB | J |
| GW7AAV | Connahs Quay | Steve | SSB | J |
| G6MZX/P | Otley Shevin | Geoff | SSB | J |
| G4OBK | Pickering | Phil | CW | T |
| GM4FAM | North Kessock | Cris | CW | T |
| EI2CL | Dublin | Michael | CW | T |
| GM0AXY | Edinburgh | Ken | CW | T |