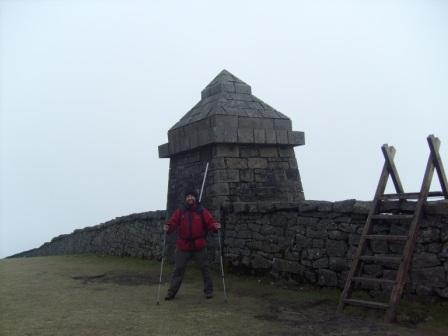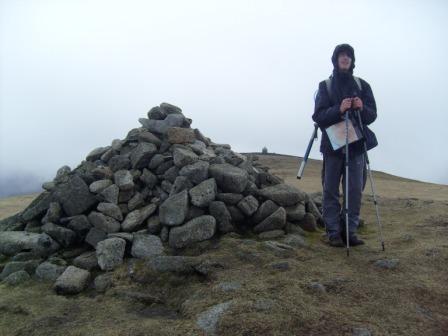 After Slieve Donard GI/MM-001, I was pretty tired and questioning my own enthusiasm for the second summit. However, having given Jimmy the go-ahead, he was soon climbing purposefully ahead of me, so I had to follow. In actual fact, the climb on this side was less steep and easier on the legs than Slieve Donard, and we made surprisingly rapid progress. The turret like shelter on the Mourne Wall, 250m South-West from and 10m vertically below the true summit, was reached in good time. We turned right in poor visability to bag the summit and take some photographs. The weather was hostile and unpleasant on this most exposed summit. It was at this point I checked the map and confirmed that the Mourne Wall and turret shelter were well within the activation zone. "We'll activate in there" I announced. Jimmy did not contest the decision.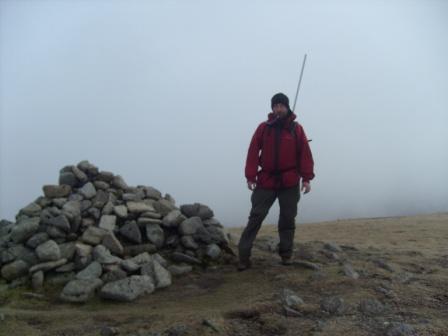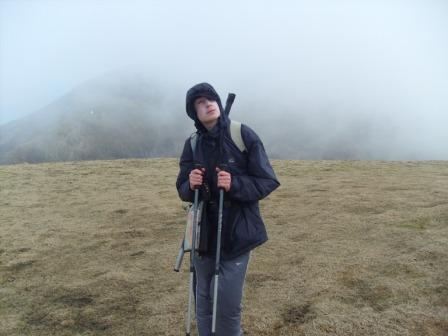 Jimmy looked a bit cold and tired, so I told him he could sit in the shelter and didn't have to help with setting up. I was feeling good, so I remained outside the turrent initially, working a few GI stations on the 2m HH RSS set-up. At about 3.55pm, I began to set up the 80m antenna. This involved a couple of recrossings of the ladder stile on the Mourne Wall to peg out the guy string. I managed to site the mast such that there was plenty of feeder length to take right inside the turret.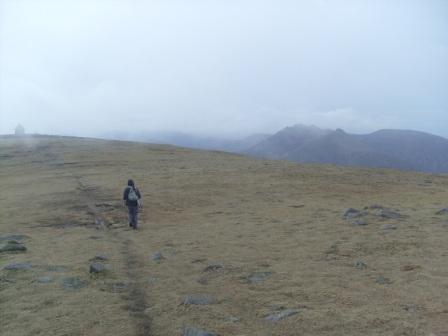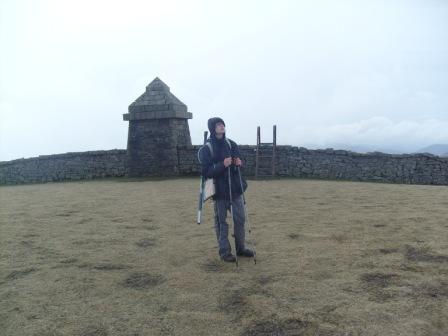 It was now absolutely vicious outside, squally rain being whipped up menacingly by strengthening wind. We were glad to be inside, finishing our soup in total shelter. At 4.10pm, I opened up on 3.557MHz CW, but only worked two callers - G3OHC and G3WPF. Jimmy then called on 3.660MHz SSB, and the second caller was Geoff G4CPA, so we were able to let him know the bad news of the incomplete QSOs on Slieve Donard GI/MM-001 earlier. I was disappointed with only two contacts on CW, so I had another go on 3.557MHz. Four more stations were worked, but these were clearly not 80m friendly conditions.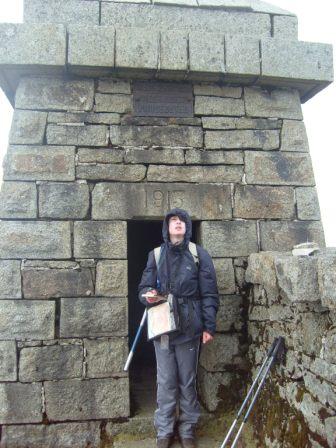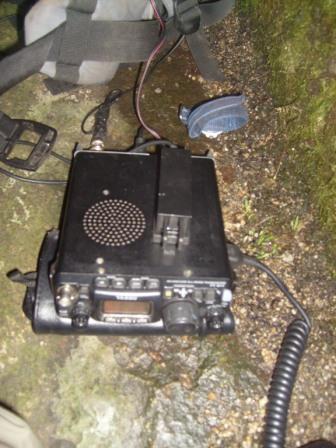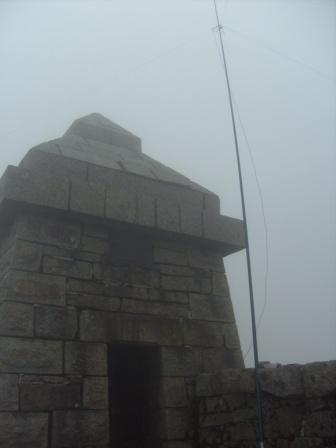 As we edged towards 5pm, there was no question of having a go on 40m though, so I packed away and informed Jimmy, still cowering in the turret, of our impending departure. Jimmy emerged to be reunited with the weather. "I'll be so glad to be back at the col" he said. Me too, and soon, we were.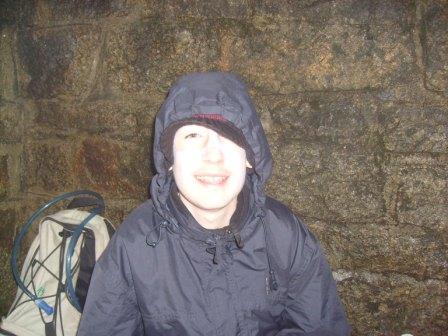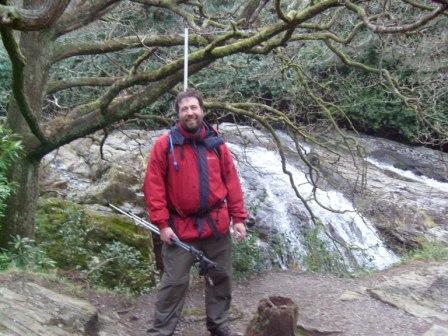 We had cut things rather fine. "We need to crack on a bit on this walk back to Newcastle" I told Jimmy. After dropping off the Mourne Wall into the Glen River valley, we lengthened and quickened our stride, and were helpfully propelled along as we chatted to two faster-paced walkers for twenty minutes or so. I had forgotten how long the lower walk through the forest was, but we continued apace, both smugly satisfied with an 18-point day, having achieved the highest peak in GI, completed the GI/AH Antrim Hills region and 16 activations - three more than originally optimistically planned.
The car park was reached just after 7pm. A junior football coaching session was taking place in the park adjacent to the car, as we removed boots, gaiters, socks, gloves, hats, rucksacks and jackets. Having the holiday suitcase in the boot, I afforded myself the luxury of an early change of shirt, to improve the comfort-factor of the drive up to Belfast. A can of Red Bull was necked in order to assist the concentration for the driving, and we set off.

We pulled into the Norfolk Line ferry car park at 8.20pm, and were invited to drive up the ramps onto the Mersey Viking ship just 25 minutes later. Our en-suite cabin facilities were utilised fully, with us both taking showers, before going down to dinner. We both gorged on steak pie, roast potatoes, new potatoes, carrots, peas and gravy, after starters of pate and bread or soup. Desert was fruit crumble and custard, and all washed down by a pint of Smithwick's bitter.

We settled into our bunks by 10pm, anticipating a restful night. Jimmy got his wish, sleeping soundly through everything, but I did lay awake for a while in the middle of the night as the ship was thrown up and down on the Irish Sea. I had sneaked into 4th place in the G Activator Uniques table with 168, while Jimmy now joined me in the top ten, reaching 9th with 141. The other 27 that he has climbed but before being licensed, will no doubt remain high on the hitlist, but none remain overseas! Many thanks to the following stations for our final GI activation of the tour:
| | | | | | | |
| --- | --- | --- | --- | --- | --- | --- |
| GI6FHD | Portadown | Alfred | 2m | FM | 2.5 watts | T |
| MI0BWK | Portadown | Fred | 2m | FM | 2.5 watts | T |
| MI3VIN | Loughgall | Everett | 2m | FM | 2.5 watts | T |
| 2I0FUT | Mid Ulster | Melvyn | 2m | FM | 2.5 watts | T |
| G3OHC | Selby | Graham | 80m | CW | 5 watts | T |
| G3WPF | Wilmslow | Reg | 80m | CW | 5 watts | T |
| G6MZX | Thornton-in-Craven | Geoff | 80m | SSB | 5 watts | T, J |
| G4CPA | Crosshills | Geoff | 80m | SSB | 5 watts | T, J |
| MX0BCQ/A | Crosshills | Geoff | 80m | SSB | 5 watts | J |
| G3OHC | Selby | Graham | 80m | SSB | 5 watts | J |
| EI2CL | Dublin | Michael | 80m | CW | 5 watts | T |
| G4OBK | Pickering | Phil | 80m | CW | 5 watts | T |
| GW0DSP | Connahs Quay | Mike | 80m | CW | 5 watts | T |
| G4OWG | Rawdon | Roger | 80m | CW | 5 watts | T |