Kirk Fell, G/LD-014 - 802m ASL - NY 194 104 - OS Explorer OL4/OL6 - 8 SOTA points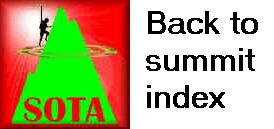 This, Jimmy pointed out, was the lowest 8-pointer in the LD, in contrast with the just-done Great Gable G/LD-005, which was the highest. The initial ascent to the main vast summit plateau was steep and relentless, but relatively short. We knew what to expect on the plateau, for we had a great view looking down on it from Great Gable earlier. We would have to walk right across to the other end of it, and then work our way up to the summit.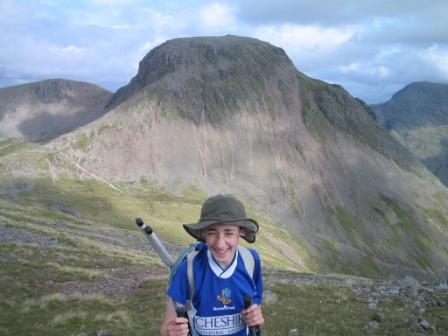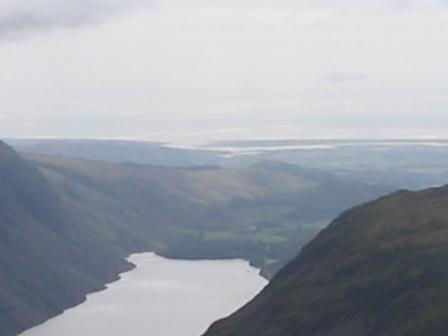 Jimmy did so by taking a direct line over the crest of the ridge and thus making another ascent and descent of a rocky blob. I walked around it! He was, as ever, first to the summit, which had a convenient and comfortable shelter to house us for the activation. We made 8 QSOs in 30 minutes operating time, as we relaxed and enjoyed the continuing fine views. Now, the sun was starting to drop a little towards the western horizon, and cause shimmering reflections of its light in the Irish Sea towards the Solway Firth.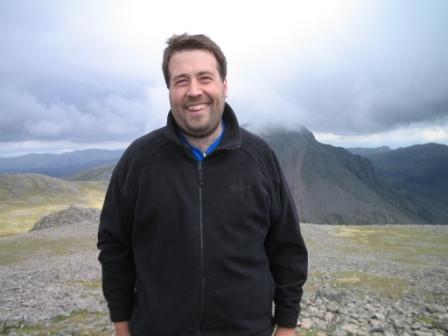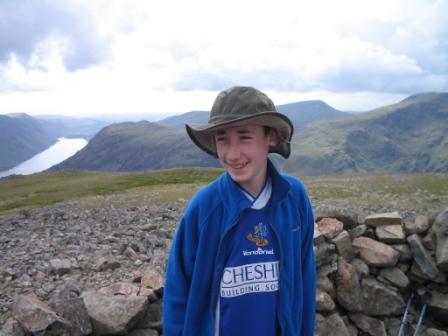 After completing the initial steep descent to the col with Great Gable, I sat down for a Nutri-Grain bar, and relieved my aching feet of the boots and socks for ten minutes. The walk back to Honister would be straightforward with little in the way of further ascent and descent, but long. We were looking forward to our long trek through the mountains back to the hostel, secure in the knowledge the another 16 SOTA points each had been safely earned.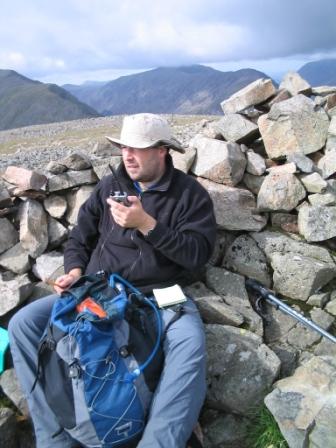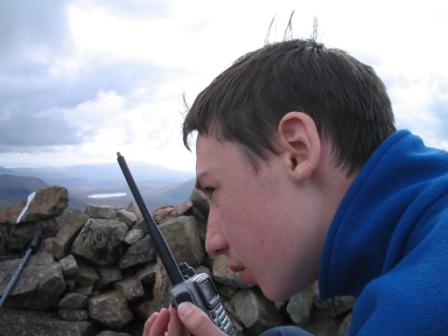 Arriving at the hostel just after 7pm, the excellent warden nonetheless offered us an evening meal, despite being over an hour after 'last orders'. I was keen to take this up, especially after noticing the bottles of Jennings Sneck Lifter for sale behind the reception counter, but Jimmy didn't fancy anything on the menu, and clearly had a personal agenda to return to the Scafell Hotel. This we did, for we had indeed enjoyed it there two years previously. I had smoked trout followed by Cumbrian game casserole, while Jimmy had sweet chilli prawns followed by steamed Seathwaite trout. The food, again, was good, and beautifully accompanied by a couple of pints of Helvellyn Ale.

It was a shame that we were to miss out on Scafell Pike G/LD-001, but this day brought two new uniques to me as well as to Jimmy, a superb mountain hike and 16 points instead of the intended 10. Many thanks to the following stations, all worked on 2m FM with 5 watts:
| | | | |
| --- | --- | --- | --- |
| M3IWN/P | Latrigg | Simon | T, J |
| G6ZHL | Lancaster | Malcolm | T, J |
| GW0DSP | Connahs Quay | Mike | T, J |
| G0UQC | Keswick | Ron | T |
| 2E0EDX | Blackpool | Ian | J |