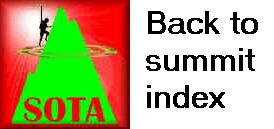 From Lovely Seat G/NP-030, we continued north down from Buttertubs Pass to Thwaite, where Jimmy pointed out where the Pennine Way entered and exited the village to his younger brother. Taking the road from Thwaite to Keld, around the west side of Kisdon Hill, we parked in a convenient lay-by at NY 892 006, right opposite the start of the bridleway that would be the first half of our climb.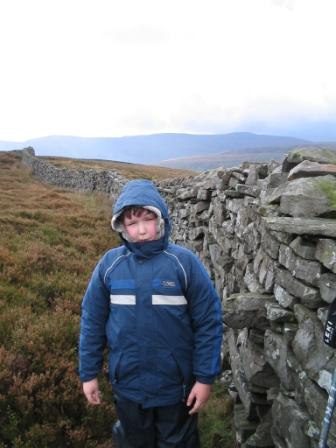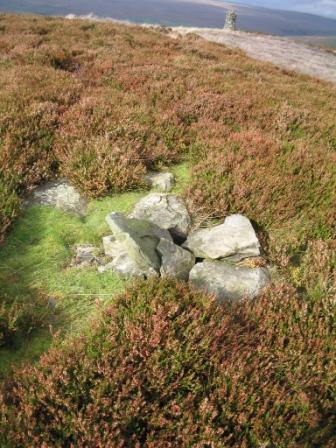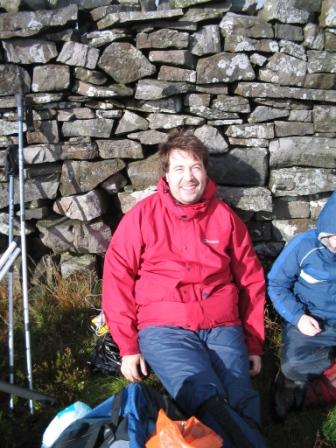 By the time Liam and myself had reached the levelling out point of the bridleway, at the gate at SD 897 992, Jimmy was already at the summit and calling me on his hand-portable transceiver. Knowing this summit to be a difficult profile for VHF take-off, I worked Jimmy for a chaser point for myself and an activator log for him, leaving just a further three to find. My map told me that I was no higher than 470m ASL, so just outside the summit activation zone. Later on, Liam and myself had followed the wall over the heathery moorland to be united with Jimmy in the vicinity of the summit. I elected to bed down under a wall to shelter from the stiff breeze. Aside from that, it was turning out to be a lovely bright afternoon.
By the time we had met Jimmy at the summit, he had worked a second station from his handheld, and thankfully that station had remained on the frequency to wait for me. Two down, two to go, and all without deploying proper aerials. I set up the SOTA Beam feeling confident that Kisdon was not going to be anything like as difficult as feared. I was wrong. Over an hour later, we had not made a further contact. I set up the 40m dipole to try out HF. No joy on here, but HF SSB QRP is not easy. We needed to self-spot on a particular frequency to have any chance. I instructed Jimmy to perform the spot on his mobile 'phone. He couldn't find it. We then spent an age hunting through coats, bags, heather, walls etc trying to find it before admitting that it was lost, probably forever.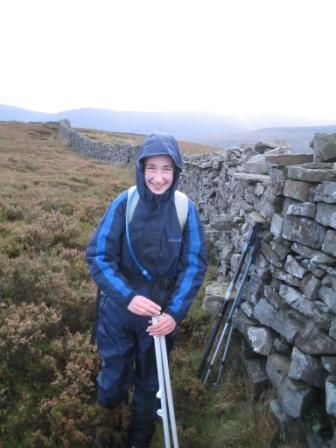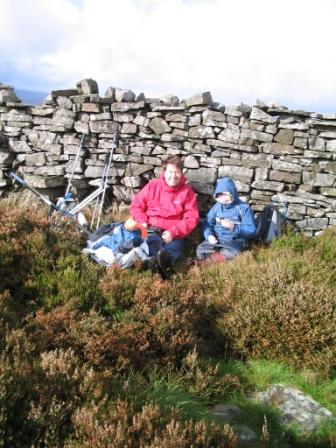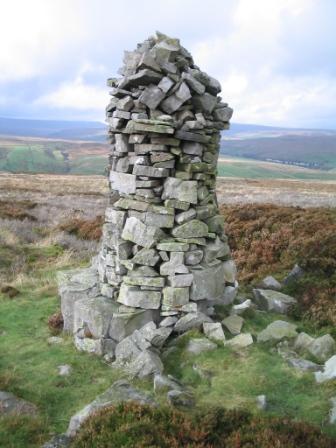 A call from Myke G6DDQ/P on nearby Nine Standards Rigg G/NP-018 was welcome to give Jimmy his third contact and me my second. I knew I could scrape another contact by letting Jimmy descend sufficiently and then working him, so effectively we needed to find one more. No joy on 2m FM. No joy on 2m SSB. No joy on 40m SSB. The battery ran out on the Yaesu FT-817. I managed to damage the feeder cable for the SOTA Beam. Down to the 2m FM handies, on Kisdon, surrounded by higher fells, and with deadly silence on VHF for the last three and a half hours. It was getting cold, and the light was beginning to fade. We had one last look for Jimmy's 'phone before reluctantly descending. Jimmy set off first, and at least gave me my third contact, although it wasn't much use without a fourth. We loaded into the car and drove up to Dufton Youth Hostel.
Many thanks to the following stations, all worked on 2m FM with 500mW:
| | | | |
| --- | --- | --- | --- |
| M1EYP/M | Thwaite Stones | Tom | J |
| G4OWG/M | Kirkby Stephen road | Roger | T, J |
| G6DDQ/P | Nine Standards Rigg NP-018 | Myke | T, J |
| M3EYP/M | Thwaite Stones | Jimmy | T |
Over six weeks later, we were 'phoned by a lady from Burnley called Doreen. She had found Jimmy's mobile 'phone while walking on Kisdon and looking for a geocache in the vicinity of the large stone man/cairn pictured above. She had managed to dry it out, charge it up, find our home number in the menu and contact us. A day later, there it was in the post, back at out address. All fully working, remarkably, after 40 days and nights in the wilderness.