Lingmoor Fell, G/LD-040 - 469m ASL - NY 302 046 - OS Explorer OL6 - 1 SOTA point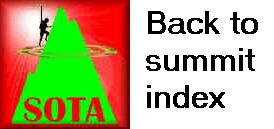 "Diary of a Madman" - part 2
After Holme Fell G/LD-051 on Tuesday 1st June 2010, Jimmy instructed me to drive back down the long cul-de-sac to to the Ambleside-Coniston road, and turn left. And left again through Little Langdale. A right turn, and soon I was up to the NT car park opposite Blea Tarn. Yikes! £3.40 to park. Yikes! For 2 hours. For 4 hours it was £4.40, while £5.40 was the all day rate. I reluctantly posted £4.40 worth of shrapnel through the slot, and grumpily trudged up the lane with a rucksack on my back and a great big chip on my shoulder.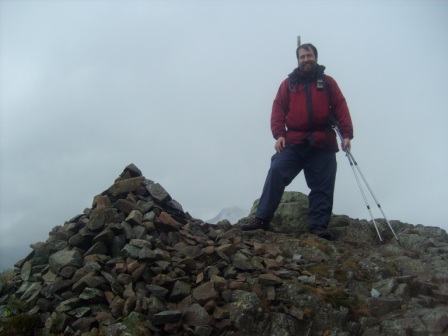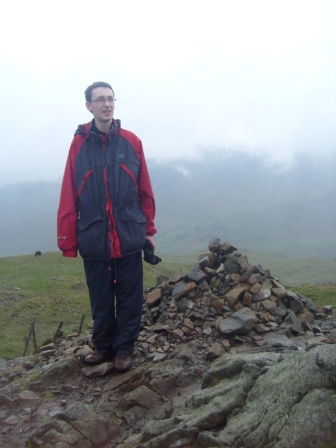 My mood soon lifted. Instead of thinking of my £4.40 as a rip off to park for what would turn out to be three hours, I chose to instead consider it as my contribution to the NT for all the enjoyment I have on its property. Considering all the times I walk and play radio on The Cloud G/SP-015 for free, I decided I was getting exceptional value for money, and put a spring back into my stride.

The first section of this walk is north along the road from the NT car park to Bleatarn House. Then there is a sharp right onto a footpath that ascends steeply up a field. The gradient barely eases all the way to the summit, although there is brief respite when turning the corner at the fence. Soup was served at the summit, and today it was the new Baxters Highland Game (as distinct from Royal Game) - it was delicious.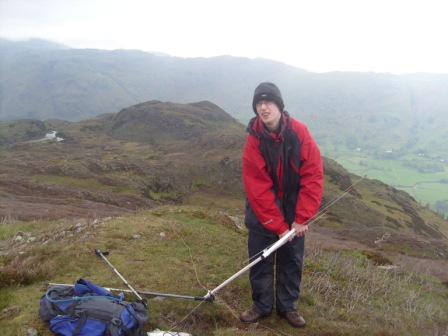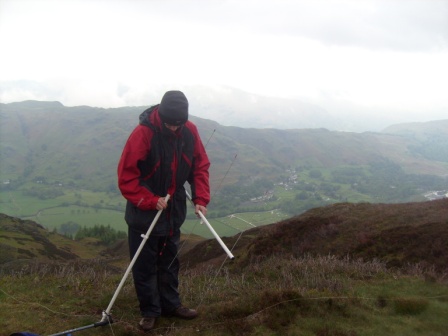 Despite the mediocrity of the morning performance, I set up the 40m dipole again, while Jimmy did his 2m FM thing. I was soon regretting not swapping the 40m aerial for the 30m or something else, for 40m was dead. A CQ call on 7.032MHz CW produced nothing. A self-spot plus CQ calls still elicited zero. Listening across the 40m band, and it was deathly quiet, not a signal to be heard. In contrast, 30m, 20m and 15m were buzzing. I knew I could use the 40m dipole for 15m, so I self-spotted for 21.022MHz CW, and this time the QSOs came in.

Although the sky had remained of a threatening colour all afternoon, it had remained dry, and the forecasters seemed to have got it right. We now relaxed, feeling that we had got one of the tougher summits out of the way, and that we were set for a fine evening and superb next day weather-wise.

The steep descent was hard work for me, even with two walking poles, and I was glad to be back on the short section of road walk. We drove back into Windermere, found a chippy, had battered haggis, chips and curry sauce twice and returned to the B&B for a shower and change. Then it was off for an evening on Gummer's How G/LD-050.
| | | | |
| --- | --- | --- | --- |
| HB9AGH | 15m | CW | T |
| SP3GVX | 15m | CW | T |
| Z35F | 15m | CW | T |
| F2LG | 15m | CW | T |
| HB9BIN | 15m | CW | T |
| DJ5AV | 15m | CW | T |
| HA7UG | 15m | CW | T |
| HB9CKV | 15m | CW | T |
| G1OHH | 2m | FM | J |
| MW3KML | 2m | FM | J |
| G1KLZ | 2m | FM | J |
| G0SJS | 2m | FM | J |
| M0GNA | 2m | FM | J |
| G4RQJ | 2m | FM | J |
| G4BLH | 2m | FM | J |
| G4PF | 2m | FM | J |
| M0GWW/M | 2m | FM | J |