Onto the morning of Saturday 29th March 2008. We had three days activating left in GI, but needed to bear in mind that the last day required us to be in Belfast by around 8pm. That was a more distant consideration though, for in our main objective - the Antrim Hills - we had 7 down, 4 to go. Could we get those 4 done today so that we could concentrate exclusively on the South East of the province for the last two days? It would challenging with two of the remaining four being pretty tough prospects.

We were in the mode of tackling the biggest challenges first. So our first target was Mid Hill GI/AH-006. This was the nearest remaining SOTA summit to Larne, looked a long walk-in from any approach, reported as "a swamp" by previous activators and well-known to be the most hated and despised summit ever for Colin GI0RQK, the Northern Ireland SOTA Association Manager!

We took the coast road up to Glenarm, then cut inland on the country lanes. Jimmy successfully navigated me to D173113, the start of the road to the Quolie reservoirs. Most of this access track is a public road, but we couldn't see any parking opportunities. We briefly continued onto the last small private section, marked for the sole use of the water board and the Mid-Antrim Angling Society, just to find a turning spot. However, a landrover from the farm was soon up behind us, so I had the perfect opportunity to seek out some quality local knowledge. The chap said we were absolutely fine to park right up at the end of the track, by the second Quolie reservoir, and that he would let us out later should we find ourselves 'locked in' by the fisherman keyholders!

During the initial part of this walk, I couldn't understand GI0RQK's problem with Mid Hill. A walk along the right-hand side of the reservoir was followed by a delightful stroll, tracking the babbling brook upstream towards its source at the summit. It was when the stream petered out as a defined water course that it became difficult. We had around a mile to cover trudging through trackless heather upon very soggy ground. It was darned hard work! We could see our objective, the summit, but it never seemed to get any closer.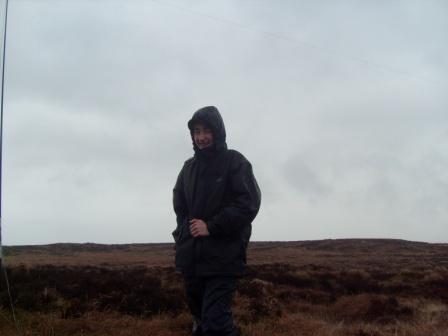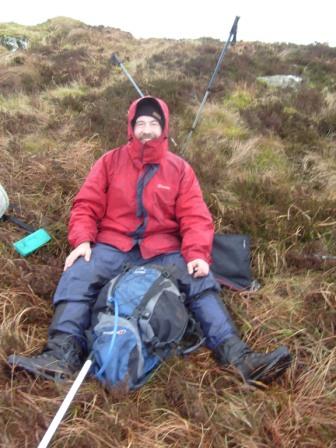 We did finally reach the summit just after 10am. We set up for 80m, and opened, for a change, on 3.660MHz SSB. I don't think we even live-spotted this one via SPOTlite, but immediately back came Colin GI0RQK, who worked us both. Colin and I discussed meeting up later for a joint activation of Knocklayd GI/AH-002. Now Colin was one of those that particularly enthused and encouraged me with my learning of CW, by taking a keen interest in my progress. After we exchanged reports, he said "How about a wee CW contact now Tom?". So that was it - for now - on SSB, and over to 3.557MHz we went. After working Colin for the second time, I then worked George GI4SRQ, Phil G4OBK and Roy G4SSH. There were no further callers, but that was my four and thus qualifying quota. I sent the "QSY 3.660 SSB", hoping that one of the CW stations just worked would pick it up and spot it. I wasn't able to check on this process, with us not seeing a computer terminal until more than 72 hours later, but I'm certain it must have happened, for Phil G4OBK, Alistair GW0VMZ and Danny EI6GS were all lined up instantly on 3.660MHz SSB for Jimmy.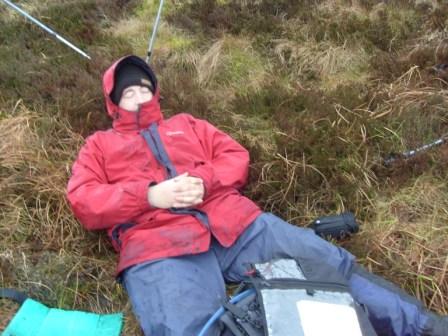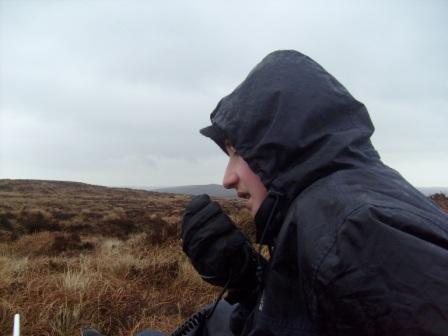 Simple, straightforward, a good old fashioned SOTA activation of 4 contacts each! A blast from the past - and quite a refreshing antidote to last night's zoo on Trostan GI/AH-001. Plus it quite suited us. I had already figured that with two really challenging summits, and at least one more significant walk planned for the day, 90 minutes of activating per summit as per the previous two days, could not squeeze into the schedule. Which is probably why I chose not to live-spot this one. That left me with a twinge of guilt, but countered by the fact that at least four of those we worked could be considered as regular committed chasers.

The descent was on marginally easier terrain than the ascent, due to my decision to stick closely to the forest edge until we got down to the stream, which we then followed down to the reservoir. Back in the car, we found we hadn't been locked in by the anglers, and were able to head North again without delay, en route to meet Colin GI0RQK on Knocklayd GI/AH-002. Many thanks to the following stations, all worked on 80m with 5 watts:
| | | | | |
| --- | --- | --- | --- | --- |
| GI0RQK | Ballyclare | Colin | SSB | J, T |
| GI0RQK | Ballyclare | Colin | CW | T |
| GI4SRQ | Armagh | George | CW | T |
| G4OBK | Pickering | Phil | CW | T |
| G4SSH | Scarborough | Roy | CW | T |
| G4OBK | Pickering | Phil | SSB | J |
| GW0VMZ | Merthyr Tydfil | Alistair | SSB | J |
| EI6GS | Dungloe | Danny | SSB | J |